CULTURE
In the latest development with the college admissions cheating scandal, a source reports that the former 'Full House' star feels "manipulated."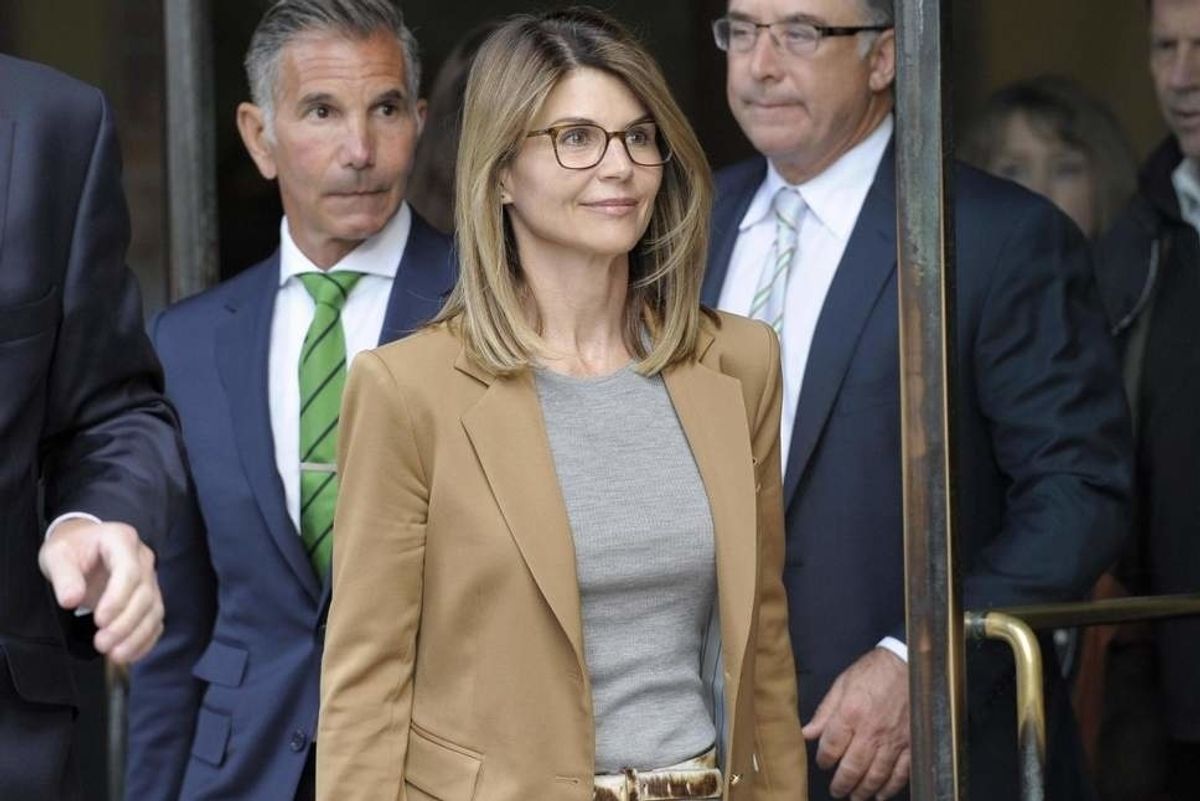 JOSEPH PREZIOSO/AFP/Getty Images
Lori Loughlin and her husband Massimo Giannulli pleaded not guilty to all charges –– conspiracy to commit mail and wire fraud, honest services mail and wire fraud, and conspiracy to commit money laundering –– in the scandal surrounding the college admissions scam.
The couple was accused of paying $500,000 to get their daughters, Olivia Jade and Isabella, into USC as crew recruitments, despite the fact that neither of them participates in the sport.
A source close to Loughlin told ET, "[Lori and her husband] claim they were under the impression they might be breaking rules, but not laws," and that "they feel they were manipulated by those involved and are planning that as part of their defense."
After the initial charges, Loughlin and Giannulli were indicted on a second charge of conspiring to commit fraud and money laundering on April 9th, on top of the initial charge of conspiracy to commit mail fraud. The second charge came after Loughlin did not accept the plea bargain that would have allowed for a minimum two and a half year sentence and no additional money laundering charges. People reported on a source close to Loughlin who stated that at the time of rejecting the plea deal, she "didn't really realize how serious the charges were."
If convicted, Loughlin and Giannulli could serve up to 20 years in prison for each charge, totaling a maximum of 40 years. According to TMZ, the couple faces a minimum time of four years and nine months.
Another source told E! News, "Lori really believes she isn't guilty and that any parent would have done the same thing that she did if they were in that position."
Up until the second indictment, Loughlin was apparently under the impression that she would not be going to jail and instead expected a "slap on the wrist," according to ET. Now that the new charges are raised, things are looking far more dire.
One source told People: "[The prosecutors] are saying that the only way anyone's going to escape jail time is if they go to trial and are found not guilty."
It goes to show that trusting a con man running a fake charity to get your daughters into college is not the best move.
---
Sara is a music and culture writer who lives in Brooklyn. Her work has previously appeared in PAPER magazine and Stereogum.
---
POP⚡DUST | Read More...
Coachella 2019: Opening Weekend Roundup
"Big Little Lies" Season 2 Trailer: Meryl Streep Joins The Cast