MUSIC
Madonna inserts herself in a re-enactment of the Pulse Nightclub shooting, channels her self-righteousness into a sort of rap refrain, and shuffles around a dance floor. All of it feels offensive for different reasons.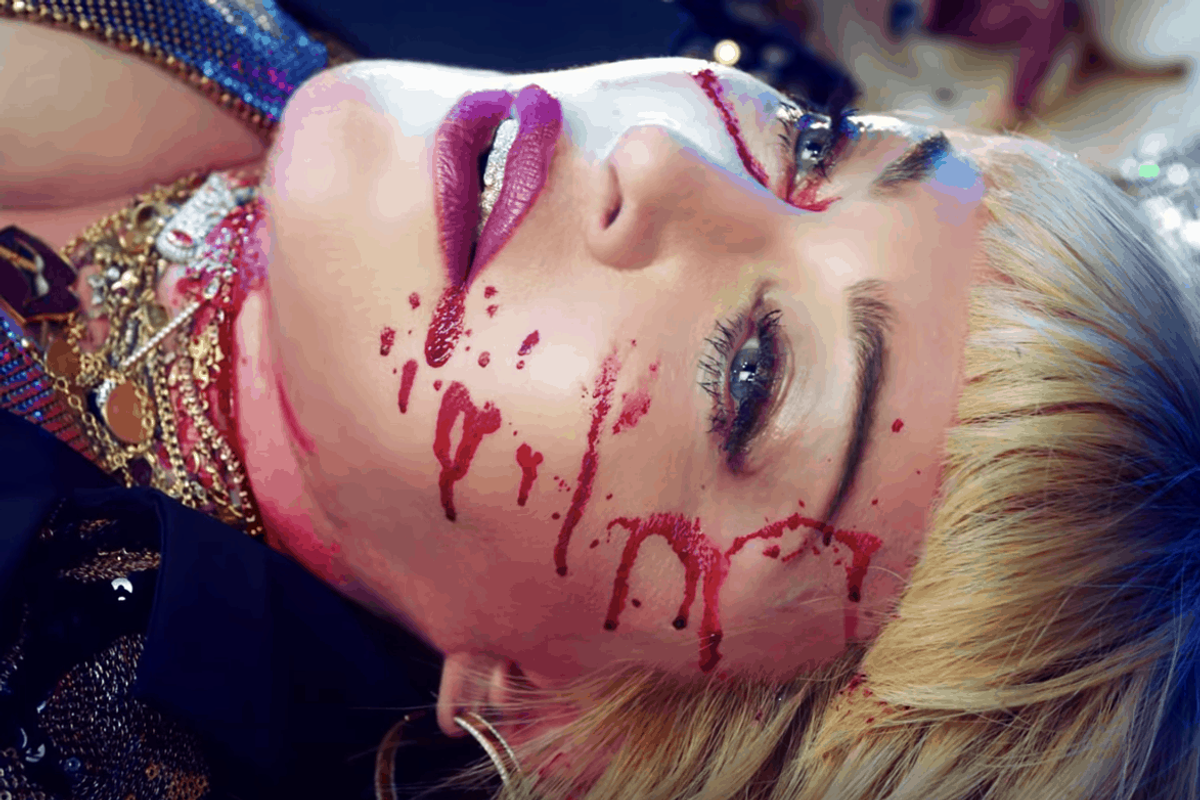 Why is it so in vogue to hate Madonna?
Because she keeps doing weird s**t like this: Her recent music video for "God Control" re-creates the Pulse NIghtclub shooting. As a supposed word play on "gun control," the song itself is a monstrosity. But Madonna's persistent white savior complex is truly impressive; the music video features graphic gun violence and flashing gun statistics alongside the 60-year-old's dance routine in the club and cuts to her typing furiously on a typewriter as she types out lyrics that will serve as a "wake up" call for humanity.
It's a hustle, yeah
It's a hustle
It's a con
It's a hustle
It's a weird kind of energy
A bizarre thing that happens to be
An abnormal fraternity
And I feel more than sympathy
Back in 2006, Time wrote, "Madonna is so easy to revile that you start to wish she'd make it a little harder." She's only made it easier with increased self-righteous vigor and less and less creativity behind her art. After her baffling "God Control" music video was released, Patience Carter, a survivor from the Pulse Club shooting, said, "I understood what she was trying to do with bringing awareness to the topic of gun control, but I definitely felt that wasn't the right way to go about doing it." She added that it could have been done more tastefully, "Because, for someone like me who actually saw those images, who actually lived those images, to see them again dramatized for views, dramatized for YouTube, I feel like it was really insensitive."
Only days before the video's release, HuffPost reflected that the revered cultural icon has fallen from grace partly due to her continued relevance: She's been too powerful and privileged for too long to assume she can speak to the myriad experiences she tries to represent. At this point, her history of cultural appropriation is worse than all of the Kardashians combined. On "hating Madonna," Matthew Jacobs wrote, "She wants to be the queen, but she also wants to be a scrappy underdog, forever misunderstood or worse. She wants to be a revolutionary like she was in the 'Erotica' days, but revolution starts at the bottom and she's now part of the establishment. She can't quite figure out what to say because she can't quite figure out who she is. The traits that once made her so appealing now make her seem out of touch."
There's a graphic imagery warning for the video below, obviously—but additional warnings for Madonna putting herself in the same field of reference as Frida Kahlo and Angela Davis.
Madonna - God Control (Official Music Video) youtu.be