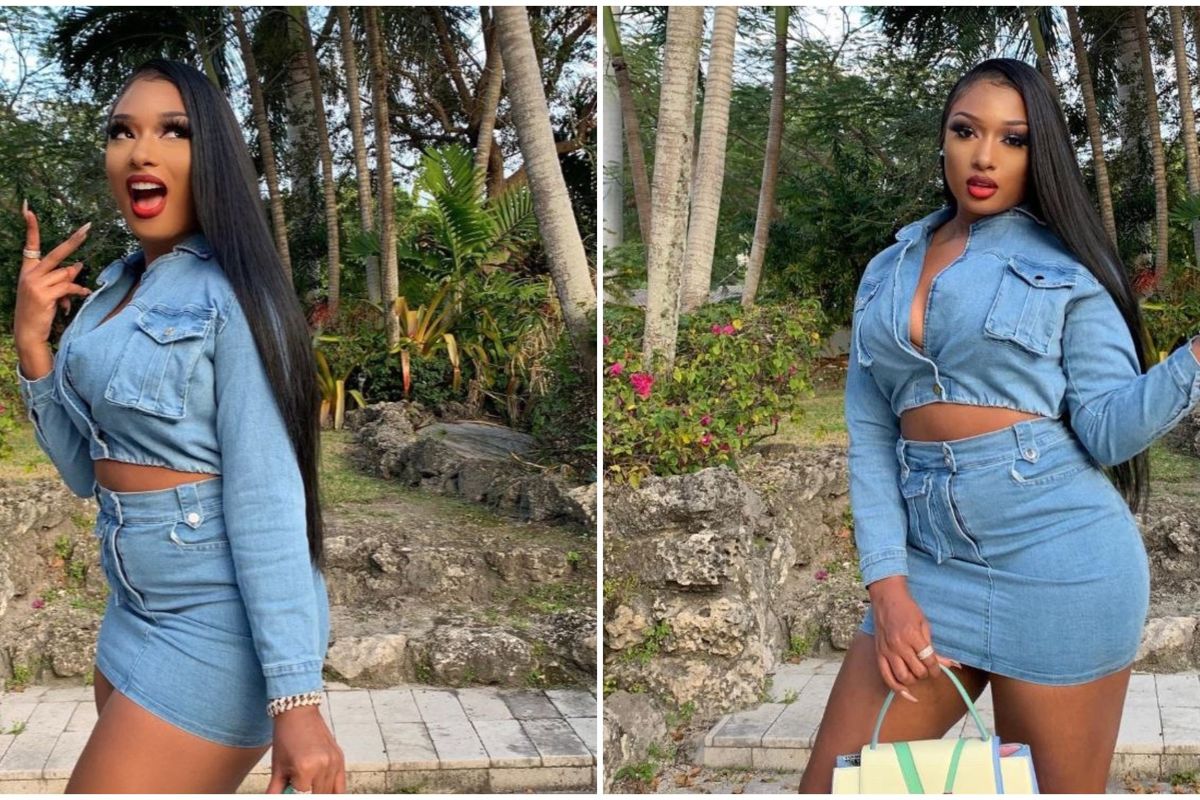 Many people outside of the hot girl tribe are confused about the actual definition of the now popular mantra.
The term went viral after being rapped at the beginning of Houston rapper Megan Thee Stallion's single "Cash Sh*t" featuring the equally charismatic and bubbly rapper Da Baby. Megan has turned her carefree, fun-filled lifestyle into a blueprint for forward activism for the Gen Z generation and has made it look so effortless in the process.
The 24-year-old rapper has exemplified what it means to be a hot girl in her day-to-day social media antics and sightings in various cities. The hot girl lifestyle has very little to do with sexual exploration (while that can be up to each hot girl's prerogative) and more to do with a continuous upward trajectory of positive energy and growth. The mantra boils down to a concise concept: having fun and living your best life.
A Real #HotGirlSemester

While the Houston-native climbs up the music charts, she still wants to have as much fun as possible while doing so; but Megan makes it apparent that it's not always playtime. With Generation X and Generation Y (AKA Millennials) understanding student debt all too well, Generation Z (including Megan) are also feeling the blunt force of debt more than ever. Currently, the student loan debt now stands at a staggering $1.41 trillion, according to Investopedia.
As a college student herself, the Gen Z artist understands the weight of getting classwork done at all costs. Megan empathizes with what it's like to cram those final papers and exams in at 11:59 PM on their due date, doing the same in between photo shoots and after parties. She majors in Health Administration at Texas Southern University, where Meg Thee Stallion has been transparent about simultaneously being a student and a nation-wide superstar. In an interview with Billboard late last year, she humbly discussed one of her professors pointing out "The Stallion" alter ego.
"Only one of my professors right now knows that I'm like a whole rapper. She followed me on Instagram, and when I came to class she was like, 'Megan, so you got a little alter ego!' I was like, 'Oh my god. Don't follow me!'"
Finishing my homework before my after party #hotgirlsemester https://t.co/zwvnNNRBb5

— HOT GIRL MEG (@HOT GIRL MEG) 1567222103.0
The Vegan Lifestyle

Since she's been in the spotlight, Megan has spoken openly about her dietary choices. She initially transitioned to vegetarianism but became a vegan after researching the treatment of factory-farmed chickens and cows.
In an official report released July 2019, the Plant-Based Food Association (PBFA) and the Good Food Institute reported that plant-based vegan foods have increased in popularity over 11% in the last year, turning veganism into a $4.5 billion industry. "The plant-based meat category alone is worth more than $800 million, with sales up 10 percent in the past year," the report reads. "Plant-based meat now accounts for 2% of retail packaged meat sales."
This increase can be partially attributed to Millennials and Gen Zers being more health conscious of the environmental benefits of veganism and plant-based diets than their predecessors. Megan, along with many other vegans, are doing their best to get others to join in on the movement. She even tried to convince fellow rapper, Chance The Rapper, to make the change by challenging him to eat more broccoli (which he struggled to do) after losing a bet.
Eco-friendly Hottie Movement
Following her veganism movement, Megan began to advocate for a more holistic, environmentally-friendly lifestyle. She often tweets tips, helping her followers become "eco-friendly hotties" with simple life hacks, including using recyclable bags, reusing water bottles and food containers, and pushing followers to stop eating meat (or at least less of it).
Last June, the "Sex Talk" rapper put her words into action and hosted a beach clean-up in California with fans. She posted a now-deleted Instagram live urging fans to "come in y'alls bikinis and we gonna go clean up some sh*t, you know what I'm saying?"
Hundreds of fans attended the beach clean up at the Santa Monica Pier. This event was a powerful use of platform and display of community that more celebrities should embrace, especially because causes such as climate change and environmental destruction will affect our Earth for years to come. While these events may seem minuscule in the face of mass, corporate-level disasters we're facing, it's hopeful to see the next generation (including the popular celebrities) caring enough to do something about it.
Hey Hotties these are a few things I'm starting today ! If you're already an eco friendly hottie please comment mor… https://t.co/N2sQbupnXG

— HOT GIRL MEG (@HOT GIRL MEG) 1559402049.0
Respect Thee Stallion
Megan is still new and is already becoming a recognizable name in music, standing her ground alongside other male and female artists in her genre. With her infectious smile and joyful approach to life, Megan noticeably gets along with everyone from fellow rappers and Hip-Hop moguls to political voices.
.@theestallion via Instagram. "Me and my woman @kehlani 😍" https://t.co/VXD7bfUehn

— Thee Stallion Updates (@Thee Stallion Updates) 1564374522.0
Artists who stand for their causes and understand the intersectionalities of their platforms will be able to influence the next generations much more significantly than politicians who are talking "at" them and not "to" them. The fact that artists such as Cardi B, Beyonce, and Megan Thee Stallion are standing by important, generation-shifting causes will motivate young adults and politicians alike to pay attention to societal issues which can hopefully spark greater change.