Culture Feature
After being shot in her feet earlier this month, Megan Thee Stallion saw her pain turned into Internet memes—a trend that Black women know all too well.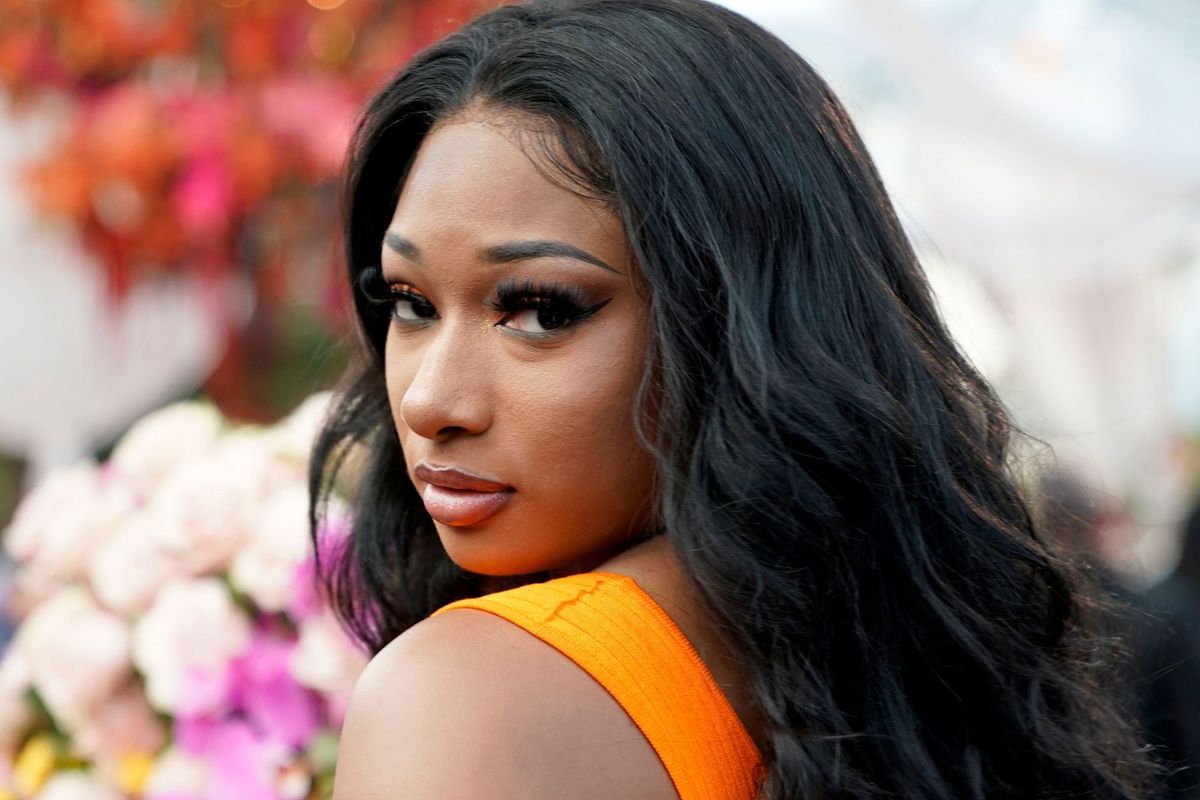 Gun violence has always lurked in the underbelly of the hip-hop industry.
Tupac Shakur and the Notorious B.I.G. both made headlines after being assassinated within months of each other in the mid-'90s, but it seems that rappers dying far too young has become an increasingly prevalent tragedy. In just two years, we lost rising hip-hop stars XXXTentacion, Nipsey Hussle, and Pop Smoke after they were all shot and killed. And as we continue to see a growing list of young rappers like Lil Peep, Mac Miller, and Juice WRLD die of drug overdoses, music fans in 2020 have grown somewhat accustomed to mourning their favorite rappers.
That's why it was so shocking to hear that Megan Thee Stallion—our reigning commander of hot girls—had been shot in the foot on July 12. "I suffered gunshot wounds, as a result of a crime that was committed against me and done with the intention to physically harm me," Megan wrote on Instagram (rumors had been circulating that she cut her foot on glass). Though she added that she was expected to make a full recovery, she still required surgery. Her injury was a startling reminder of the fragility of our heroes' lives—or it should've been treated that way, at least.
---
Instead of being granted the same empathy as some of her peers who have unfortunately been victims of gun violence, Megan's shooting was promptly memeified. Her shooting occurred at the same scene that recording artist Tory Lanez had been arrested for possession of a firearm, leading some to presume Lanez was Megan's shooter, which she confirmed in a recent Instagram Live.
Megan appears to call out Tory Lanez directly. She's had enough. https://t.co/GkWzDO1tES

— VOTE NOW 😷✍🏽 (@VOTE NOW 😷✍🏽) 1597975307.0
Comedian Jess Hilarious felt compelled to post a "reenactment" of Lanez shooting Megan. "I have a Megan Thee Stallion joke but it needs to be twerked on," Chrissy Teigen wrote in a since-deleted tweet. 50 Cent apologized to Megan after sharing a meme poking fun at her shooting. Actress Draya Michele came under fire for comparing Megan and Lanez to Bobby Brown and Whitney Houston, adding: "I want you to like me so much you shoot me in the foot, too."
Fans of Megan were having none of the jokes, and neither was Megan herself. As multiple Twitter users pointed out, the reaction would've been vastly different had Lanez shot Kylie Jenner (whose house party Megan and Lanez had attended the night of the shooting). "Black women are so unprotected & we hold so many things in to protect the feelings of others w/o considering our own," Megan wrote on Twitter. "It might be funny to y'all on the internet and just another messy topic for you to talk about but this is my real life and I'm real life hurt and traumatized."
Black women are so unprotected & we hold so many things in to protect the feelings of others w/o considering our ow… https://t.co/tYPT3LyJFp

— HOT GIRL MEG (@HOT GIRL MEG) 1595020907.0
While some people were making jokes about Megan's shooting, other's didn't believe it at all—prompting the rapper to share photos of her gunshot wounds. She further detailed her experience dealing with law enforcement, saying she was "scared" about being in the presence of an armed Black man around police. "Even though he shot me, I tried to spare him," she explained. "And y'all motherf*ckers is not sparing me. That's crazy. That's f*cked up."
Megan prioritized Lanez's safety over her own, which led to misconstrued reports after the initial incident. She shouldn't have had to prove her trauma to anybody.
Megan's shooting and the infuriating response that followed calls to mind the similar memeification of Breonna Taylor's murder by Kentucky police. For weeks after the 26-year-old Black woman was shot in her home on March 13, it was nearly impossible to scroll Twitter without seeing the phrase "arrest the cops who killed Breonna Taylor" used as a punchline.

"I'm not entirely sure when the shift happened, but it became really apparent that it had stopped being something that was a reminder for justice and was something more about finding the cleverest way to hide the message," pop culture critic Cate Young told NPR regarding the memes around Taylor's death. "I think that whether or not they are effective for a small segment of the population should not override the fact that it is a disrespectful way to engage with her memory."
As writer A. Rochaun Meadows-Fernandez pointed out in an op-ed for Teen Vogue, Black women and girls are overly adultified, sexualized, and dehumanized. And while white audiences have come to embrace the notion of the "strong Black woman," those same women are constantly being failed and left in extreme danger.
Megan Thee Stallion talking about shooting on IG/Instagram live full 27 July 2020 www.youtube.com
Megan could be considered one of those "strong Black women." As she pointed out in her Instagram Live, she has mourned the death of her grandmother and her parents all by the time she turned 25. Her discography proudly boasts a you-can't-f*ck-with-me attitude, spawning TikTok dances and catchphrases left and right.
Despite being a relative newcomer in the mainstream rap game, Megan has already scored a coveted collaboration with Beyonce, who adorably sent Megan flowers after her shooting, as did Rihanna. Megan's main support has come from fellow Black women, likely because others have seen Megan as an indestructible force who doesn't need any help.
Megan is among the 41 percent of Black women who have experienced domestic violence (compared to 32 of all women). White people have co-opted music, slang, fashion, dances, and makeup trends from Black women; it's long past time to defend and protect them with that same passion.
From Your Site Articles
Related Articles Around the Web