MUSIC
The budding 19-year-old "Brooklyn Drill" rapper was killed during a home robbery at his L.A. home in February.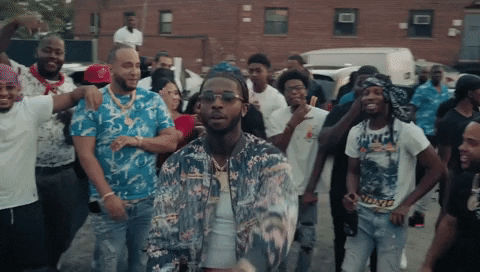 Arrests have finally been made in the case of budding Brooklyn drill rapper Pop Smoke, who was killed during a home invasion in February.
The Los Angeles police responded to an emergency call at 4:20 AM on February 19th at a home in the Hollywood Hills after "masked gunmen" broke into the house the rapper was renting. Pop Smoke had been out the night of the break in and his subsequent murder, and he returned late to the rented home where he was staying with friends and members of his entourage. Pop Smoke was the only person shot at, which originally caused the police to wonder if the rapper had been specifically targeted.
---
The 20-year-old artist was pronounced dead on arrival at a local hospital. Los Angeles police had initially discounted a robbery theory in the days following the murder, but arrests were made on Thursday, July 10th in connection with the case, and it is now believed the incident was a robbery gone wrong.
Capt. Jonathan Tippet, who oversees the Los Angeles Police Department's elite Robbery-Homicide Division, told the Associated Press that the suspects in custody found Pop Smoke's home because of posts the rapper made on social media. According to ABC News, "The Los Angeles Times reported in February that the rapper had posted pictures of him posing by an infinity pool in the home's backyard, as well as a picture of the Los Angeles skyline from what was likely the house's backyard. In another post, Pop Smoke or a member of his entourage put a picture of a gift bag tagged with the Hollywood Hills address and a different photo showed him posing by a Ranger Rover in a spot where the home's address was partly visible in the background."
The five suspects that have been arrested are male, two of them are 15 and 17 years old respectively, and the other three have been identified as Jaquan Murphy, 21, Corey Walker, 19, and Keandre D. Rodgers, 18. All five are believed to be a part of a South Los Angeles gang.
According to the New York Times, "The L.A.P.D. said that it had been informed that Pop Smoke, who was raised in Canarsie, Brooklyn, had gang associations, but added that it had no indication early on that the rapper was being pursued by rivals from the East Coast."
"We believe that it was a robbery. Initially we didn't really have the evidence but then we discovered some other evidence that showed this was likely a home invasion gone bad," Tippet told The Associated Press on Thursday.

Pop Smoke, born Bashar Barakah Jackson, was undoubtedly destined to be hip-hop's next trend setter. Profiled by everyone from The New York Times to XXL, Pop Smoke had been deemed by many as a a founding father for the "Brooklyn Drill" movement, an aggressive and colorful amalgamation of the Chicago subgenre and UK drill. Smoke's breakout hit, "Welcome To The Party," exploded on the streets of Brooklyn and then the world last summer, with Smoke's gruff vocals being one of the most highly dissected topics in Hip-Hop. "Pop Smoke is 20 years old. He sounds like he's 60," wrote Stereogum. "He sounds like his vocal chords are made of scorched asphalt and ground-up glass. He sounds like he ate volcanic ash for breakfast. He sounds like his body has been possessed by an ancient Sumerian demon." But whatever you want to say about that distinctive voice, you can't deny it caught people's attention.

Pop Smoke's debut album, entitled "Shoot for the Stars Aim for the Moon," was released on July 3. Many expect the album to top the charts next week with more than 200,000 in sales.
From Your Site Articles
Related Articles Around the Web