MUSIC
After his unusual stage behavior worried fans, the "Rockstar" rapped insisted he's not on drugs. But the concern is valid.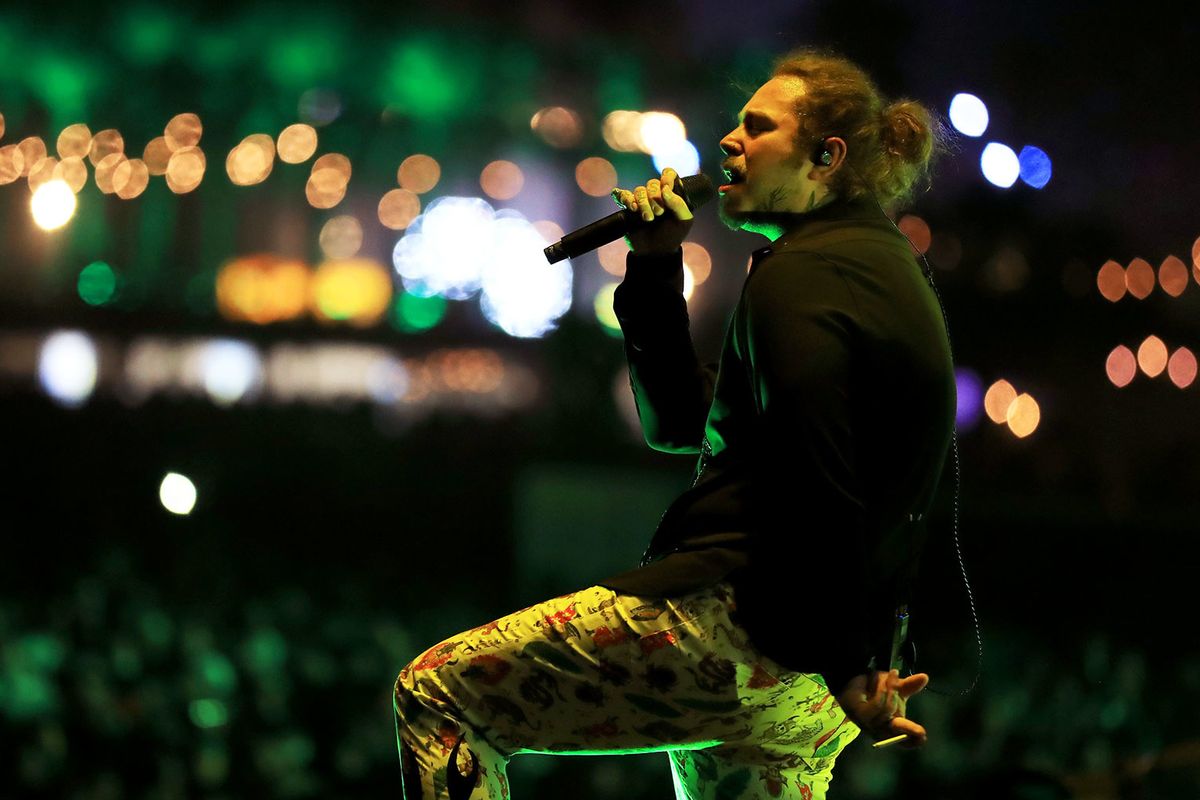 Post Malone has said that the title of his debut album, Stoney, is a nod to "Stoney Maloney," a nickname he received when he used to smoke weed almost daily.
With nine Top 10 hits to his name since 2016, the 24-year-old artist, born Austin Post, has become one of today's most beloved rappers. He raised concern recently, however, when he appeared to be acting strangely during recent performances, leading fans to believe he might be abusing drugs or alcohol. Videos spread on Twitter of Post fumbling around on stage, his eyes glazed over and rolled back in his head.
post malone has been acting strange and inebriated at his shows. ppl are fearing that this behavior is from drugs a… https://t.co/fVypn0z19i

— ava (@ava) 1583481065.0
@2020thoughts_ Also look at this video :( I'm worried and I'm not even a fan or something https://t.co/NTX5dS2llw

— robi (@robi) 1583495693.0
Post addressed these concerns at his concert last Friday in Memphis, Tennessee: "I'm not on drugs and I feel the best I've ever f--king felt in my life," he assured the crowd emphatically. "That's why I can bust my ass for these shows and f--king fall on the floor and do all that fun s--t. But for anybody that's concerned here, I appreciate the love and the support, but I feel f--king fantastic and I'm not doing drugs."

Post Malone addresses peoples concerns about his health https://t.co/ETlHsA9uDk

— LazyAsf (@LazyAsf) 1583553909.0
Post is hardly the first rapper to reference substance abuse in his songs. His 2017 hit "Rockstar" references former AC/DC frontman Bon Scott, who died of suspected alcohol poisoning at the age of 33, while he reveals on 2018's "Better Now" that "everything came second to the benzo." As listeners, we can't always confirm which lyrics are autobiographical, but considering the unfortunate string of young rappers who have died due to drugs or gun violence over the past few years, the worry surrounding Post's behavior isn't just warranted—it's a knee-jerk reaction that we've been conditioned to execute.

In late 2017, the highly influential emo rapper Lil Peep died at 21 of an accidental overdose of fentanyl and Xanax. Less than a year later, Mac Miller also died of fentanyl, which he took by accident thinking it was oxycodone; he was 26. Following a harrowing allegation of domestic abuse, Florida rapper XXXTentacion was assassinated at age 20, months before Miller's death. Late last year, less than a week after turning 21, "Lucid Dreams" hitmaker Juice WRLD died after a seizure that was caused by toxic levels of oxycodone and codeine in his system. "He was a gentle soul, whose creativity knew no bounds, an exceptional human being and artist who loved and cared for his fans above everything else," Juice's label wrote in a statement. Then, just last month, Brooklyn drill rapper Pop Smoke—positioned to be hip-hop's next big thing—was murdered in Hollywood at age 20. The list goes on and on.
These deaths are affecting the landscape of drug use in the rap scene, making such substances (thankfully) less fashionable. Still, to Gen Z listeners, the quick succession of these losses has illustrated the brevity of life for their idols. As The Guardian wrote just days before Pop Smoke's assassination, a generation of young rappers is dying. To worry about Post Malone's health and possible drug use isn't unnecessary alarm; it's understanding that, if Post were abusing drugs and not getting the help he needed to recover, he could very well die. For young rap fans, it's not a death that would be easily reckoned with.
Historically speaking, rappers will always be at risk of dying young. But due to SoundCloud rappers like Lil Xan and Smokepurpp popularizing narcotics, the ways in which they most commonly die have changed. In the '90s, we had "Crumblin' Herb" and "Gin and Juice"; this era's fallen hip-hop stars have brought us tracks with titles like "16 Lines" and "Oxy." Rap fans raised on SoundCloud weren't yet born when Tupac Shakur and the Notorious B.I.G. were both murdered in separate drive-by shootings (they were 25 and 24, respectively), and the mythical "27 Club" that boasts members like Kurt Cobain and Amy Winehouse now feels like a trivial, bygone trend rather than a warning. These days, the most famous rappers who overdose don't even make it to 27. If Post Malone really, truly is drug-free, hopefully others will follow his lead before we lose an entire generation of hip-hop stars.