MUSIC
Our favorite cursed Bud Light influencer has returned with a vengeance.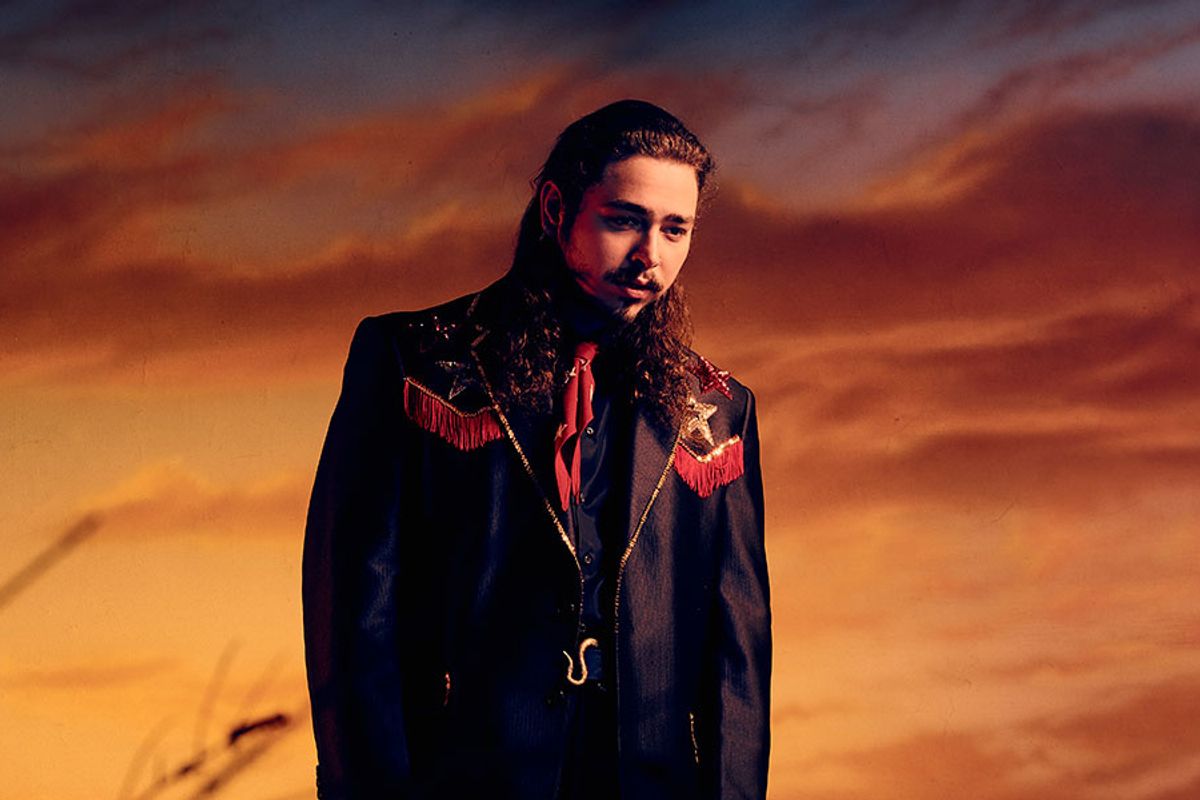 After he released his last album, beerbongs and bentleys, Post Malone left Hollywood for northern Utah.
He purchased a $3 million home, which he described as an "apocalypse shelter" on one occasion and a "fallout shelter" on another. "I'm just buying a place out in the sticks," he said. "I'm building it underground. It's going to be fun until the world ends. But whenever the world ends, it's going to be functional."
You can see this dichotomy (between ecstasy and paranoia, isolation and crowds, stars and neon lights) playing out on Hollywood's Bleeding, which adds scope and abstraction to his typically hedonistic trip-hop.
For all intents and purposes, his music shouldn't be able to emote and resonate the way it does. His lyrics aren't exactly poetic, to say the least ("Bud light running through my d*ck" is a very real line that appears on "Saint-Tropez"). His beats are relatively formulaic, and his image is shaped by absurdity and excess. The messages he sings about are destructive and shallow, and he only gets away with it because he's more of a caricature than a person. He presents himself like a dilapidated zombie, the mutated product of too many nights spent wandering around drugstores, surrendering to carnal impulses, and compulsively ordering from Postmates.
Yet Hollywood's Bleeding manages to be an excellent album, a hard-working fusion of genres that incorporates everything from anthemic 80s-style choruses to faded 90s punk to glossy 2000s trap. The 17-track album is a master class in the art of modern pop songwriting, which is to say post-genre songwriting, and every track feels baked to perfection (pun entirely intended).
Post is an expert at placing that perfect minor chord in that exact place where it'll derail an otherwise shallow or synthetic track. His music is almost robotically perfect, except in those moments where it cracks open and lets in the blues. Despite the absurdity of his image, there's an underlying darkness to everything that Post makes. His music is kind of like a sonic depression meme, never self-serious but built around a foundation of egotistical yet resigned desperation.
Because it's Post Malone, even the album's moments of vulnerability are calculated, wound together by exquisite production helmed here by none other than Kanye West. Like most of Kanye's mixes, no matter their content, every single sound is isolated in perfect detail, designed for crystalline sound even through cheap headphones or laptop speakers; you can't miss the grinding bass, the echoing reverb, or, of course, Post's signature quavering vibrato.
Aside from the production quality, Austin Post's voice might be the stitch that holds the whole industrial complex that is Post Malone together. No matter what he's singing about, his voice soars above it, raw and wounded. True Post fans have known for a while that he's the real deal, because they've seen his old Dylan covers and the like, but on this album, he really lets his vocals barrel through.
Bob Dylan Don't Think Twice, It's All Right Cover - Austin Richard www.youtube.com
Though they don't sound similar, his voice's raggedly meditative quality is sometimes reminiscent of Kurt Cobain's, especially on songs like "Im Gonna Be" where vocals take center stage. The thing about Post Malone is that no matter what he's singing about—ecstasy, breakups, death, or truly unfathomable quantities of beer—his music feels peaceful, largely thanks to his voice, which switches from primal screams to pillow-talk, from whispery rap to folky howling, before decompensating into lush choral harmonies. Like a greasy, sweat-stained, drug-fueled bear hug, his music can be disorienting at first, but there's a sense of relief to be found when you surrender to its warmth.

Still, with his gold teeth, face tattoos, and his endless rambling about getting wasted and wiping out, his music shouldn't be as comforting as it is. "Circles," the album's lead single, is a blend of beachy guitars and swirling, luxurious synths that somehow still manage to fit into a neat pop structure. Songs like "Allergic" start out with a boppy motif that sounds like it could get repetitive fast, but he doesn't let that happen, instead stripping things down at the chorus. The song winds up being one of the saddest on the album, despite its gleeful exterior; like many Post tracks, it's utterly resigned to its own misery, and ready to dance through it. If anything, that's Post Malone's message for all of us. Party with your demons (or laugh off their criticism), he seems to say, laugh at all of it, and build your shelter away from the disaster zone for when it all gets to be too much.
Post Malone - Circles www.youtube.com
Of course, he has a lot of help. Halsey shines on the otherwise unremarkable "Die For Me," and SZA brings her punchy rhythms on the bubbly, spaced-out "Staring At the Sun." One of the album's highlights is "Take What You Want," which melds Ozzy Osbourne's blistering guitar solos with hyper-modern beats, proving that boomers and millennials can get along after all.

There's a kind of liberation to surrendering to one's love (or, ahem, attraction to) Post Malone; like a modern Dionysus, he seems to promise revelry and relief. That's not to say that he's stuck in the past—with his post-ironic image that feels tailor-made for the Internet's landscape, his name feels prescient. Post Malone makes music for the post-postmodern era, when meaninglessness itself has become meaningless. On "Myself," he talks about Internet-era dissociation. "I'm sick of this American dream sh*t," he says in a rare moment when he looks beyond his chaotic inner life, only to see it reflected in the equally chaotic universe.
In many ways, his music is a natural fit for the Tik Tok era and for the schizophrenic and persona-driven entity that is social media, which tends to distort reality while making it unavoidable. On Hollywood's Bleeding, he seems more aware of that than usual, and there are moments he breaks away from it entirely. "The world has gone to sh*t and we all know that," he sings on the triumphant, melancholy "Internet." "People freaking out, like get to Prozac." It's classic Post Malone—outlandish, inappropriate, and bizarre, but somehow cogent at the same time. When the song surrenders to a dramatic string section, it feels inevitable. Post always had a symphony behind him. He's just letting us all hear it for the first time.