Music Features
"I'm really proud of the music we're making. I'm having a lot of f*cking fun and I'm really excited to put something new out for you all to listen to, I suppose."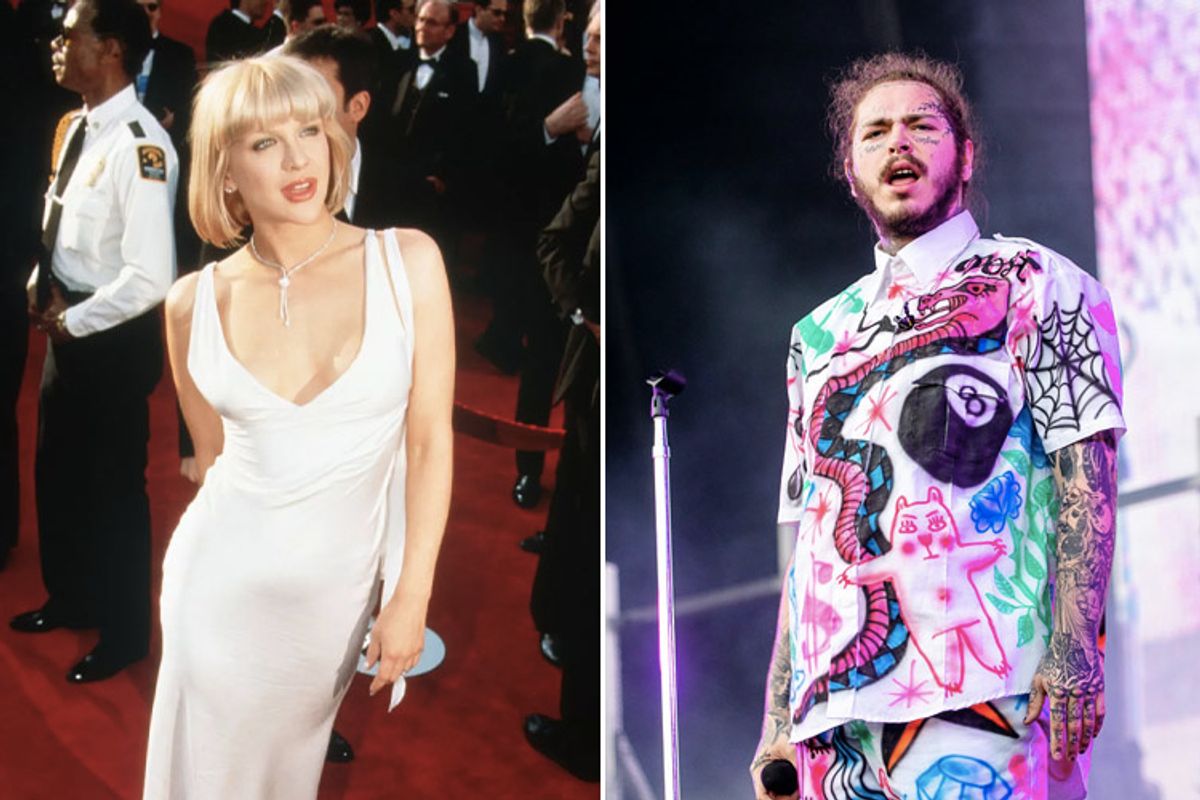 "I'm trying to put it out as soon as I f*cking can," said Post Malone, who has apparently been spending his quarantined days polishing his third album at home. "I'm really proud of the music we're making."
Post livestreamed covers of Nirvana songs this Friday and peppered the show with asides like that one. The performance featured additional efforts from Travis Barker of Blink-182, bassist Brian Lee, and guitarist Nick Mack. The whole set was a benefit for the United Nations Foundation's COVID-19 Solidarity Response Fund; with Google's help, they raised $3 million.
---
On camera, the Hollywood's Bleeding singer apologized for the filthy state of his house—in classic Post Malone fashion, you could see a couple half-finished drinks behind him. Still, he did an admirable job bringing Cobain's gnarled vocals and shattered songs to life, even garnering praise from Courtney Love, who took to Instagram before the show to write, "Thank you @postmalone @who (worldhealthorganization) & @google who will match 5 million $ in donations. Thank you beloved @coreresponse and the amazing @nhs ( profound to watch this amazing health care system working = inspiring) thank you mighty kc for writing these songs with your elegant and monkeyed hands that the kids still want to sing and play and hear and use to fight and hunt and cure and heal and eradicate this f*cking covid19 virus. I approve the usage. Good luck mr malone."
"GOOSEBUMPS!" she wrote after the performance. "F--- YES. Go have a margarita @postmalone. nothing but love from here." She also added" #stylingbyme," referring to Post's outfit—a tribute to the floral dress Cobain wore in 1990.
Post Malone also won the approval of Krist Novosevic, the Nirvana bassist, who livestreamed support during the event. "So proud of @PostMalone and crew," he wrote, "I don't think these fellows can play any better. They are on fire!!!!"
Post is obviously more than a sometimes Nirvana fan. He has the lyric "Stay Away" tattooed on his face and Cobain's visage on his finger. During the set, Post played 15 songs, staying mostly true to their grunge roots and avoiding "Smells Like Teen Spirit," making Nirvana traditionalists happy.
"What made Post Malone's live stream stand out amid the sudden glut of self-recorded quarantine content was, quite simply, how good it sounded, how closely it approximated that now-rare experience of seeing a rock band playing music in front of you really, really loudly," wrote Lindsay Zolaz for The New York Times.
There's something akin to the raw electricity of a live concert to Post's broadcast, a rare thing amidst all of the noise of digital music. It feels raw, a bit risky, full of growling overdrive, sometimes as fractured as a poor Zoom connection. It's also simply cathartic to hear Nirvana's music—always tired of the surveillance state, always ready to smash through the fourth wall—played out against the raging beast that is this fractured moment in time, even or especially through the postmodern vessel that is Post Malone. One has to wonder if this is all taking place in Post Malone's underground bunker, which feels like an appropriate place for such an anachronistic yet appropriate performance, if only in its apocalyptic overtones.
Post Malone x Nirvana Tribute - Livestream www.youtube.com