CULTURE
His entire night was a very symbolic reconstruction of the incredibly chaotic 2010s and an invitation into what is sure to be an equally chaotic new decade.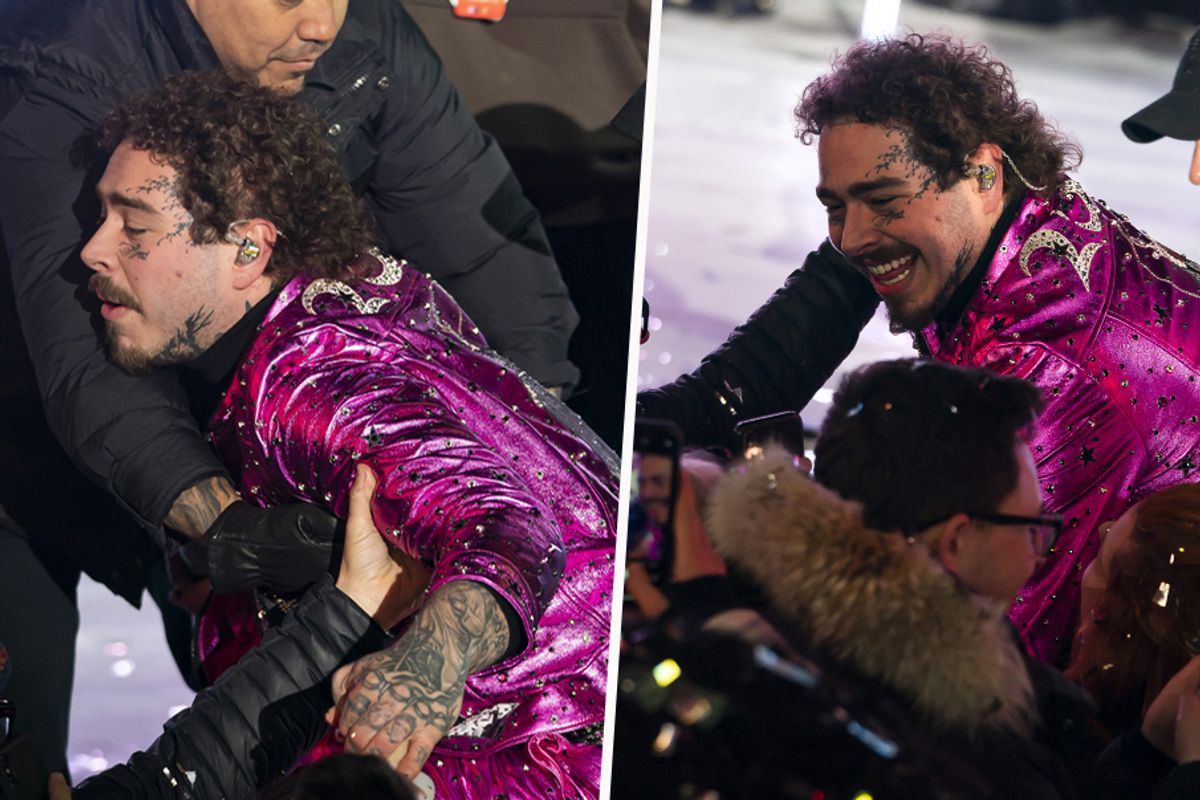 Post Malone had a tumultuous New Year's Eve, to say the least.
Just hours before his headlining performance in Times Square, Posty decided to emblazon his face with yet another tattoo. It's "like a gauntlet and like a flail—it's like a big spiked ball on a chain," he told TMZ.
This means that he is rapidly running out of space for more face tattoos, a true achievement. When asked about the tattoo, he said, "It hurt like a motherf*cker."

Later that night, Post Malone headlined Dick Clark's New Year's Rockin' Eve in Times Square. He performed his hits in a neon pink suit, and, at some point, he tumbled into the audience. Though the fall caused a stir, Post was unscathed and appeared to be laughing as security helped him back onstage.
Post Malone falls off stage mid performance at Dick Clark's Nye celebrations www.youtube.com
By midnight, he had completely bounced back from the fall, and fellow headliners and K-pop stars BTS drew him into a group hug as the clock struck twelve.
Post Malone didn't had someone to hug but then namjoon told him to join to the rest of them and that's so cute, pos… https://t.co/sNIKjJsXRw

— 베리⛄ (@베리⛄) 1577856671.0
When you're living under late capitalism, sometimes simply being a complete disaster is a revolutionary act.
Thus, Post Malone's disastrous New Year's Eve celebration—face-plant and face tattoo and who knows what other shenanigans—might be read as an act of revolution against a system that expects us to be visually composed and perpetually re-optimizing ourselves. On the other hand, it might just mean that Post Malone—like our global ecosystem and economy—is really in free-fall, and we're just going to keep watching things plummet.
Regardless, Post Malone's New Year's Eve sounds like a true last-night-of-2019 mood, the perfect way to ring in a new decade that's sure to be at least as chaotic and Post Malone-filled as the last. Despite all the mishaps and painful inking experience, the kind of compassion displayed by BTS in Post's hour of loneliness is what might get us through it all.