Culture Feature
The star of controversial adult videos doesn't have the option to move on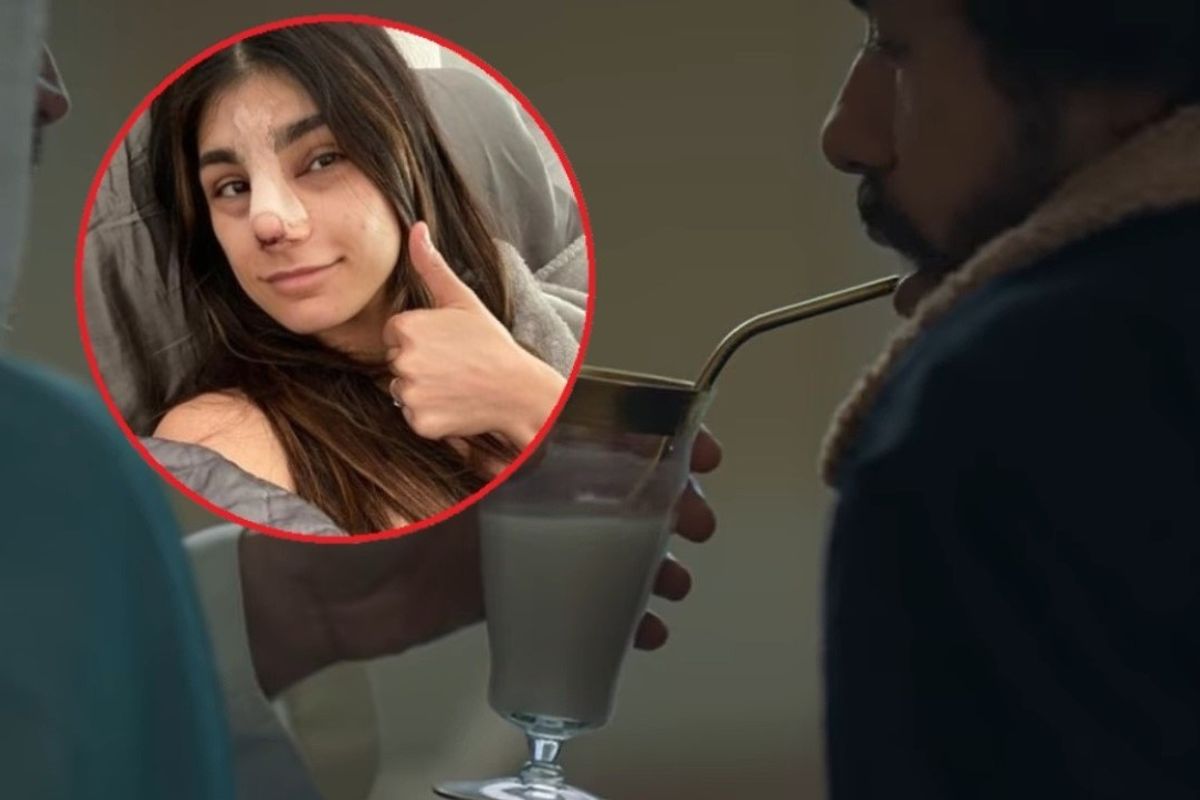 Do you remember what you were doing in October of 2014?
Without scrolling through old pictures, can you even remember what costume you wore for Halloween that year? As Mia Khalifa has recently clarified on social media and in an appearance in season 2 of Hulu's hit show Ramy, she doesn't have that issue.
She is never allowed to forget what she was doing in the fall of 2014, or what costume she wore that year, because her "fans" and haters (often the same people) won't let her—they generally act like that was the only significant time in her life. But it may be worth considering the not-so-sexy bits:
---
I'm the luckiest girl in the world 💍 and I said "JA!" Vi är förlovade! ! #StockholmSyndrome #Trapped🤵🏼👰🏽 https://t.co/TZV54kHUay

— Mia K. (@Mia K.) 1552578147.0
Khalifa is a Lebanese-American who was raised in a conservative Catholic household. Her family moved from Beirut to Maryland in 2001, when she was 7 years old, following more than a decade of conflict in Lebanon that largely functioned as proxy war between Iranian and US/Israeli interests.

After a previous rocky marriage to her high school sweetheart—which officially ended in 2016—Khalifa and acclaimed Swedish chef Robert Sandberg got engaged last year. Unfortunately their wedding—originally scheduled for June of 2020—had to be postponed because of the coronavirus pandemic.
Khalifa is a vocal privacy advocate and a huge sports fan—having worked professionally as a sports commentator for Complex News and for Rooster Teeth. Once, at a Stanley Cup playoff game in 2018, Khalifa was struck in the chest by a high-speed hockey puck, which ruptured a breast implant and required her to get surgery—she kept that puck as a souvenir.

Along with sharing video of that surgery, Khalifa recently documented her experience with rhinoplasty for millions of fans on social media, opening up about her lifelong insecurity about her nose and praising the doctor who helped her change that.
Mia Khalifa's Brief Tenure in the Adult Film Industry

In short, at just 27 years old Mia Khalifa has had a very interesting life. Oh, and for three months when she was 21 and struggling with her self-esteem she worked in the adult film industry.
Yet, if Khalifa's name is familiar to you, that three month period of her life is probably why. In particular, one video she filmed during that time—entitled Mia Khalifa Is Cu**ing for Dinner—resulted in tremendous fame along with death threats, estrangement from her parents, banishment from her home country, and shockingly little money.
In that video Khalifa engaged in sex acts while wearing a hijab. Whatever valid concerns you might have about a lapsed-Catholic woman appropriating an Islamic symbol of modesty for that purpose, trust that she has paid her debt.
Along with the fact that Khalifa was paid only $12,000 for the entirety of her work in that industry—while various companies have no doubt made millions off of her name (not her real name, fortunately) and image—she got to see the worst of what that kind of fame can do to a person's life.
Khalifa's name has consistently been one of the top-ranked search terms on adult sites—despite her brief tenure in that industry. As a result, she was not only banned from returning to Lebanon and disowned by her own parents, but she also got to see herself edited into an image wherein an ISIS executioner was preparing to behead her.
On top of all that—unlike the embarrassing pictures you posted to Facebook when you were 21—Khalifa has no way to delete these remnants of a past she now finds embarrassing—while massive corporations continue to profit from it.
Khalifa's celebrity is such that even at Disneyland she can count on being approached by fans and asked for pictures. But can she count on only being recognized by people who admire and objectify her? What if she runs into one of the people telling her she deserves "Hellfire?" Thankfully, she has managed to take her infamy somewhat in stride—responding to one such hater back in 2015 that she's "been meaning to get a little tan recently."
Mental Health and the Desire to Move On
Still, Khalifa clearly wants to be able to move on from those three months of her life and the strange blend of hate and lust they have earned her from strangers.
She has discussed the difficulty of finding regular work now that she is so recognized for sex work, and she's advised anyone considering the industry to think very carefully because "they make it impossible to rectify your regrets should you have them in the future."
More recently Khalifa has acknowledged the immense mental and emotional toll that impossible situation takes on her, posting a video to her TikTok account with the text "that hourly dissociative attack from remembering hundreds of millions of people's only impression of you is solely based on the lowest, most toxic, most toxic, most uncharacteristic 3 months of your life," and "It is what it was."
Mia Khalifa on TikTok
Mia Khalifa on TikTokwww.tiktok.com
This challenge is also among the ideas that Khalifa's recent cameo on Ramy delves into in a truly bizarre way. "Ramy" follows creator first-generation Egyptian-American Ramy Youssef as a fictionalized version of himself—Ramy Hassan—on a spiritual quest to connect with his faith and conquer his vices. Among his most challenging vices is his compulsive viewing of videos starring the likes of Mia Khalifa.

In episode 4 of season 2, entitled "Miakhalifa.mov," Ramy goes to the home of Mr. Bin Khalied, a wealthy Emirati investor, in order to solicit a donation for Sheikh Ali Malik (Mahershala Ali). When he arrives, he sees Mia Khalifa there, and the strangeness begins.
Mr. Bin Khalied spots that Ramy recognizes Khalifa and explains that he too struggled to stop watching her videos. But unlike Ramy, who sought out Sheikh Ali Malik's guidance, Bin Khalied claims to have discovered a novel solution in an ancient tradition.
Magic Breast Milk
According to Bin Khalied, an obscure and "somewhat debated" Islamic hadith instructs that breast milk was historically used to "establish lineage."
With that in mind, Bin Khalied reached out to Khalifa to try to "create a new relationship" with her breasts by inducing lactation—"a difficult process"—so he could drink her breast milk and they could become like family. Then Ramy drinks some and uses that same argument to claim that they are now brothers, convincing Bin Khalied to make a generous donation.

In a show that has widely been praised for Muslim-American representation, the character of Mr. Bin Khalied has been understandably criticised as reaffirming the stereotype of wealthy, eccentric Emiratis—though perhaps ultra-wealthy people of all cultures should be called out for being weirdos who exploit the power of money for their perverse ends.
Regardless, it's what comes after this strange scene that has brought Mia Khalifa's story back to the broader attention. Ramy sits down with Khalifa, and she tells him about the shame she feels around those videos she made back in 2014.
She explains that Bin Khalied supposedly "got ISIS to leave [her] alone" and talks about the hypocrisy of being banned from the Middle East when, "Statistically, Muslim countries view more [adult films] than anyone else," adding, "The men who are yelling at me are the same men who are clicking on me."
Mia Khalifa And Ramy Scenewww.youtube.com
Sadly that is so often true. Men often project their shame about their own sexual appetites at the performers who are objectified and exploited and thrown away by the industry feeding those appetites. Success and fame in that context are hardly a reward for women like Khalifa who may have unwittingly signed away the rights to their own image to be made into perpetual objects of lust and hate.

No amount of nose jobs or magic-breast-milk-cures for addictive internet habits can make that problem go away. But if we listen to the stories of people like Mia Khalifa and change the laws to give the stars of these videos more of a say in how they are distributed and used—more of a chance to move on (or at least a cut of the profits)—we might all have a little less to be ashamed about...