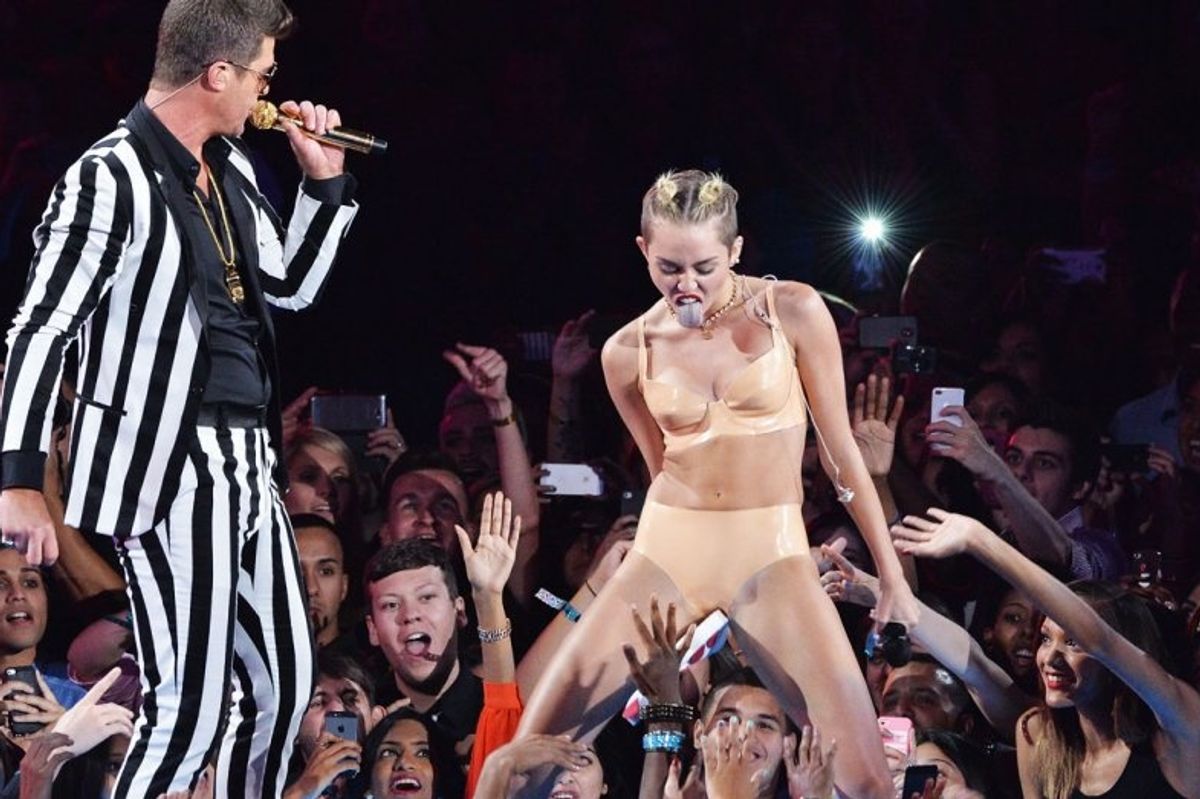 Facing allegations of cultural appropriation, Miley Cyrus took to Instagram in 2017 to clear the air about her comments surrounding Hip-Hop.
"At this point in my life, I am expanding personally/musically and gravitating towards uplifting, conscious rap," she wrote. "As I get older I understand the effect music has on the world & seeing where we are today I feel the younger generation needs to hear positive powerful lyrics!"
On "Unholy," a two-minute cut from Cyrus's latest EP SHE IS COMING, she sings: "I'm a little drunk, I know it. Imma get high as hell. I'm a little bit unholy. So what? So is everyone else." On "D.R.E.A.M," Cyrus calls out: "Hit the ghost, raise a toast / Pop the molly, drugs rule everything around me." Later in the song, Ghostface Killah makes an awkward appearance and raps: "Purple Perc, sticky green Mollies, sipping lean, got the white that's sure to light the floor like in 'Billie Jean.'"
It's not uncommon for Miley to say one thing and do another. She has often labeled herself as someone who "can't be tamed," and that assessment has only been somewhat accurate. In 2009, Cyrus and some friends were seen slanting their eyes in a gesture that typically mocks Asian people. Groups like The Organization of Chinese Americans demanded an apology, but Cyrus refused until the blowback became too intense (she finally stated that the whole scandal was a valid "learning experience"). During a performance of her song "We Can't Stop" at the 2013 MTV VMAs, she stripped down to a nude latex bra and panty set and twerked on misogynist shit-bird Robin Thicke. After being additionally criticized for using black dancers as accessories during the performance, she told Rolling Stone: "those aren't my accessories. They're my homies." Shortly after her Bangerz tour wrapped up–each performance on the tour included scenes of mock orgies and inflatable penises–Miley gave a controversial interview with Billboard, wherein she dismissed hip-hop as misogynistic, despite her direct appropriation of the genre.
Later in the interview, Miley insisted that her Bangerz follow-up would be country influenced and more family-friendly. 2017's Younger Now kept that promise. Country-infused and devoid of hip-hop influence, her record went on to sell only 45,000 copies it's first weekand was derided by critics as being "lifeless" and an uninspired attempt at reinvention. "[It's] too soon to know whether this, finally, is the 'real' Miley standing up," wrote The Guardian. It's clear now that her return to hip-hop was all but inevitable after Younger Now's flop. After all, it's been proven time and time again that Miley is desperate to remain famous.

Yet the main issue with SHE IS COMING is that it's equally as uninspired as Younger Now. "Party Up the Street" is stiff and lifeless, with Swae Lee sounding lost and confused as he stumbles through his verse: "You can see our feet from the street since the garage was halfway open," he sings breathily. "The Most" is a flaccid love song that attempts to justify Miley's toxic behavior towards her now-husband Liam Hemsworth. "How many times have I left you in the deep?" she sings in closing, "I don't know why you still believe in me." The issue with believing and trusting in Miley Cyrus is that more often than not–as Liam Hemsworth can attest–she's going to break your heart. Everything she does is always for Miley's gain, and while fans will view her IDGAF behavior as its own form of feminism, it's hard to look past the selfish nature of it all.
SHE IS COMING
is destined to conquer the radio, but it also plays like a requiem for Cyrus' individuality. It seems that the "real" Miley will remain a mystery to everyone, including herself.