Frontpage Popular News
Miley Cyrus makes a promise to her dad Billy Ray Cyrus on Twitter and keeps it
The morning of the VMA's Miley posted a throwback of her 2013 performance.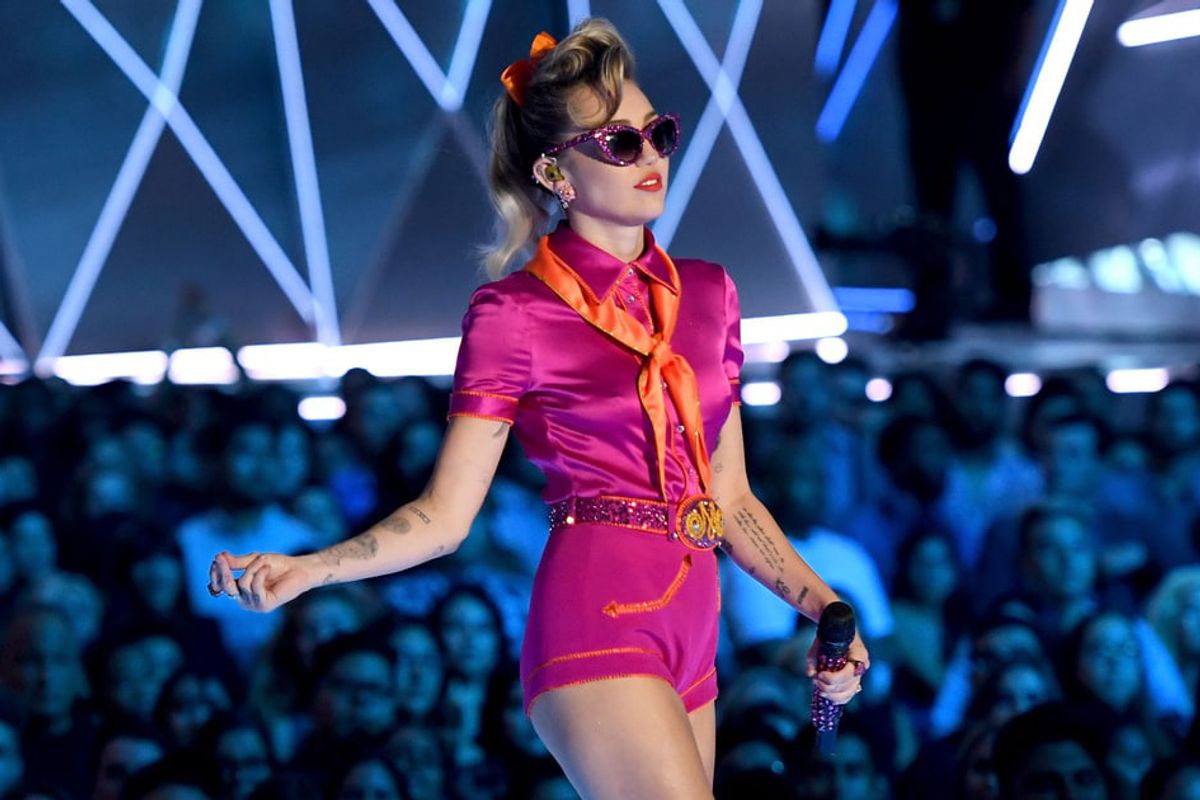 "Cause we're gonna go all night till we see the sunlight, alright."
[rebelmouse-proxy-image https://media.rbl.ms/image?u=%2Feol_images%2FEntire_Site%2F2017727%2F%2Frs_1024x759-170827200710-634.Miley-Cyrus-Family-MTV-VMA.ms.082717.jpg&ho=http%3A%2F%2Fimages.eonline.com&s=677&h=5c21e76f7da146872d7ea616d28bf63faa8689f64e9300d57356d23ea161b791&size=980x&c=1617347213 photo_credit="" caption="" pin_description="" image-library="0" crop_info="%7B%22image%22%3A%20%22https%3A//media.rbl.ms/image%3Fu%3D%252Feol_images%252FEntire_Site%252F2017727%252F%252Frs_1024x759-170827200710-634.Miley-Cyrus-Family-MTV-VMA.ms.082717.jpg%26ho%3Dhttp%253A%252F%252Fimages.eonline.com%26s%3D677%26h%3D5c21e76f7da146872d7ea616d28bf63faa8689f64e9300d57356d23ea161b791%26size%3D980x%26c%3D1617347213%22%7D" expand=1]
If you have followed Miley Cyrus at all, you know she's a legendary daddy's girl, first starring on Hannah Montana beside him and always talking about him in interviews. The only lapse in this was after her 2013 VMA's performance of "We Can't Stop." Miley shed her former innocent branding and traded cowboy books for leotards and showed the world a different side of her. An inappropriate foam figure side of her. Billy Ray Cyrus was just about speechless in interviews after, but still supportive of his daughter and her endeavors. Looks like Miley didn't forget either. Just before the VMA's Miley tweeted this to her dad.
The singer edited a photo of her dad into the photo trolling both him and well all of us who talked smack about her unique performance. In fact, she kept this promise and her performance at the VMA's this year was far from twerking and foam fingers. Much like her new single and what appears to be the general aesthetic of her new album, it was fun and eccentric but refined. Miley wore a hot pink romper inspired by Elvis much like the style of her performance that she varied between the upbeat single version and a more stripped down rockabilly style. She even Tweeted about The King himself.

She started alone on the stage with a genuine performance of the first verse until her elderly backup dancers came out whom she sometimes even fondly addressed by name on stage. Just like her music video, the ensemble of elders were dressed in their favorite clothing of their youth and rocked out to Miley's song with her. At a point Miley also danced with a group of tots on toy motorcycles continuing her vision of all-inclusive music. Miley hilariously sang to one of the elderly ensemble dancers the lyric "what goes up must come down," the elderly woman grabbing her breasts making it clear that this song is about aging and learning and doing so gracefully. Perhaps my favorite thing about the performance was her dad Billy Ray rocking out nearby to his daughter's performance and that Miley tweeted that she will be sitting next to her sister Noah Cyrus who also performed. Cue: tears.

Miley's album Younger Nowcomes out September 29th and we can't wait. Watch the full video here.
---
Anie Delgado is a contributor to Popdust and is an actress and musician based in NYC. Follow her on Instagram and Twitter @anie_delgado and on Facebook and check out her music on Spotify.
---
Read more...
20 thoughts I had catching up on Game of Thrones
Apple is negotiating with Universal & Warner Brothers to bring you new movie releases only weeks after they hit theaters.

What is sheetcaking? Tina Fey's SNL Appearance has become controversial.
---