MUSIC
The Singer Sharpens His Fangs with a Combustible Anthem.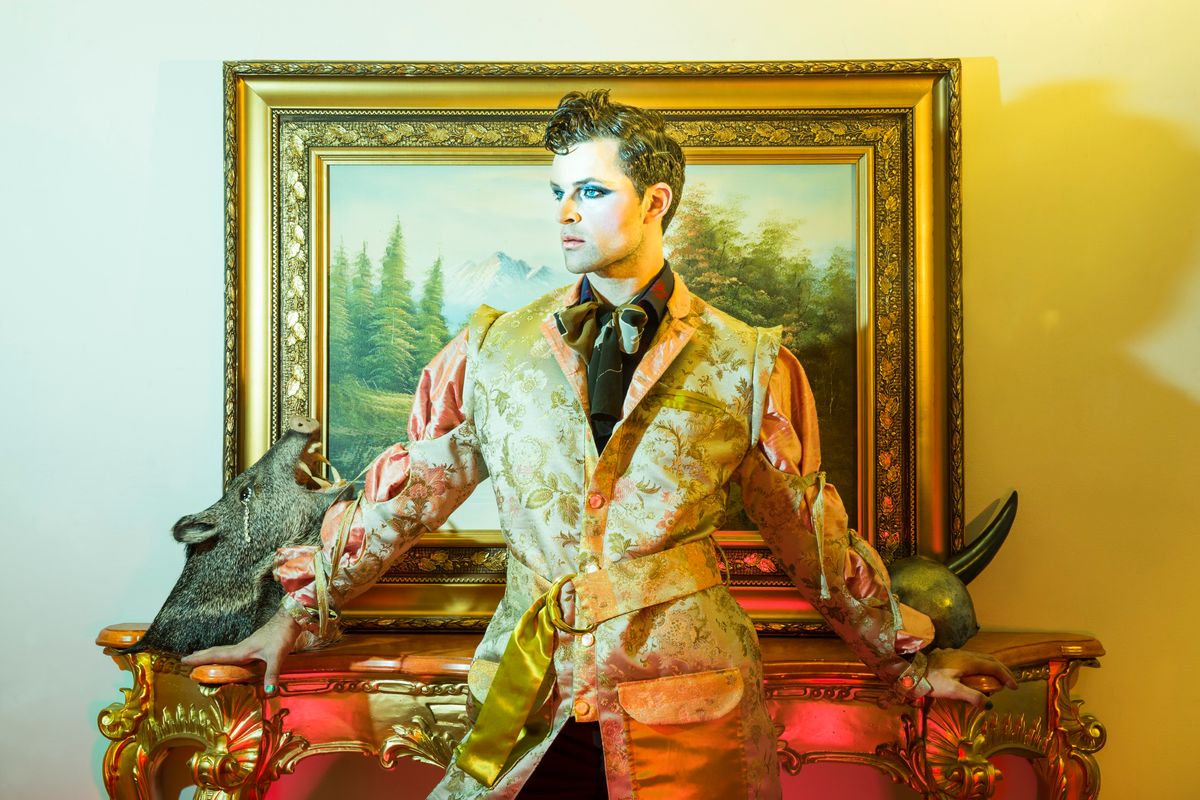 Haley Varacallo
Vogel turns pain into pure, unadulterated fire.
Natti Vogel is hip to the ways of tricks ⎯⎯ for better or for worse. After a particularly prickly trick, he turned pen to paper to release his many complex emotions, from anger to weepy devastation. But he wasn't down for long. "Trick! the Musical" is an overly-dramatic piano-based glitter-romper depicting the aftermath and how he picked up the pieces and put his heart back together again.
"Oh, you're a good time, as long as no one anticipates the punchline / I got some personal faves like when you'd switch-and-bait it," he hisses over grand Chicago-style percussion and a sweeping horn section. It's his brazenness that is most endearing. He later spits...in the trick's face, "My big d--- couldn't heal you though I tried / I blew my load on you for nothing, Gesundheit." Ouch!
Vogel is savage, and that's what is so striking about this latest single, serving as the delicious follow-up to "Brown Rice," accompanied with a somber and cutting music video. But "Trick! the Musical" spins a devious and necessary web, an explosive clap-back aimed at deconstructing toxicity in the LGBTQIA+ community. He doesn't mess around, and why would he? He is simply speaking his god's honest truth. It's refreshing.
Musically, the fearless and effervescent performer doesn't "fuck with a specific genre: I'm genre-fluid. I want to use form, not have it use me. Because I made my living from cabaret as a teenager, the press likes to use that word and 'theatrical' to define me," he says, drawing parallels to icon David Bowie, who "came from the theater, too. A ton of people to this day ask me to write a musical with them, and I'm just like, 'Wait, no, that's not my jam: you'll see where I'm going soon, it's not going to make sense yet, but hang tight.' I titled this song 'Trick! The Musical' to appropriate the genre of theater in a non-theatrical format. It's like the the Hamilton Mixtape in reverse."
Natti Vogel shot by Haley Varacallo, graphic design by Jessica Clinton
He details more backstory of the song, premiering today, "I was ghosted by an exquisitely manipulative 'trick' who'd gotten my hopes way up. I told my friend about the situation, and she wrote back, 'Damn honey, I'm sorry, he's playing games.' And I was like, 'Oh, that's what that was!' So, whatever emotional piece I was about to write turned into the pure fire that I needed to keep it hot and keep it moving."

"Trick! the Musical" is an air-tight pop tune, unleashing hell on a judgmental and gross trick, who had it all coming from the very start anyway. "I'm hip to your conquest complex / You got me feeling oh-oh-oh all over the place," Vogel wails in waves, riding along a slippery melody. He's up for letting him down, shattering the trick's ego in the process. Reality check, please!
"I want to show everyone that gays aren't just fabulous ornaments built to entertain and accessorize straight people," he continues, point blank. "We have our own rich, real, intricate histories with each other that are not staged by reality TV or played by straight actors for Hollywood."
"Trick!" defies boundaries, too, encompassing all fake AF people. "My promise to you is that there is at least one fake-ass person in your life who several daily listens of this song will effectively banish from your life! Try it!" Vogel stresses.
Vogel has a pair of shows coming up in Brooklyn on July 20th and 28th. Check out his other music on Spotify now.

Listen below:
Photo credit: Haley Varacallo
---
Jason Scott is a freelance music journalist with bylines in B-Sides & Badlands, Billboard, PopCrush, Ladygunn, Greatist, AXS, Uproxx, Paste and many others. Follow him on Twitter.
---
POP⚡DUST | Read More…
READY TO POP | Amanda Brown, Erik Dylan & More Offer Songs For Change
PREMIERE | ANNALIA Traces Human Connections on Debut EP, 'Wavelength'
READY TO POP | Lexxi Saal, FRENSHIP & More Groove Through the Night