TV Features
Big TV networks keep on announcing new musical broadcasts, but they still haven't figured out what to do with them.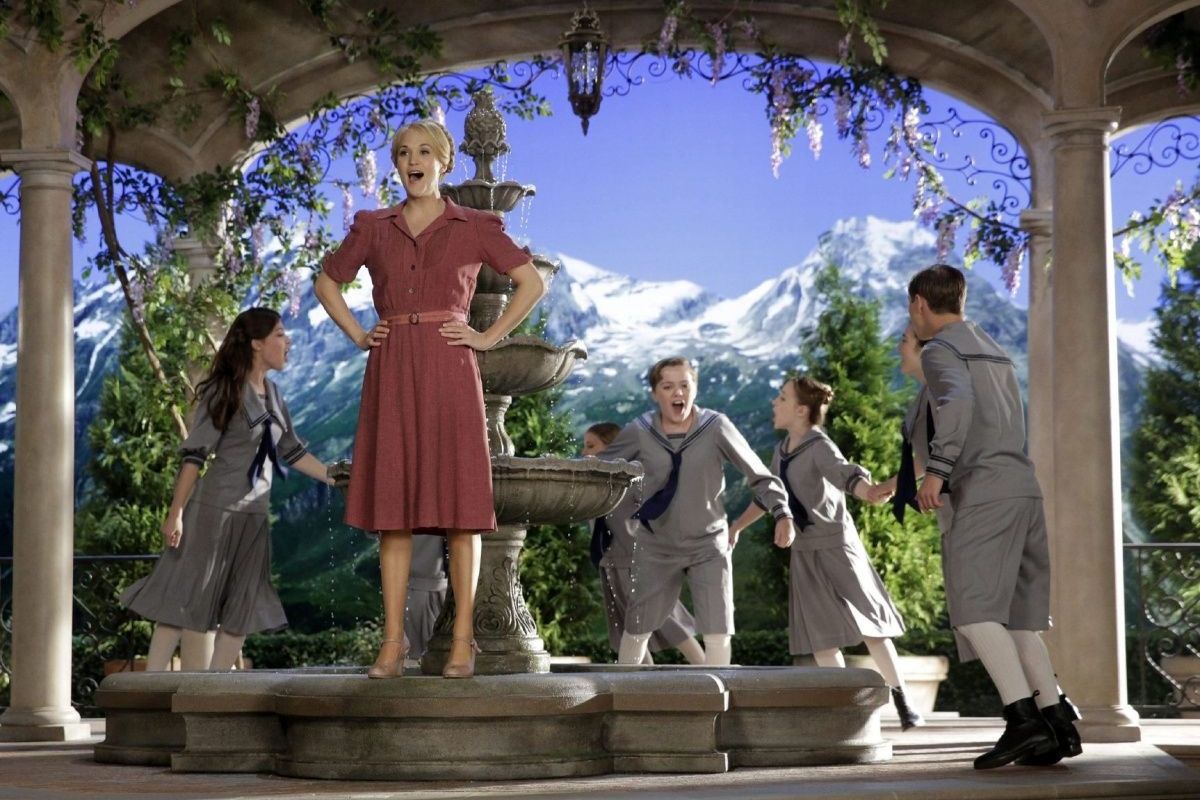 NBC
On Monday, Fox announced the cast for its next live musical production, Rent. And while we now know the answer to the question of who will play Mark, Mimi, Joanne, and Maureen (Jordan Fisher, Tinashe, Kiersey Clemons, and Vanessa Hudgens, respectively) one question remains: have the networks figured out what to do with a musical broadcast?
The TV musical, in its current iteration, anyway, came on the screen with 2013's The Sound of Music Live! on NBC. On paper, it had all of the ingredients necessary for baked-in success: the made-on-television face and voice of Carrie Underwood, Broadway staples and Tony Award-winners Audra McDonald and Laura Benanti, and a warm-and-fuzzy holiday air date in early December. And yet things never quite came together.
While Underwood and her Grammys had already proven her vocal talent, her acting left something to be desired. Despite tepid reviews, ratings were huge, and NBC announced plans to similarly stage a live version of Peter Pan the following year. In 2016, the network continued to franchise live TV with The Wiz Live!, and Hairspray Live!, and have announced a production of Hair for 2019.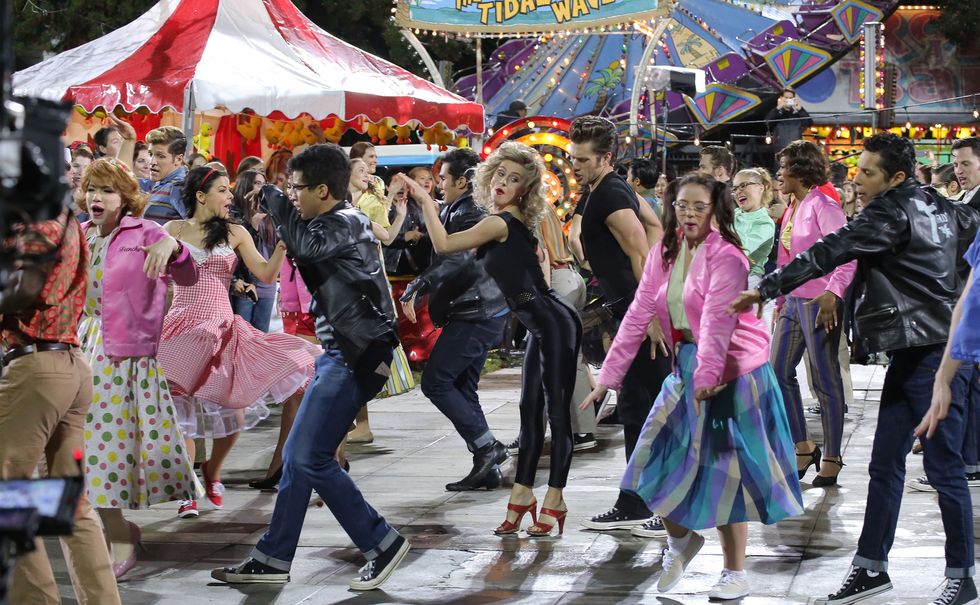 The cast of Grease Live Fox
NBC seemed to think that adding the word live and an exclamation point to the titles of these shows would conceal the fact that each broadcast felt plagued by rigor mortis. That's because they were all missing the defining feature of any live performance: an audience. An audience provides the stakes on which a show can bet success. With an audience, the verdict is instantaneous. Even a muffled cough or the sound of someone shifting in a seat would have been enough to give Music a pulse. Instead, the cast performed in the vacuum of a soundstage, with no one to play to but a room filled with canned air. Every crescendo, every pause for laughter—even what, under normal circumstances, would have been a show-stopping performance of "Climb Ev'ry Mountain" by Audra McDonald—was met with silence. That silence, so loaded with the melodrama inherent to musical theater, was deafening. A recreated stage production performed for cameras in lieu of people only heightened the sense that something was missing. And so the only aspect of a live performance that successfully translated to the screen was the most awkward and uncomfortable theater going sensation: when the audience fails to respond. Without an audience, why bother broadcasting live at all?

Creating event TV isn't a terrible idea. With streaming services and archives of past hits fighting for viewers' attention, it stands to reason that networks want to give viewers incentive to make an appointment with their big screens. Add to that the potential for simultaneous conversation on social media, and the result is a foolproof formula to be land center stage, in the spotlight.
Peter Pan doubled-down on the television-specific effects, with larger set pieces crafted for the flying lost boy and a CGI Tinkerbell. While Pan offered more nationally recognizable names in casting, like Allison Williams (at the height of her Girls fame) and Christopher Walken, it still lacked the electricity of a live audience. The Wiz fared slightly better, with even bigger names (Queen Latifah, Common, Mary J. Blige, Amber Riley, Uzo Aduba, and Ne-Yo) along with more fluid stage direction and closely-edited numbers that left little time for the cast to freeze in near-silence, breathing heavily and awkwardly after the more choreographed numbers. 2016's Hairspray Live! upped the game with the talent of Jennifer Hudson, Kristin Chenowith, and an earnest but understated Ariana Grande, but struggled in its opening numbers with camera errors and missed cues.
Hairspray Live! ( with Ariana Grande ) You can't stop the beat! youtu.be
It was around this time that Fox bid for its own piece of the TV musical game with the unnecessarily subtitled The Rocky Horror Picture Show: Let's Do the Time Warp Again. Problems engendered from the lack of an audience were exacerbated by the fact that it wasn't broadcast live, though it was presented as a one-night-only event. (That Fox chose to air Rocky Horror, a piece of pop culture known for its participatory elements, without an audience is so egregious and beyond reason that it left this viewer feeling like she was, in fact, under sedation.)

Fox certainly got closer to capturing some kind of energy by pulling back the camera during its live broadcast of Grease to give viewers a sense of the hectic transitions and set changes inherent to theater, if it was a little distracting. It will be interesting to see how they attempt to pump Rent with a similar frenetic spirit, as a rock musical based on La Boheme that takes place amidst the AIDS crisis isn't exactly screaming for the perky interstitial treatment.
There's something beautifully democratic about the TV musical and its ability to bring live theater to those who don't live on a coast. Yet by robbing those viewers of, at the very least, a simulated communal experience, networks like NBC and Fox are denying them an integral part of what makes these shows so exciting, the very impetus for keeping that appointment with their TVs. Erasing all hints of an active crowd, a living breathing entity to react to what's presented on stage, only serves to isolate viewers, which seems anathema to the entire enterprise. Which is not to say it can't be done. Perhaps the most successful in the latest slew of musical broadcasts—in both ratings and critical reception—was NBC's live staging of Jesus Christ Superstar, which was due in large part but not in totality to the operatic nature of the piece. What did Superstar have that each broadcast before didn't? An audience.
---
Rebecca Linde is a writer and cultural critic in NYC. She tweets about pop culture and television @rklinde.
---
POP⚡DUST | Read More...
Kanye Designs Clothes For Conservatives In "Blexit" Campaign
Did Cardi B And Nicki Minaj Finally Make Peace?