CULTURE
Kanye West and Candace Owens join forces to attack the Democratic Party in the name of...themselves.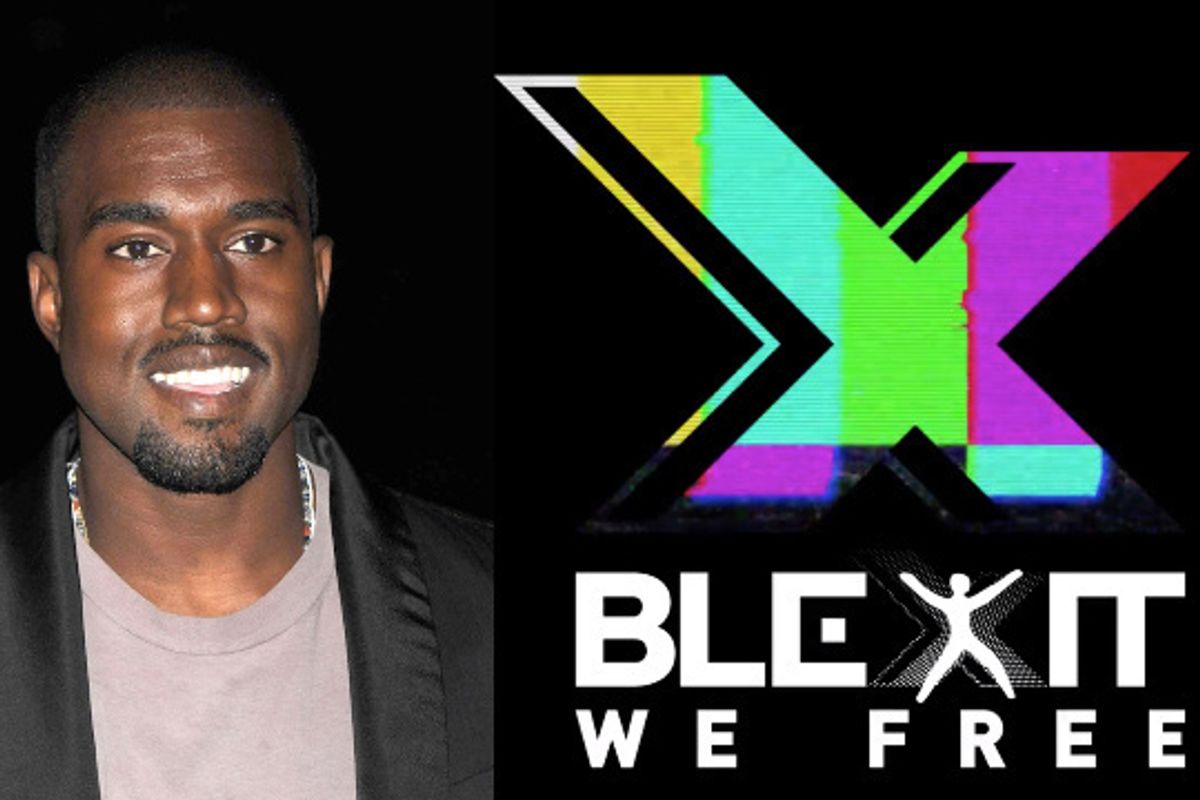 DesignTAXI
Once again, Kanye West's clothing designs come with a complimentary political tirade.
To be fair, it's more than a tirade this time; West has contributed his credit as a fashion mogul to an entire conservative movement to persuade black voters to leave the Democratic Party. The campaign for "Blexit" comes from the mind of right-wing YouTube personality Candace Owens, who's been officially Twitter-praised by Trump as a part of an "ever expanding group of very smart 'thinkers.'"
West has seemingly been among these "thinkers" since his proud "re-design" and donning of Trump's MAGA hat in 2016. Recently, he's doubled-down on his endorsement of the president with SNL and Twitter tirades ,defending Trump's discriminatory politics and calling for the abolition of the constitutional amendment that ended slavery. Now the 41-year-old rapper has created his own line of apparel to clothe conservatives who are looking for normcore-style, pastel t-shirts and denim baseball caps printed with "WE FREE" in neon green text.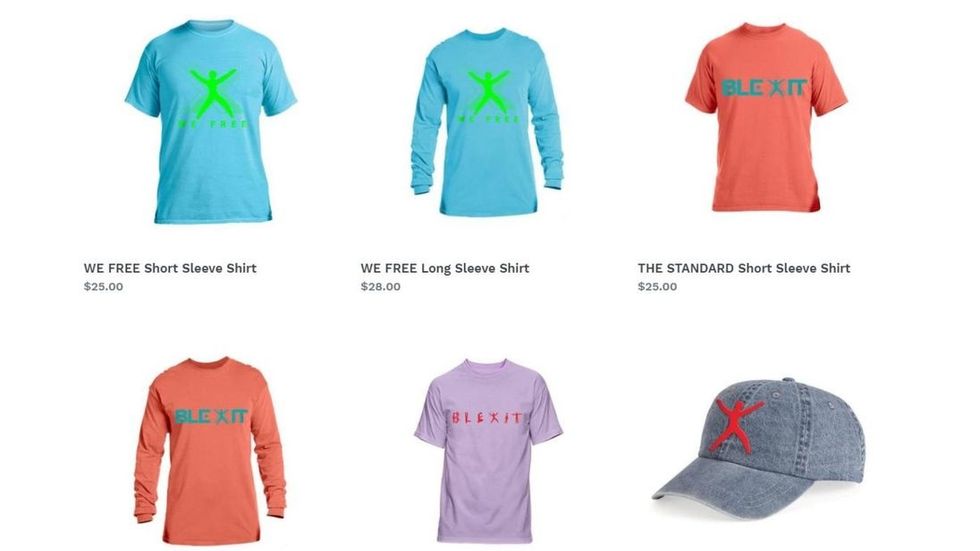 Sky News
West's contributions to the Blexit movement were unveiled at the Young Black Leadership Summit, hosted by the conservative advocacy group Turning Point USA. Owens is the director of communications for the non-profit organization, which aims to "identify, educate, train, and organize students to promote fiscal responsibility, free markets, and limited government." It's most noted for its Professor Watchlist, naming and keeping tabs on college educators who "discriminate against conservative students and advance leftist propaganda in the classroom."

Accordingly, Owens praised West's involvement in the campaign to rally black voters to "release themselves from the political orthodoxy," according to the official website of the movement. "Blexit is a renaissance and I am blessed to say that this logo, these colors, were created by my dear friend and fellow superhero Kanye West," she said. "[West] has taken one of the boldest steps in America to open a conversation we have needed to have."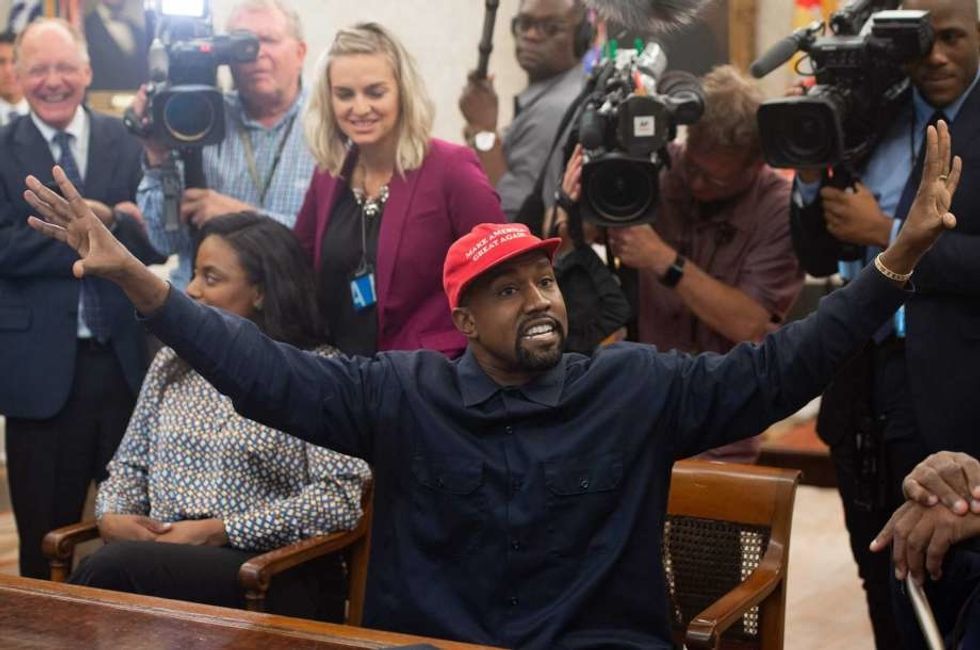 San Antonio Express News
Oddly, West recently donated over $73,000 to Chicago Democrat Amara Enyia's mayoral campaign. The politician publicly thanked the rapper for his contribution but clarified she doesn't share the rapper's pro-Trump sentiments. Earlier in October, West visited the White House to embrace President Trump in a sudden, aggressive hug and speak to cameras for a 10-minute monologue about his "misdiagnosis" of bipolar disorder, not being around enough "male energy" as a child, and how bipartisanship between Democrats and Republicans was "like a gang."

West has also publicly voiced his support of Owens in the past, Tweeting in April, "I love the way Candace Owens thinks." However, despite being "fellow superhero[es]," West inevitably draws a larger spotlight than the former YouTube talking head. Regarding West's involvement, Owens posted on Twitter both a clarification and a claim of Blexit as her brainchild and hers alone, stating, "BLEXIT is a project that is mine entirely."
#BLEXIT is about the beautiful stories of so many black people who have awakened themselves to the possibilities of… https://t.co/AsMC13sAMg

— Candace Owens (@Candace Owens) 1540824746.0
Over the weekend, Owens detailed Blexit's vision to Fox News, "It's the black exit from permanent victimhood, the black exit from the false idea that we are somehow separate from the rest of America." The means to accomplish this, supporters of Blexit purport, is not to endorse candidates fighting against racial inequality, or promote diverse representation in media and government, or protest acts of police brutality against black youths. Rather, "The Blexit movement will spend 2019 holding rallies in every major city in America that the Democrats have destroyed."

Kanye West didn't attend the summit over the weekend. But, if Blexit gains the traction Candace Owens desires, 2019 may find him sporting his special MAGA hat among a crowd wearing his hopeful neon letters,"WE FREE."
---
Meg Hanson is a Brooklyn-based writer, teacher, and jaywalker. Find Meg at her website and on Twitter @megsoyung.
---
POP⚡DUST | Read More...
Sinead O'Connor Converts to Islam
Once Again, Megyn Kelly Says the Wrong Thing