MUSIC
The new video features never-before-seen footage of the Man Who Fell to Earth.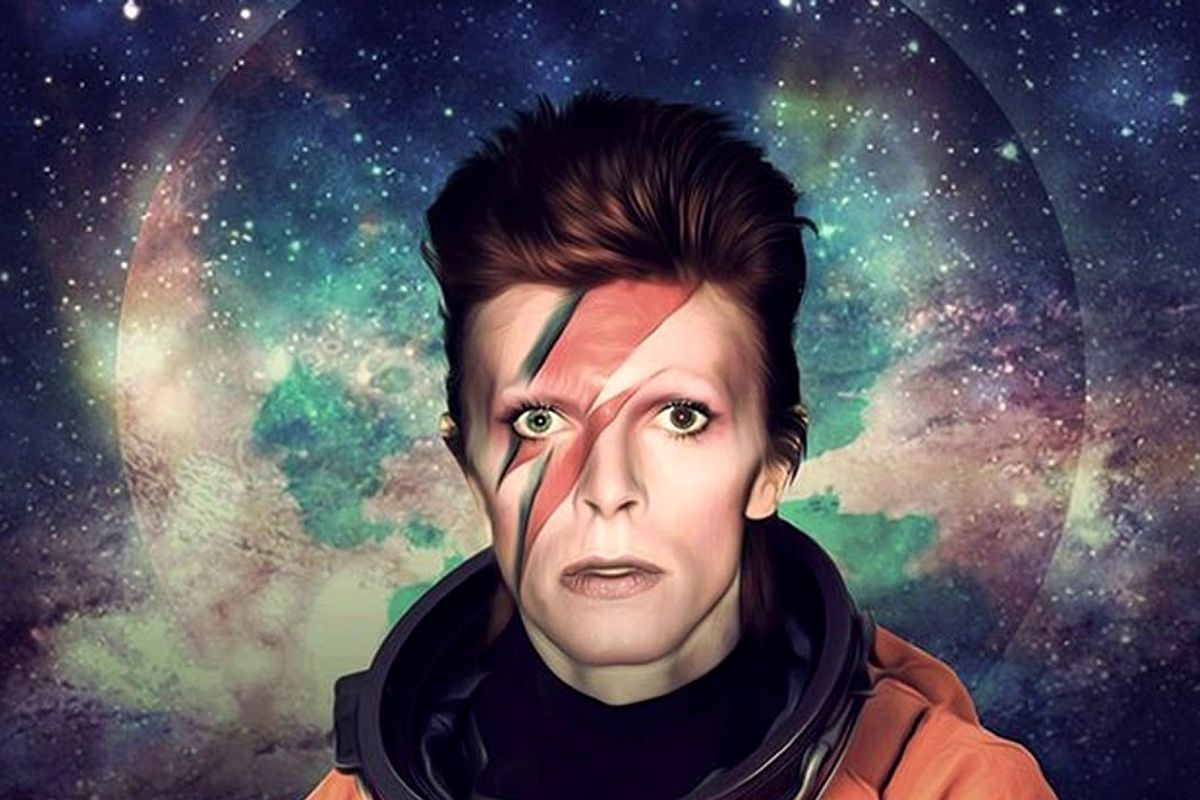 David Bowie's "Space Oddity" was released on July 12, 1969.
This Saturday, in celebration of the NASA moon landing's 50th anniversary and the bicentennial of the song's release, Bowie's estate posted a new video. It features never-before-seen footage of the Man Who Fell to Earth, portraying him in all his cosmic glory.
According to the video's description, "The video features footage of David Bowie performing 'Space Oddity' at his 50th-birthday concert at Madison Square Garden in 1997 (directed by Tim Pope), married to footage shot and directed by Édouard Lock (the founder and choreographer of the Montreal dance troupe La La La Human Steps), for the onscreen back drop of Bowie's 1990 Sound & Vision tour."
The video was first unveiled at the Kennedy Center in Washington D.C., where NASA was treated to a special screening. It was then supposed to publicly premier silently in Times Square on Saturday, as part of a moon landing celebration, but the event was cancelled because of the NYC heatwave—meaning we'll all just have to relish in its glory from our computer screens.
The dreamy footage, full of flashing lights and glitchy projections that make it look like a transmission from another dimension, is set to a new mix of the iconic song. "Space Oddity" launched Bowie to stardom and became one of his biggest hits. With its messages of stratospheric ambition and alienation, as well as its innovative three-part structure and call-and-response lyrics, it remains stunningly relevant and ever-popular today.
David Bowie – Space Oddity (Official Video) www.youtube.com
"Space Oddity" was inspired by Stanley Kubrick's 2001: A Space Oddity. "It was the sense of isolation I related to," Bowie said to Classic Rock in 2012, explaining his feelings about the movie. "I found the whole thing amazing. I was out of my gourd, very stoned when I went to see it – several times – and it was really a revelation to me. It got the song flowing."
2001: A SPACE ODYSSEY - Trailer www.youtube.com
The song's release was timed to coincide with the 1969 moon landing and was even used as background for the television broadcast of the moon landing in Britain. Apparently, Bowie found this decision amusing. "I'm sure they really weren't listening to the lyric at all; it wasn't a pleasant thing to juxtapose against a moon landing. Of course, I was overjoyed that they did," he said. "Obviously, some BBC official said: 'Right, then. That space song, Major Tom…' blah blah blah, 'That'll be great.' Nobody had the heart to tell the producer: 'Um… but he gets stranded in space, sir."
Apollo 11 Moonwalk Montage www.youtube.com
For a while after, because the song's release coincided with the Apollo 11 event, Bowie was considered a gimmicky act. Today, even after having cemented his legacy as one of the most beloved performers of all time, "Space Oddity" remains Bowie's signature song. And what a song it is—with its dizzying, spectral instrumentation and simple yet profound lyrics, it's a 4 minute and 43 second liftoff into another, more beautiful world.

Watch the new video here:
David Bowie - Space Oddity (2019 Mix) [Official Video] www.youtube.com