CULTURE
Thousands of people will pour into the Jacob K. Javits Convention Center today, hoping to learn anything new about their fandoms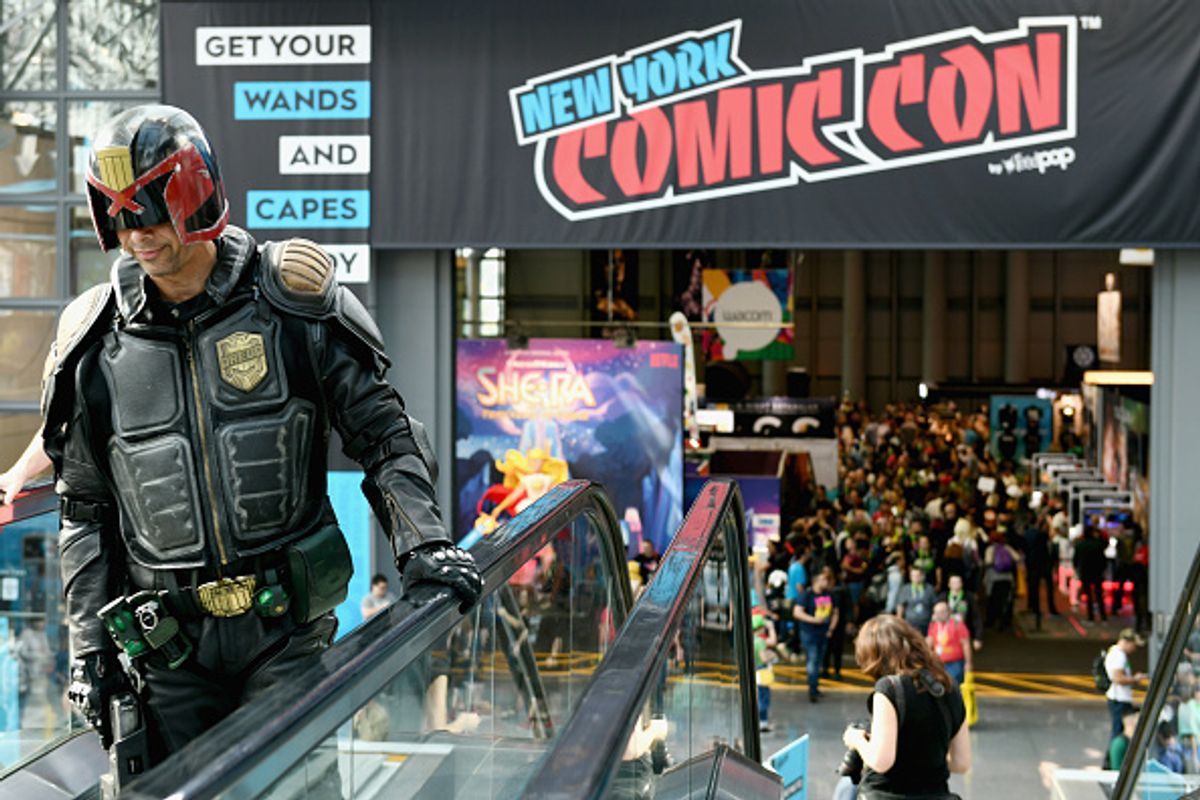 Getty Images
Today is the first day of New York Comic Con and crowds of people are already starting to pour in the Jacob K. Javits Convention Center, dressed up as their favorite characters.
Of course, NYCC won't be as big as the OG event, San Diego Comic Con, but we can still expect tons of news about releases, movies, shows and more.
Comics
If you're a die-hard fan for the original reason of this convention, you'll be pretty busy this weekend — comics will be a huge part of the show, like always. Marjorie Liu will be giving a keynote speech to kick off the day — she's the creator of the Monstress series, which won both Hugo and Eisner awards.

In the Artist Alley, you can check out independent artists showcasing their books and artwork, a great way to support smaller names. Bigger companies such as Marvel, DC, Dark Horse and others will host panels all weekend.
Some other interesting panels involve education and representation — Emily Ree will be speaking for the 'History Comics Club' and 'Queer Comics for Kids of All Ages' will also be represented at the convention.
Movies
The younger crowd — who weren't brought up on comics — will probably be more interested in the movie announcements and events. Fans expect new trailers to drop, such as for Peter Jackson's Mortal Engines, the last movie in DreamWorks' How to Train Your Dragon series and the Hellboy reboot.

Movie panels will include Todd McFarlane's talk about his new Spawn movie, From Page to Screen: Owning Your Own Intellectual Property and a movie interview about Constantine: City of Demons.
Shows
NYCC is pretty much the place to be for show premieres — DC Universe premiered the first two episodes of its Teen Titans reboot, Titans and Syfy will be showing Nightflyers, a George R. R. Martin adaption. Netflix will premiere new seasons of Daredevil, Big Mouth, The Haunting of Hill House and more. Hulu will do the same with shows such as Marvel's Runaways and American Gods.

Activations
Activations are basically installations with show or movie themes — I think of them as Instagram opportunities within Comic Con. Audible will be presenting a Harry Potter exhibit while promoting the new Fantastic Beasts movie. Amazon has some installations relating to Good Omens, Jack Ryan, and more.
Other events will include a White Walker by Johnnie Walker pop up, a Queer Lounge, NYCC Presents, a Star Wars Fan Club Experience and more. This year will also include an entire section dedicated solely to anime. Guests will include Mark Ruffalo from The Incredible Hulk, Travis McElroy from the podcast My Brother, My Brother and Me, Aisha Taylor from Archer and much, much more.
---
Amber Wang is a freelancer for Popdust, Gearbrain and various other sites. She is also a student at NYU, a photographer and a marketing intern.
---
POP⚡DUST | Read More ...

17 Mean Girls Memes to Celebrate October 3rd
Fans Excited by Leaked Harry Potter RPG Footage
Bruce Springsteen Plays with Social D at Asbury Park