Trending
The classic rock singer surprised the audience with a special set on Sunday night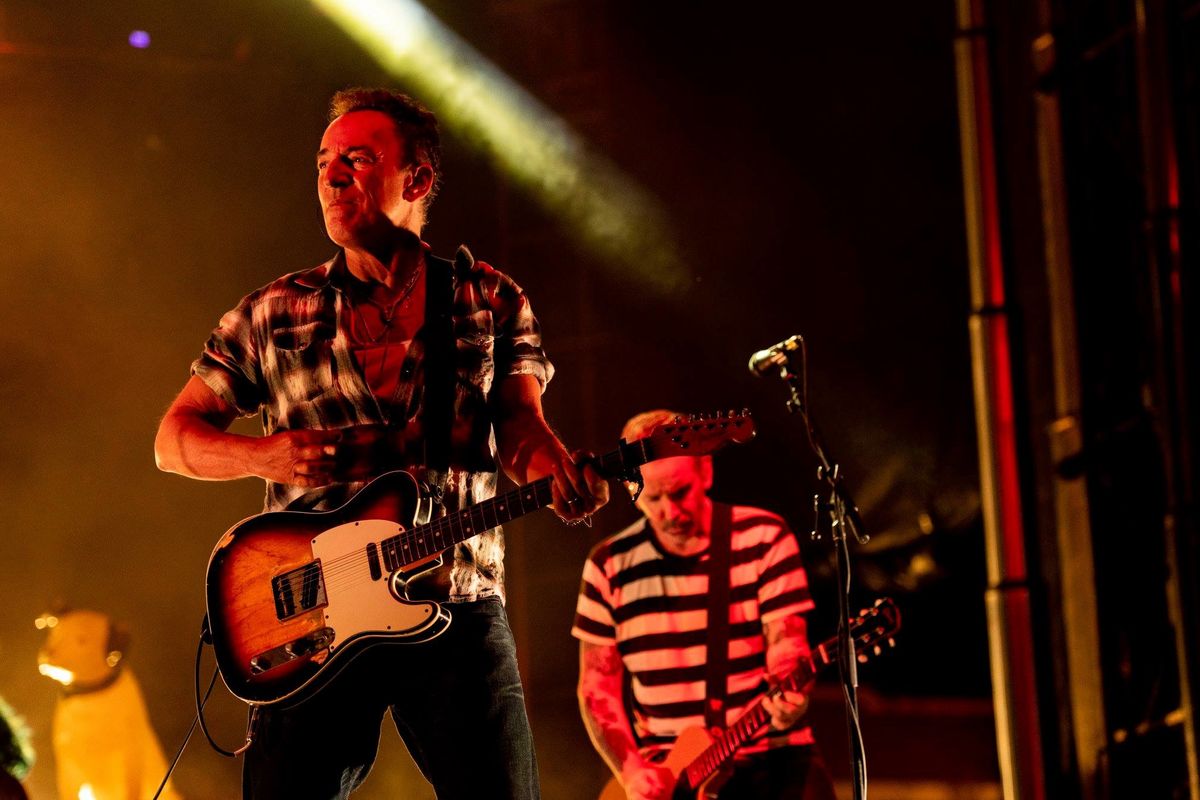 Facebook
The appearance was totally unexpected and seemingly nobody knew except Social D.
Mike Ness, a singer from the punk group, said to the audience that a guest would "sing a song or two" with them. He proceeded to ask his fans if they knew who he was talking about — and they somehow did, chanting Springsteen's name over and over again.
Springsteen joined Social D on stage in a checkered, short-sleeved shirt and played "Bad Luck," coupled with a guitar lead that wowed fans on the ground. The stage had a myriad of flashing lights in different colors that definitely stayed true to the band's name. Springsteen came alive in this environment and I think it's safe to say that this rock legend definitely has not lost his spark.
Springsteen stayed on stage for two more songs — 'Misery Loves Company' and a cover of Johnny Cash's "Ring of Fire" with a punk rock twist. The crowd was definitely singing, some fist bumping and others just nodding along.

This isn't the first time Springsteen sang with the group — in April 2009, Ness joined The Boss for a performance at the Los Angeles Sports Arena and played "Bad Luck" and "The Rising" together. Before then, Springsteen also joined Ness in his solo group, The Mike Ness Band, in Asbury Park.
"It was one thing for Bruce to come out and play four songs with the Mike Ness Band in Asbury Park. But for me to do two songs with the E Street Band in front of his crowd, that's an entirely different thing" said Ness to the blog, Springsteen and Us. "He likes to solo on that riff [in 'Bad Luck']."

Asbury Park's two-day 'Sea. Hear. Now' festival boasted around 30 bands that included Jack Johnson, Incubus, Blondie, and many others. Festival co-founder Danny Clinch also played with his band, Tangiers Blues Band. Clinch is also involved with Springsteen as he's a rock photographer that has shot the rock star for a Variety cover — he has also directed Let's Play Two, a Pearl Jam documentary.
The festival also had a pop up art gallery and featured three stages, two of which were located on the beach.
---
Amber Wang is a freelancer for Popdust, Gearbrain and various other sites. She is also a student at NYU, a photographer and a marketing intern.
---
POP⚡DUST | Read More ...

Hillary Clinton Appears in Cameo on Murphy Brown
Fortnite: New Challenges and Tasks for Season 6
Will Smith Celebrates 50th Birthday By Jumping Off a Helicopter