FILM & TV
The first episode of the classic reboot shows Clinton making fun of both herself and Trump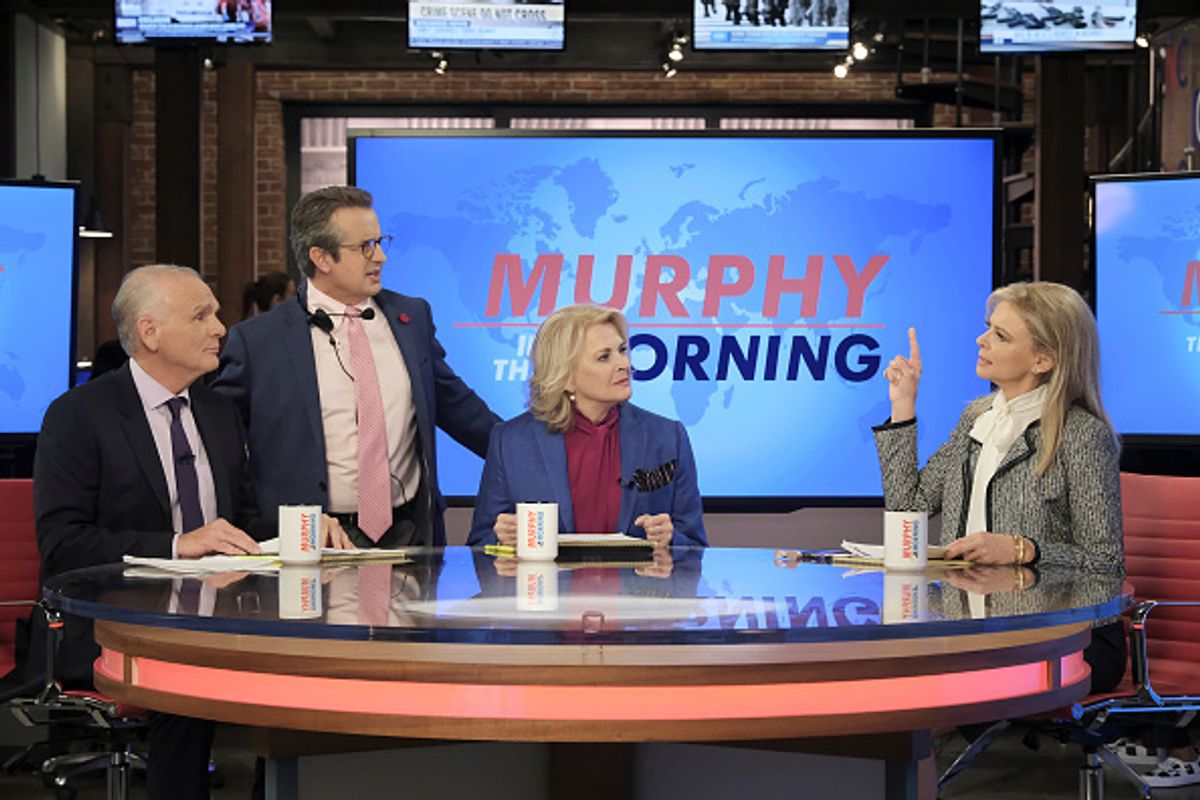 Getty Images
On Thursday's premiere of the Murphy Brown reboot, former Secretary of State and Presidential nominee Hillary Clinton made a little surprise cameo.
The episode "Fake News" aimed to poke fun at the state of affairs in America and Donald Trump himself.
Fans first knew of a celebrity cameo when show creator and writer Diane English teased that an "enormously famous person" would be in the reboot premiere during the Television Critics Association press tour panel.

The scene starts off with someone alerting Murphy Brown that she'll be getting a new secretary and that they interviewee will be coming up shortly. "Oh goodie, I haven't had one of those in a while," quips Brown.
That's all for tonight's premiere of #MurphyBrown! Thanks for joining us, @HillaryClinton! https://t.co/DlCsHOF2fc

— Murphy Brown (@Murphy Brown) 1538111264.0
Then, we hear the elevator ding and out pops Clinton in her signature red jumpsuit. She introduces herself to Brown and states that she'll be interviewing for the secretarial position. Instead of playing herself directly, Clinton takes on the persona of "Hilary Clendon" — or rather, Hilary with one L.
Brown goes on to marvel at how much Hilary and Hillary look like each other and tells her how demanding the job is. When Clendon lists her credentials, she accidentally lets it slip that she was "the secretary," then abruptly corrects herself. Clendon also says that she has "lots of experience with emails."
Brown finishes the interview telling Clendon she might be too qualified and takes her card — the email reads "hilary@youcouldahadme.com," poking fun at both herself and America, basically. The scene ends with Clendon walking back to the elevator and Brown speechless.
The show follows Murphy Brown and her FYI team on her show 'Murphy in the Morning,' which aims to tear down "fake news and alternative facts."
Loving this #MurphyBrown premiere! https://t.co/vpVoLZNlfV

— Eric William Jones (@Eric William Jones) 1538099995.0
The original show ran for 10 seasons from 1988 to 1998 and boasted a number of guest stars and celebrity appearances — we'll probably see more of that in the reboot if the show decides to follow its original pattern. Notable guests included Connie Chung, Aretha Franklin, and former Vice President Dan Quayle, who also went on the show to poke fun at himself.

It was great to be back on the set of @MadamSecretary with @tealeoni. It is always nice to consult with my successo… https://t.co/53b9KbIDbA

— Madeleine Albright (@Madeleine Albright) 1532455390.0
However, we do know that Clinton has one more television cameo planned for this season — she'll also appear next to former Secretaries of State Colin Powell and Madeleine Albright in Madam Secretary on Oct. 7 for the season five premiere.
---
Amber Wang is a freelancer for Popdust, Gearbrain and various other sites. She is also a student at NYU, a photographer and a marketing intern.
---
POP⚡DUST | Read More ...

Fortnite: New Challenges and Tasks for Season 6
Will Smith Celebrates 50th Birthday By Jumping Off a Helicopter