FILM & TV
Our favorite bickering Voice veterans Blake Shelton and Adam Levine are joined by Jennifer Hudson and Kelly Clarkson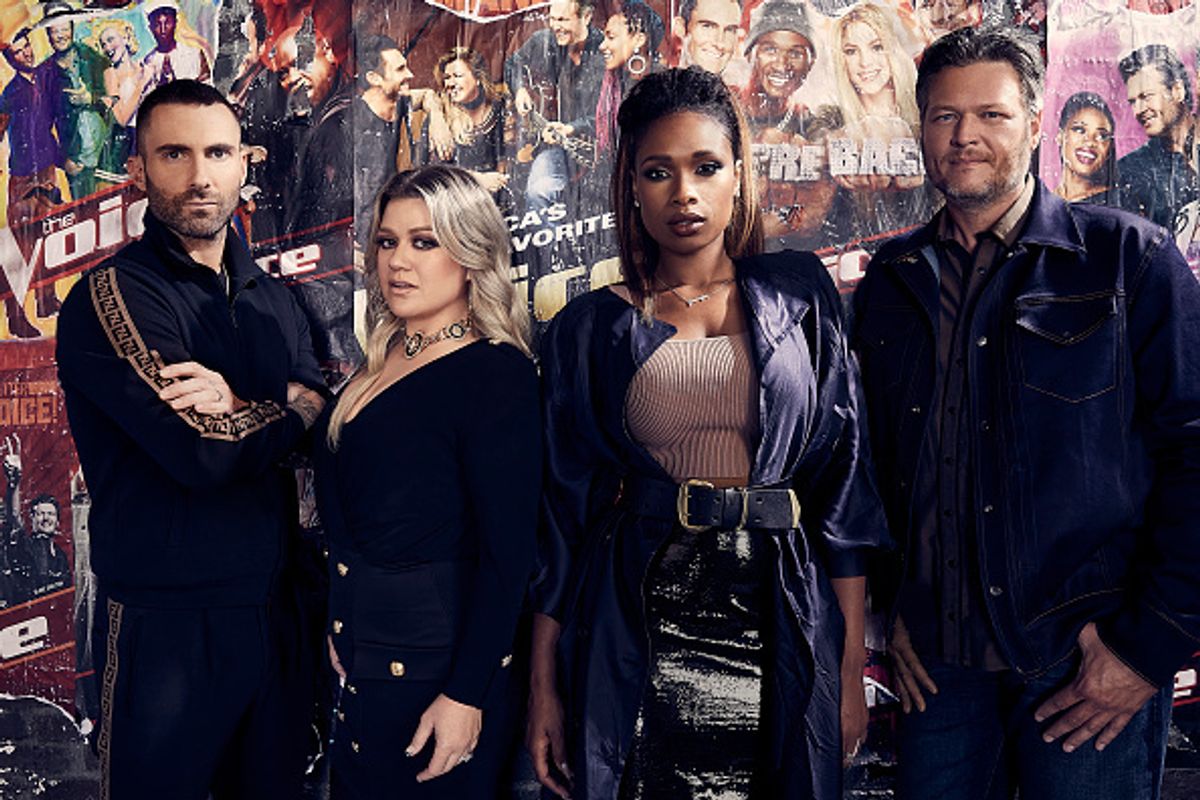 Getty Images
It's hard to believe that The Voice is on its 15th season, but here we are.

The two hour season premiere boasted all of our favorite parts of the show — playful banter between the judges, tear-jerking sob stories by contestants, and of course, an epic episode finale with the revered four chair turn.
The episode starts off with a longer title sequence — a playful short that feature the judges as superheros being called for their jobs. We find Kelly Clarkson on tour, Jennifer Hudson in the studio, Blake Shelton on a porch, and finally, Adam Levine driving around in a vintage car. After that, we get a round-up of key events this season with an obvious emotional undertone of "chasing your dreams."
This baby girl can SING. 😍 @sgandthesoul is bringing it with her take on "Ball and Chain" by @JanisJoplin.… https://t.co/MpAHDBzZOA

— The Voice (@The Voice) 1537834001.0
First up, we have Sarah Grace, a 15-year-old with synesthesia from Houston who loves the blues — she sang "Ball and Chain" by Janis Joplin and turned the first chair of the evening by Clarkson. Shelton and Hudson followed after, but Levine did not. After a scene of seemingly forced banter between the judges that was longer than the actual performance, Sarah Grace picked Clarkson.

We were also introduced to the "fifth judge," country singer Kelsea Ballerini, who will host The Comeback Stage — an online show that picks six artists that don't make it past the blind auditions to compete for a spot in the finals.
Next up, we have Tyshawn Colquitt from Cincinnati — he owns Pound4Sound with his mom, a business in which he delivers pound cake with a song. The 23-year-old sang "Like I Can" by Sam Smith and caught the eye of both Hudson and Shelton. In the end, he picked Hudson and gifted pound cake to all the judges.
After Colquitt left, Tyke James from Laie, Hawaii took the stage — the 17-year-old, laid back surfer dude sang "Perfect" by Ed Sheeran and signed with Levine, the only judge that turned. James was also met by weird, flirty remarks from Clarkson and Hudson.
Ayanna Joni, a 29-year-old from Yonkers, was the first no-turn contestant of the night. Joni had a career on the rise, but when pregnant with her daughter at 18, decided to focus on her child instead. The former girl group singer performed "Sorry Not Sorry" by Demi Lovato and was the first contestant chosen for The Comeback Stage.

Mercedes Ferreira-Dias already competed once last season — the 17-year-old from Miami came back to sing "She Used To Be Mine" by Sara Bareilles and turned both Shelton and Clarkson. In the end, she picked Shelton, but seemed to be under some pressure to.
We're then introduced to "blocks" — the practice that one judge can prohibit a contestant from choosing another one.
#1 ON YOUTUBE TRENDING GUYS WHAAAAAT😭😭😭👏🏼👏🏼 thank you guys so much im freaking out! @nbcthevoice @adamlevine… https://t.co/TEor6tOUAS

— RADHA 💎 (@RADHA 💎) 1537893679.0
Next up is Radha, a 19-year-old from Jersey City who does live performances and music videos in her free time. She sings "Mamma Knows Best" by Jessie J and turns Levine first, who blocks Hudson even though she turns, and also Shelton. In the end, she picks Levine — but she tells us that she would've picked Hudson, which seems like the judges are playing with the dreams of these contestants.

In the second half, country singer Kameron Marlowe sings "One Number Away" by Luke Combs and turned both Clarkson and obviously, Shelton. In the end she picks Shelton, but Clarkson gets the next country singer, Mikele Buck who sang "She Used To Be Mine" by Brooks & Dunn.
Sam Hastings was the second no-turn of the evening, singing "Angela" by The Lumineers. Patrique Fortson then came on and performed "Get Here" by Oleta Adams and turned both Levine and Hudson. Having sang gospel since he was seven, Fortson picked Hudson.
She's HOW old?! 13-year-old @imkennedyholmes is "Turning Tables" singing @Adele! ✨ #VoicePremiere https://t.co/oiDw7tMlpb

— The Voice (@The Voice) 1537840397.0
The last spectacle of the night was 13 year old Kennedy Holmes who sang "Turning Tables" by Adele. Of course, she gets all four chairs turned and the audience has a field day watching the judges fight over her. In the end, Hudson plays the "get on stage and sing with the contestant" trick and gets Holmes on her team.

The Blind Auditions will continue tonight on NBC and you can watch this episode on their website.
---
Amber Wang is a freelancer for Popdust, Gearbrain and various other sites. She is also a student at NYU, a photographer and a marketing intern.
---
POP⚡DUST | Read More ...

Philadelphia Flyers Welcome a New Orange Mascot
Suge Knight Pleads No Contest to Manslaughter