MUSIC
The artist has sided with abusers throughout her career. Should she be held accountable?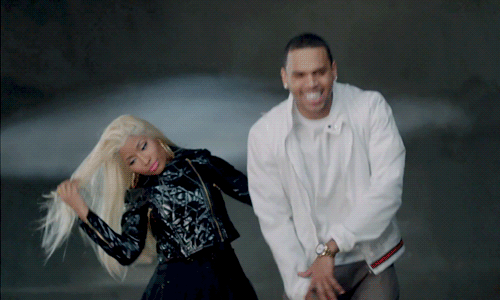 Back in 2018, ESPN college football analyst Jesse Palmer took to his DailyMail TV show to comment on Nicki Minaj's new relationship with a man named Kenneth Petty.
While Minaj told listeners yesterday on her Queens radio show that the couple had obtained a marriage certificate, the relationship has been steeped in controversy since its early stages. After rumors of the couple began to swirl, it was revealed that Petty was a registered sex offender in New York. When he was 16, he was convicted of using a "sharp object" to force sexual intercourse with a 16-year-old girl. To quell the growing backlash, Minaj took to Instagram and said the charges had been trumped up. "He was 15, she was 16...in a relationship. Y'all can't run my life," she wrote. Palmer noted that this response wasn't "the first time Minaj had defended a sex offender," saying Minaj also supported her older brother, Jelani Maraj, when he was accused of sexual assault back in 2017. Maraj was ultimately found guilty of repeatedly raping his 11-year-old stepdaughter. Minaj denied that she ever supported her brother during his trial and said she was prepared to sue Palmer for defamation.
While Palmer may have misspoken, Minaj's stance on sexual abuse and domestic violence has historically been murky. Minaj's brief Instagram rebuttal to the backlash against Petty is no doubt problematic, as it loosely implies that since the victim and Petty were dating, her claims of rape are somehow invalid or "trumped up." Minaj claims not to have supported her brother during his trial but was known to have allegedly wrote to him on Instagram, "I love you more than you will ever know."
She was also spotted visiting him in prison, though Minaj claims she only did so to support her mother. Minaj's mother believes Maraj to be innocent. "We have the affidavits to prove that [the jury] was busy talking about his sister [outside the courtroom.] If his sister didn't show up that means he was guilty," she said in an interview with Hip Hop Hood Report. "They totally ignored the evidence that there was no evidence to prove this man guilty." A juror misconduct inquiry was opened in October of 2018, although Nassau's DA office has stood firmly by the conviction. DNA evidence found on the victim's pajamas matched Maraj's and the victim's 10-year-old brother took the stand to graphically describe, under oath, what he saw when he allegedly walked in on the 40-year-old raping his sister. Maraj's attorney, John Labau, said he agreed that he doesn't believe there is enough evidence to convict his client, but noted, "Do I think maybe something happened? Probably."
6ix9ine, Nicki Minaj, Murda Beatz - "FEFE" (Official Music Video) www.youtube.com
Minaj's stance on violence against women has repeatedly been called into question. She has continually supported Chris Brown and Tyga, both of which have extensive rap sheets of sexual misconduct and faced a slew of negative backlash when she collaborated with controversial rapper Tekashi 6ix9ine in 2018. Fans were upset with Minaj's ability to overlook 6ix9ines guilty plea of raping a 13-year-old earlier that year—an ex-girlfriend of 6ix9ine additionally told The Daily Beast in 2019 that he physically and sexually abused her during the entirety of their relationship. Minaj further announced that 6ix9ine would be co-headling her NICKIHNDRXX tour with her and Future—who has also faced multiple accusations of being misogynistic towards women.

"It is one of the more egregious examples of an artist sacrificing principles for profit," wrote The Daily Beast of Minaj's decision to work with 6ix9ine. "When the queen of rap picks out a 22-year-old to collaborate with…[she's] legitimizing a man who's legally copped to—while continuing to lie about—some pretty vile behavior." Minaj faced further backlash later that year for "slut-shaming" female celebrities in an interview with Elle Magazine. "Maybe I was naïve, but I didn't realize how many girls were modern-day prostitutes," she said. "These are girls are so beautiful and have so much to offer. But I started finding out that you give them a couple of thousand dollars, and you can have sex with them...it makes me sad as a woman." Fans noted that Minaj has historically used her sexuality in order to help her career. In 2010, Minaj admitted in an interview with Rolling Stone that she lied about being bisexual in order to attract media attention.
However, it's important to note the controversies that Minaj has faced—including Palmer's swiftness to classify her as a supporter of sex offenders—exhibit a double standard in popular culture. Chris Brown, who has extensively been accused of violence against women, was accused of raping a woman in Paris in January, and as a response he printed and sold T-shirts that read "This Bitch Lyin!,'" directly profiting off the accusations. While the trial is still ongoing, the shirts are currently sold out. Additionally, Ammer Vann of Brockhampton was accused of sexual misconduct and subsequently was kicked out of the group—only to go on and continue making music. His last Soundcloud release, "I'm sorry," addressed the allegations, its comment section filled with fans showering praise and respect on the artist. Tyga, Sheck Wes, Kodak Black, and Nas are just a few of the other male artists who have recently been accused of violence against women.
Is Minaj's own hesitance to condemn abusers based on her personal disbelief of the accusers? Or has she just been conditioned to look the other way in an industry that has historically objectified women? Is it a little bit of both? "As a [black] woman in a male-dominated industry, Minaj has faced a great deal of adversity," wrote Flare Magazine. Minaj has openly advocated for female empowerment and has "demonstrated fearlessness in pointing out institutional racism," which makes her handling of abusers and sexuality that much more confusing. "Minaj's support of the wrong people showed me that she might not have the iron-clad morals that I have come to expect from her," wrote Flare. "[It] actually helped me humanize her. It is now evident to me that I wasn't actually in love with Minaj as a person—I was in love with her feminist boss-ass-bitch image, and was filtering out the rest." Should we continue to "filter" our artists in 2019?