"My goal as a songwriter is to connect with people, so I try to be as honest and relatable as I can lyrically. My hope is that people are able to hear a part of their own stories in these songs,"
...says Nora Collins of her new EP. For the last few months, Collins has been hinting that she's up to something. With coverage in Rolling Stone and Billboard, she told the world to brace for impact, and now, her Pop-Country EP Strings has struck the Earth, sending tremors of excitement out in all directions. Collins has blown away her fans with a truly out of this world EP.
The EP begins with a funky beat played under a plucked guitar lick. Collins voice comes out in a sly croon that eases its way through the song, drawing you with it on a fine thread. Synths jump in for light punches and twangs. She sings that Less is More, twisting the phrase in to something new yet familiar. Her lyrics are playful and catchy, like fingernails catching on a sweater. The song is a solid start, the harbinger of the album to come.

Who Knows Who continues on in the same chill, but vibrantly alive, style. It has a laid-back ska vibe, jiving on Amy Winehouse phrasing with early No Doubt flare. Collins maneuvers around the melody with a sultry cat-like quality, then when the chorus finally explodes, you're ready to hit the dance floor. Her lyrics here are sexy and combative, spurning a cheating lover by cataloguing her own infidelities. It has a fun build, and by the last note the listener has undoubtedly been convinced to buy into the EP for the long haul.
But when Backseat Falling starts, the mood is immediately different. The style is cooler, smoother, more retrospective. Here we're playing with more Katy Perry sides, but with a heavier country twang, and some eighties verb thrown in. The song details early romances in the backseats of cars, first teenage fulfillment, and the nostalgia that comes with remembering first love. It's a song with small-town kick, but big city class.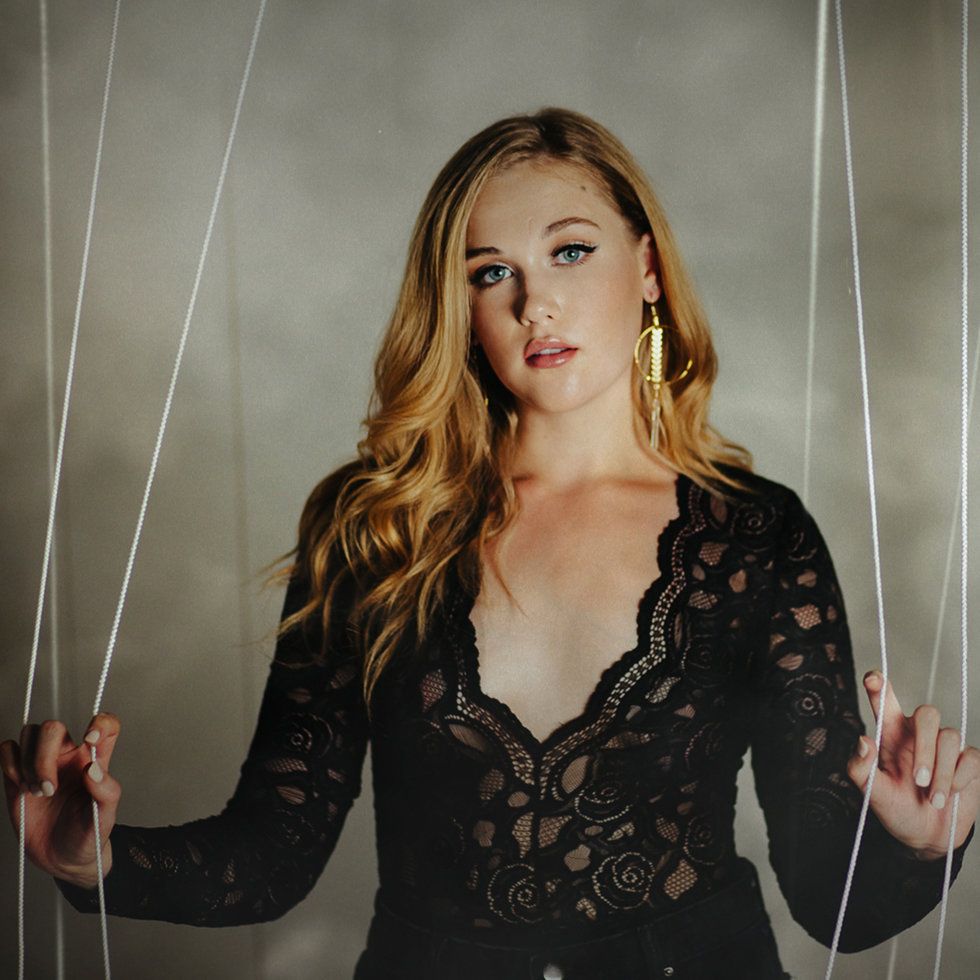 Nora Collins
As we head in to Plain Jane we're hit with twinkling synths and guitars. The mood is bluer, crystalline, and reflective. Collins sings of a girl dealing with body positivity issues, comforting her in a moment of heartbreak. Collins' rising tones, backed by a military-style snare, give the song the feeling of a lonesome but affirming anthem to womanhood and self-love. It's genuinely touching in its simple, straightforward, honest message. Vince Gill is featured here on backup vocals, but you're so blown away by Collins you don't notice until the second listen.

And now Pink Lemonade, in which things take a sultry turn in to the world of slow-jams. Collins swaggers vocally to the music, easily approaching her target and taking what she wants. She's playing hard with some old-school country lyrics here. You could be told Dolly Parton sung this song and it wouldn't be a shock. She flirts with straightforward, blue-collar metaphors, in a way that almost makes it feel like she's putting on a character. But the song is so obviously fun, quirky, and sexy, that you don't care.
Finally, we come to the titular track off the EP: Strings. Slide guitar and a steady drum beat intro her voice. She starts telling the story of an evening at a bar going further, then further, then further, a whirlwind romance unfolding and taking the listener with it. She gets lyrically more complex as the song evolves, and the emotional ties in the track do the same. The song is less breezy, and more gusty, knocking you over and making you stumble as you try to keep up with it. People are likely to compare it to early Taylor Swift, but that wouldn't be fair. This is much more interesting.
"I've grown a lot, and I think this EP showcases my growth as both an artist and a songwriter. Each song shows a different side of me. I have a lot of musical influences from different genres that have helped shape my sound, and Strings is an authentic representation of who I am, what's in my heart, and the direction I'm headed musically." - Nora Collins
Nora Collins has a fine new EP here. Unlike many of her contemporaries, her take on pop country feels more classically rooted, but with an 80s synth wave kick that sets it apart. She has a country twang, but more often than not she'll veer in to jazz or ska territory, carrying hints of soul and echoes of something all her own. Her sound feels comfortably familiar, but at the same time, new and fresh. You really should give this EP a listen, it's a lot of fun, and Nora Collins is clearly just getting started.
---
Thomas Burns Scully is a Popdust contributor, as well as an award-winning actor, playwright, and musician. In his spare time he writes and designs escape rooms. You can follow him on Facebook, Twitter, and Instagram.
---
POP⚡DUST | Read More…

F*** Yeah It's Summer. The NSFW Anthem You Didn't Know You Needed
Eddie Izzard: transgender, hilarious, and heartbreaking
'Pop Punk High', a pop punk musical comedy? Um... yes please!