FILM & TV
FILM | Everyone's favorite bear is back and even better when he takes on a whole new set of troublesome adventures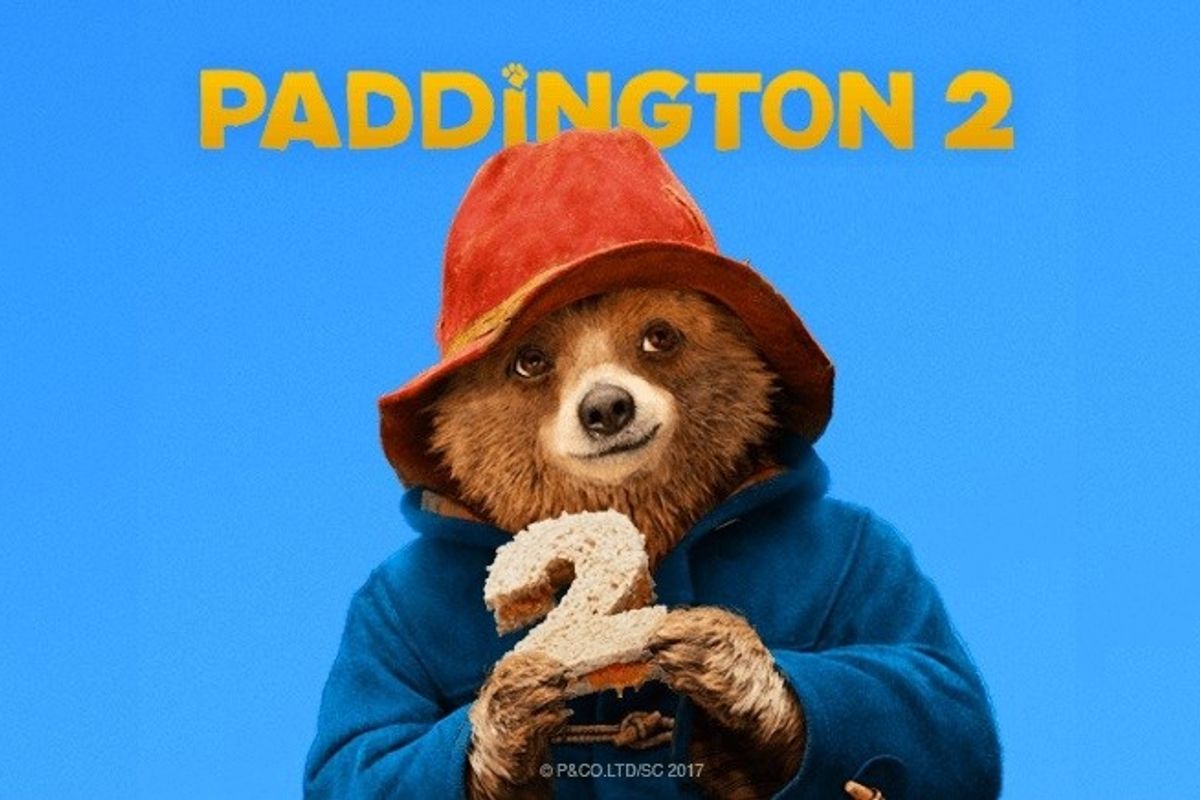 A bit of crime, a little marmalade, and a whole lot of love will start the new year off right with a flick for the whole family.
Kids movies are notorious for boring the parents that must attend alongside their children, and the more installments the franchise cranks out, the more yawns and sighs adults release. What's never heard of? A sequel to a film that actually does better than its parent production. Alas, Paddington 2 is just the film to break that mold. In its first week at the box office in the United Kingdom, it grossed more than the original Paddington, and for good reasons!

From the same brains as the first film, including Director/Writer Paul King, Co-Writer Simon Farnaby, and Producer David Heyman, the beloved cast returns for its next chapter bringing Michael Bond's bear and his antics to life. Also in the mix are Hugh Grant, stepping into the role of villain, and Irish actor Brendan Gleeson as a criminal with a soft side. While the first film was under production for seven years, this one was a much quicker turnaround, and even more successful story-wise.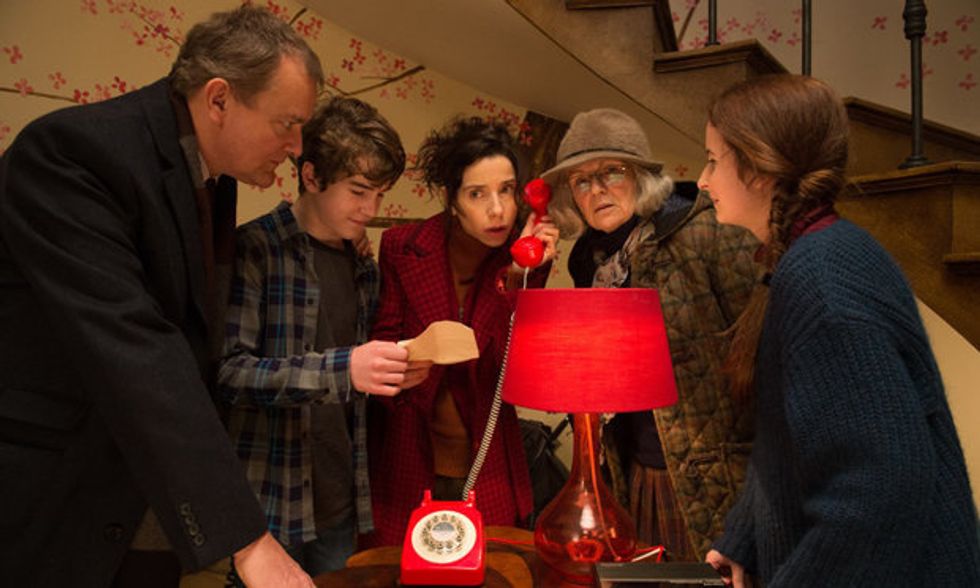 The sequel reintroduces us to the Brown family in their Windsor Gardens home in London. While Paddington has made himself comfortable over the time that has passed, new trials and tribulations face the household humans. The parents are having their own versions of midlife crises while their children experience teenage growing pains. Paddington's plight is much simpler: he wants to purchase a birthday present for his Aunt Lucy, but the perfect gift —a pop-up book featuring all of the London sights Lucy herself has never been able to see — comes at a price. Paddington takes a job as a window washer and all seems well, but it can't be for long when a mischievous Peruvian bear is involved.

This pop-up book contains a secret all its own that can reveal a hidden fortune. When it's stolen from a Portobello Road antique shop and Paddington goes running off after the perp, he's mistaken for the crook himself and ends up in jail for his crimes. The Brown family must then go on a quest to bring their beloved bear back, which begins with the investigation of their curious neighbor/washed-up actor, Phoenix Buchanan (Grant).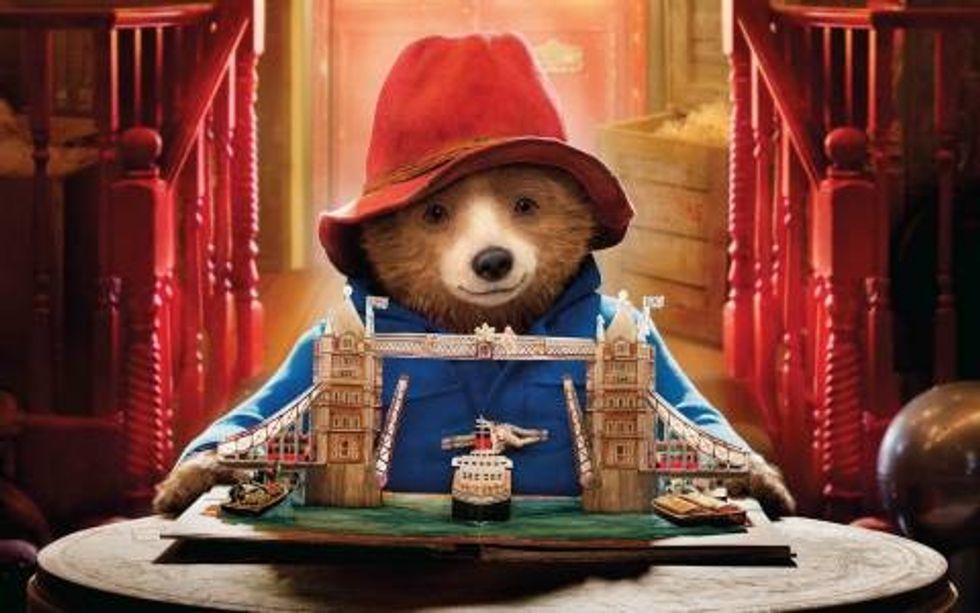 What ensues is almost two hours of pure pleasure. Visually, the film is stunning and detailed. A combination of live-action and CGI production not only encapsulates the lovable, furry Paddington, but also works its magic in other ways. The pop-up book comes to life as Paddington and Aunt Lucy are imagined traveling through London. When Paddington feels lost and sad in jail, his tears work to grow a forest around him to remind him of the comforts of being back in Peru. The film editors spare nothing to make us feel just as this little bear does.

This pays off in the film's storyline as much as it does in its visual appeal. Audiences of all ages (children, teens, and adults) will experience the plot beat by beat without rolling their eyes or feeling under-amused. I can say this without doubt as my viewing group included such a wide range and we all found ourselves laughing at the antics of the little bear, being surprised when his choices revealed themselves in a cumbersome series of events, and eventually crying when the spirit of family and kindness overcame all.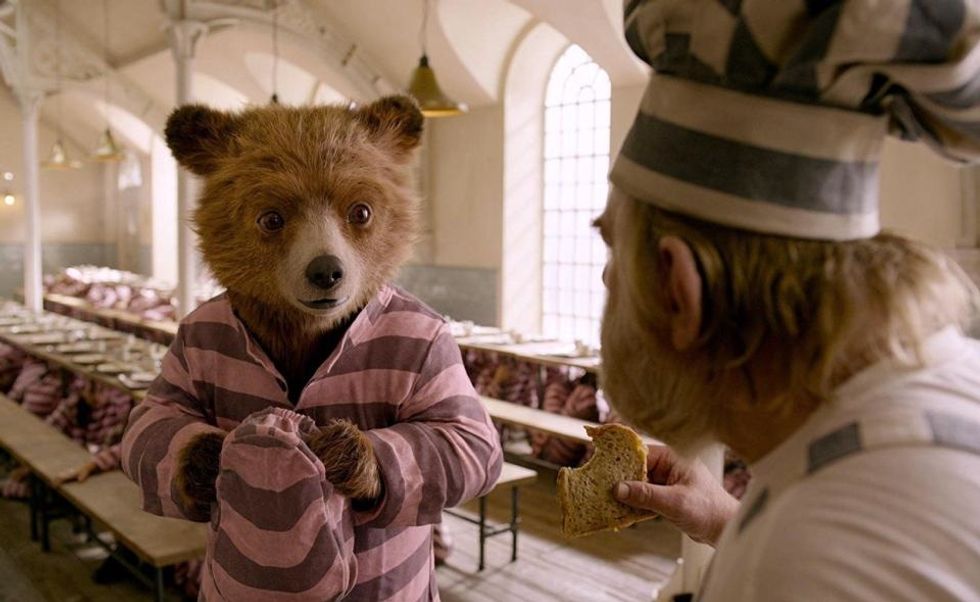 It's a delight, one as wonderful as the marmalade sandwiches this little bear is so fond of, and definitely worth all audiences purchasing a ticket to see.

Some critics have said that the film sure is pleasant but serves no purpose outside of distracting viewers from the cruelties in the outside world. I disagree. Paddington over and over again reminds us of a message from his Aunt Lucy: "If you're kind and polite, the world will be right." There's likely some truth to this. Perhaps if we can all take this message into the new year and start treating each other with a little bit more kindness, it will start showing up elsewhere. Adding in a few sweet, marmalade treats can't hurt, either.
Paddington 2 will be released on January 12, 2018 from Warner Bros Pictures.
---
Rachel A.G. Gilman is a writer, a radio producer, and probably the girl wearing the Kinks shirt. Visit her website for more.
---
POP⚡ DUST | Read More About Film...
REVIEW | "Seat in Shadows" Queer Cinema Done Right
SATURDAY FILM SCHOOL | "You're tearing me apart Lisa!"
BOX OFFICE BREAKDOWN | Top Films of 2017
---