Everyone already knew Peppa Pig was a bad b***h after she hung up on her braggart friend Suzie for throwing shade.
But now that she's dropped her first album, aptly titled My First Album, Peppa Pig has firmly established herself as the Queen of 2019. Because this album is crazy dope.
Peppa immediately drew industry attention, especially from competing rhyme queen Iggy Azalea, who made the mistake of timing the drop of her new album, In My Defense, on the same day. Unfortunately for Azalea, no matter how good her drop is, she can't compete with the straight fire Peppa Pig is spitting.
My First Album has everything anyone could ever ask for in a debut—great bops, electric dance numbers, sick collabs, and razor-sharp political commentary. In short, Peppa Pig's drop is a perfect debut from a young artist who's sure to shape the industry if she sticks around.

The album opens with "It's Peppa Pig," one of the most memorable intro tracks in recent years. After Peppa's chorus of young acolytes sing her praises, Peppa comes in hot, introducing her brother George and making pig noises. She continues to introduce her other family members, sharing the spotlight even though everyone knows this is her show. The fame hasn't gotten to Peppa's head. She's staying humble.
Her next track, "Bing Bong Zoo," is a total game-changer. For anyone who has ever argued that Peppa Pig is apolitical, this is Peppa's response. Set to disarmingly upbeat piano instrumentals, Peppa documents a class field trip to the zoo in which Peppa and her friends witness animals in cages. Keep in mind that Peppa and all of her friends are animals, too, so the very notion of a zoo must be incredibly traumatic. "Bing Bong Zoo" draws on this trauma to evoke an emotional call-to-action, practically forcing listeners to confront their own notions of racism and bigotry. If everyone took the time to take "Bing Bong Zoo" to heart, it's hard to imagine the world not becoming a better place.
Other standout tracks include polyamory anthem "Peppa and Friends," an incredible collab with Super Potato about going green ("Super Potato's Theme"), and "Balloon Ride," which is just a nice song about riding in a hot air balloon.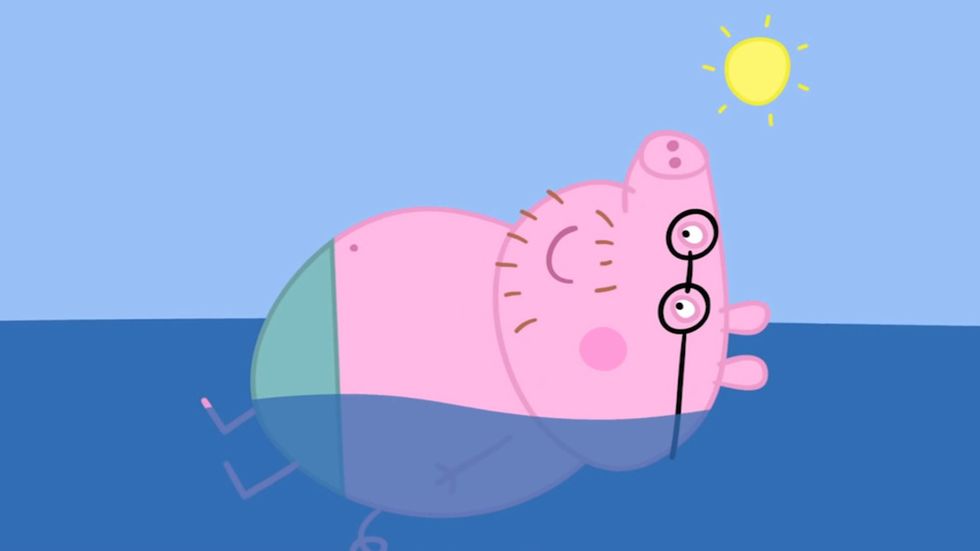 Daddy in all his gloryEntertainment One
But the most interesting collab on the whole album is undoubtedly "Expert Daddy Pig." The song will almost definitely draw controversy due to its taboo themes, but a larger cultural conversation about the power dynamic inherent to sexual "Daddy" relationships needs to happen eventually, and like it or not, Peppa Pig is pushing the discourse out into the open. In "Expert Daddy Pig," Peppa wrestles with the conflicting notions of her Daddy being an "expert" and her Daddy being an absolute bumblef**k. For his part, Daddy makes a real meal out of his dual roles as powerful authority figure and hapless buffoon. When he groans about a pizza falling on his head, we believe it completely.

Rounding out her eclectic album, "Peppa Party Time" is a fresh dance track that's sure to become the song of the summer. Taking a breather from her serious commentary on the world in 2019, Peppa Pig brings a heavy dose of pure, electric fun, encouraging everyone to bond over and experience the joys of collective movement. Peppa cheerily leads listeners with simple instructions like "clap your hands" and "stomp your feet," ensuring that anyone can participate regardless of their formal dance experience. Don't be surprised when "Peppa Party Time" gets more airtime than any other Top 40 song over the coming months.
Peppa Pig's My First Album is an absolute masterpiece. Anyone who cares about music at all needs to drop what they're doing and give it their undivided attention. Move over, Taylor Swift. Out of the way, Ariana Grande. Peppa Pig is here to stay.
My First Album