Popdust Presents
The hip-hop legend gets right to the point in discussing his status, the state of music today & rap culture.
Grease certainly lives up to his throne.
March 28, 2018 | Dame Grease is damn near untouchable. His legacy is well-known within the hip-hop world, but his greatest hits include essential work with DMX (It's Dark and Hell is Hot) and The LOX (Money, Power & Respect), and his influence has stretched two decades and can be felt within much of today's new breakouts. His pedigree also includes producing for Jay Z, Riff Raff, Mary J. Blige, LL Cool J, T.I., Max B, Nas, Harlem World, Fat Joe, and countless others. He's built the kind of magnificent kingdom that's allowed him the luxury to explore music in deeper, richer contexts -- and it sure helps that he's sold millions of records, too.
Earlier this year, Dame Grease took a time out to chat with Popdust host Deascent about his icon status, how producing differs today, what he listens to today, strength in energy, and building tracks. Watch the engaging, wide-ranging interview above.
Out of Harlem, Dame Grease's gifts in the recording studio were evident early on. He has not only cultivated a sound all his own but helped the street sound of late '90s and early '00s hip-hop, extending beats to hit harder and longer and building erupting moods through his craftsmanship. He lent his talents to Mase's 1997 studio record Harlem World and later mentored Swiss Beatz, who became a force of his very own. His mark cemented in the pantheon of music history, Grease expanded his horizons in the early '00s by dabbling in composition for film, scoring Exit Wounds (2001), Cradle 2 the Grave (2003) and Never Die Alone (2004).
Grease's latest release, an instrumental album called King of Beats, Vol. 1, draws upon his vast musical knowledge of classic soul, funk, and classically-structured hip-hop. Essential cuts like "Crack Babies," "Silver Surfer," and "It's Quiet" rely on thoughtful crescendos embedded in the music, allowing the grooves to sit and shift on the eardrums to enrich the listener's experience.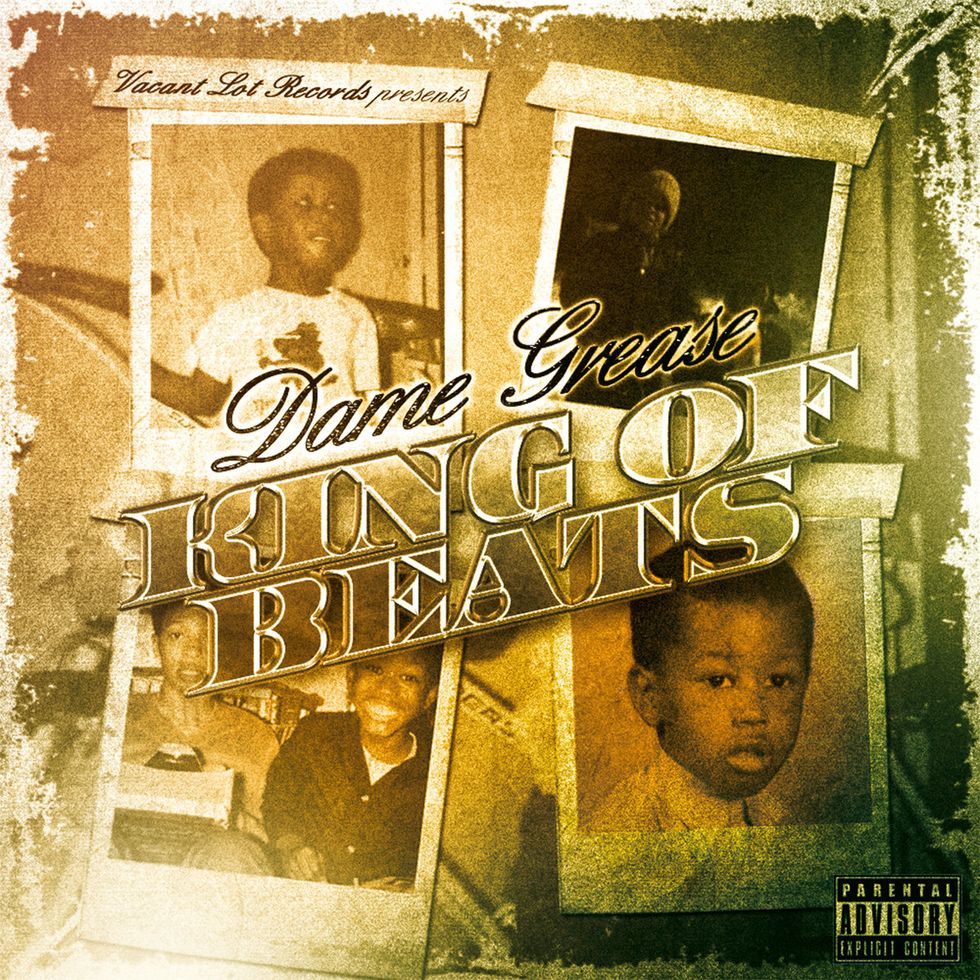 It's no surprise Dame Grease has kept his pulse on what is happening in the mainstream. He's had to keep his head above water his whole life. He explains, "To tell the truth, I never inducted myself all the way into the industry. I stay half in and half out, mainly closer to the streets and with my family. You know how I could be 70-years-old and can stay connected to what's going on because it's like I'm looking at it like that. I come from the hard life and no parents and you have to take care of yourself when I was 13-years-old. So, a lot of things people couldn't tell you that you can't do, I couldn't believe in none of that."
Over the years, Dame Grease has amassed countless superstar credits, including putting his stamp on Riff Raff's 2013 studio set, Hologram Panda, "one of the best projects to date," says Dame Grease. "He's cool and he's talented. He did seven songs in one day. I actually hooked up with him after I did a track with the 3 Locos, which consists of Riff Raff, Simon Rex, and Andy Milonakis. I did a song with them called 'Off With Your Head,' so we [were] in the studio and Riff was like, 'Yo, Grease you got some more beats, let's do something.' I'm like, 'Well, s****, that's all I have are beats.' So, we hooked up while I was mastering DMX's Undisputed album and played 20 beats for him. He chose seven of them, put his headphones on, wrote them, and we went to the next studio to knock them out."
---
Jason Scott is a freelance music journalist with bylines in B-Sides & Badlands, Billboard, PopCrush, Ladygunn, Greatist, AXS, Uproxx, Paste and many others. Follow him on Twitter.

---
POP⚡DUST | Read More…
Popdust Presents | Aston Merrygold is Signed, Sealed & Delivered
Popdust Presents | EBEN Rises From the Ashes
READY TO POP | The Night Game, Whitney Road & More Offer Protest Songs