On June 7th, 1958, the world received the gift of the Purple One, TAFKAP, Love Symbol (unpronounceable), The Artist Formerly Known as "The Artist Formerly Known as Prince," Skipper (to his family), the one and only: Prince.
After his death in 2016, it seemed unlikely that we'd ever hear new music from the velour-clad icon. This year would have been the Grammy Award-winner's 60th birthday, and while you probably celebrated by blasting "Purple Rain" and rocking your fluffiest shirt, Prince's estate and Warner Bros. Records celebrated by announcing the release of a new Prince album, Piano & A Microphone 1983.
Released Friday, the nine song collection features Prince at the piano in his home studio in Chanhassen, Minnesota in 1983. By this time, Prince was already on his way to super stardom, having reached the Top 10 list a year earlier with his double-LP 1999. Piano & A Microphone 1983 shows Prince workshopping early versions of songs that were fated to become hits, as well as some classic covers like "A Case of You." The recording is disarmingly informal, you can almost picture yourself holding a glass of wine in the '80s icon's (hopefully purple) living room.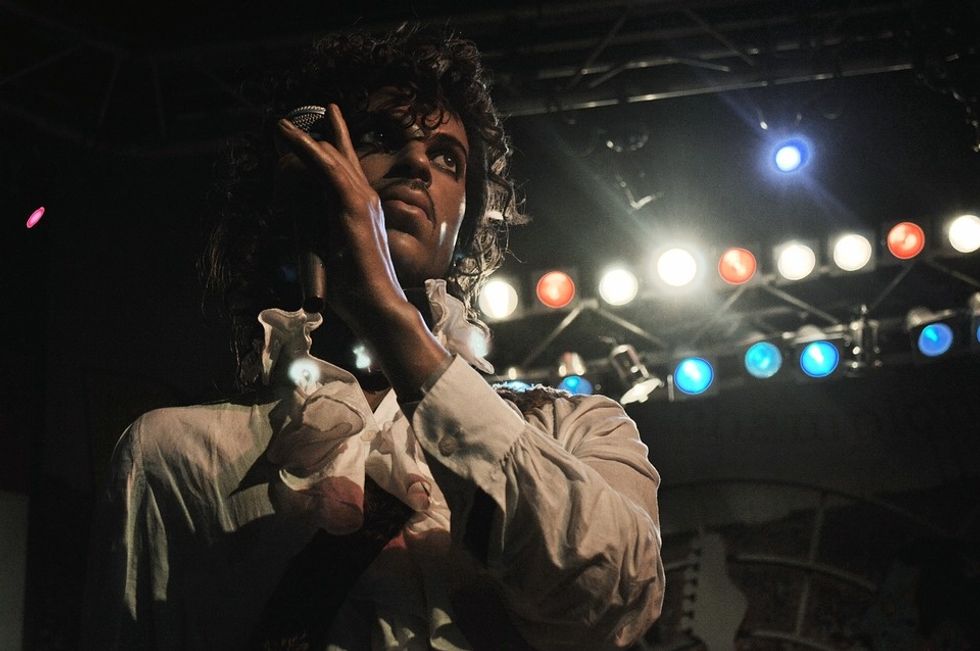 He improvises while the tape runs, moving almost seamlessly between songs like "17 Days," "International Lover," and even an early version of "Purple Rain." A notoriously talented pianist, his playing seems more an extension of his soaring vocals than an accompaniment. For example, the seventh song on the album, "Wednesday," is perhaps the greatest treasure Piano & A Microphone 1983 offers die-hard Prince fans.
In a lilting, almost childish falsetto, Prince sings along to a mournful piano. Suddenly, he seems to grow tired of the slow number and experiments with jazzy, incongruous riffs. While they don't necessarily make sense in the context of the song, these tangents are perhaps the most adequate representation of the pop star's improvisational talent ever to be recorded. The performance is so gloriously impulsive and deeply felt, the listener can almost see the electric impulse of creative genius moving from his mind to his fingers.
The session is intimate and vulnerable, and since we don't know if the singer would have ever willingly released Piano & A Microphone 1983 had he lived to do so, it even feels invasive at times. But deliciously so. Prince murmurs instructions to the engineer, experiments with pitch as he sings, and plays the piano reactively. This is Prince as only a privileged few have seen him: unpolished and embroiled in the creative process. It's just Prince, a piano, an engineer, and you.
---
Brooke Ivey Johnson is a Brooklyn based writer, playwright, and human woman. To read more of her work visit her blog or follow her twitter @BrookeIJohnson.
---
POP⚡DUST | Read More…

Cannon V. Kanye – And the Beef Goes On
Bert and Ernie, More than "Just Friends?"
Michael Kors is thisclose to Buying Versace