Film News
'Red, White, & Royal Blue' Review: Campy Queer Romances Are Here
This YA adaptation is firmly in the fun rom-com canon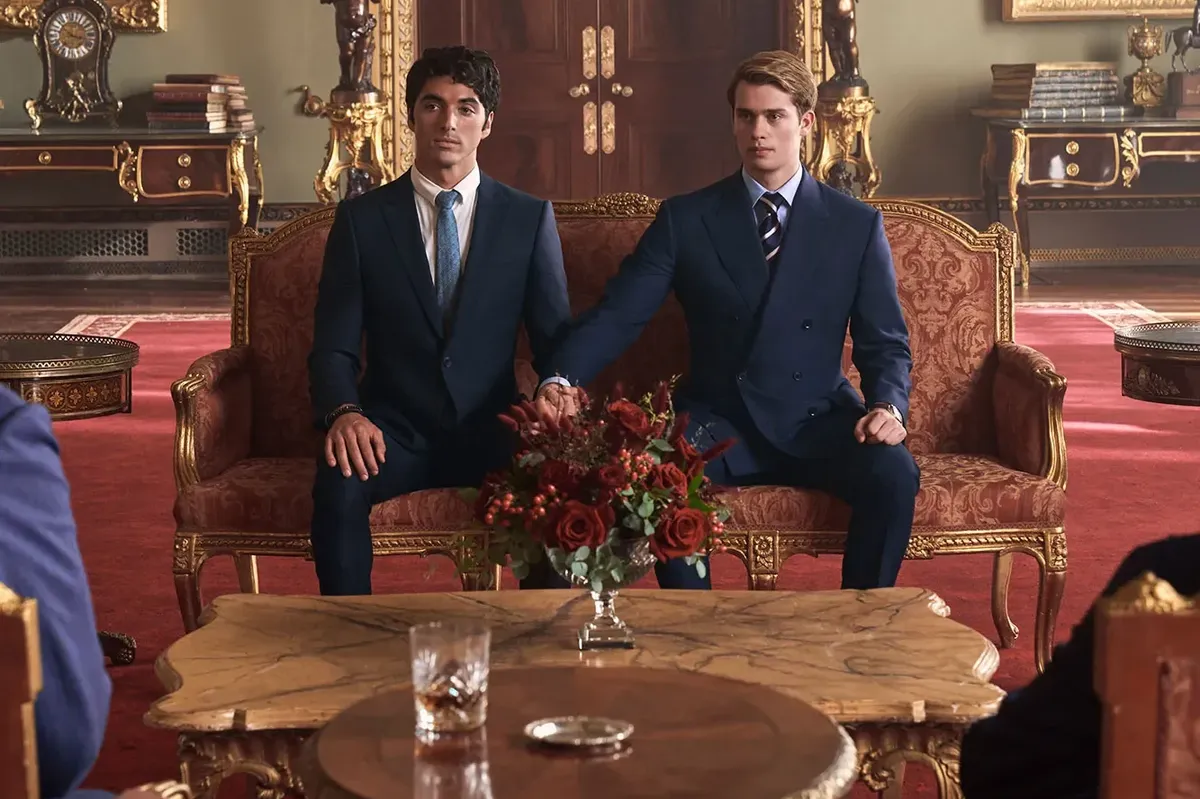 via Amazon Prime
Let me start this off by saying: I don't love much more than I love everything Brokeback Mountain. The short story by Annie Proulx. The Ang Lee film starring Heath Ledger (gone too soon) and Jake Gyllenhaal. All of it.

It's why, no offense to Swifties, I can't be too mad at Gyllenhaal even after listening to "All Too Well (10 Minute Version) (Taylor's Version)." It's why, during a 10-hour layover in London last month, I used 3 of them to watch the Brokeback Mountain play on the West End, starring Mike Faist and Lucas Hedges (a slay by the way, go before it closes). So I will never say a bad word against that classic piece of cinema.
---
But not everything can be Brokeback. Not everything should even try. Yet, the queer cinema canon has become endless versions of sad gay films and closeted angst. At this point, it's such a tired trope that The Other Two, patron TV show saint of predicting Hollywood nonsense, even parodied it.
When it comes to commercial content, queer characters are usually relegated to comic relief. Or ignored entirely. At this point, I have to rewatch Glee to get my dose of campy, queer fun. And too much Glee can not be good for the brain.
But, thank heavens, finally, the genre is expanding. Not with Bros — the gay romance that … couldn't. But with TV shows like Sex Education and Heartstopper, and films like Red, White, and Royal Blue.
Red, White, & Royal Blue - Official Trailer | Prime Videowww.youtube.com
What is Red, White, and Royal Blue?
Based on the bestselling YA novel by Casey McQuiston, Red, White, and Royal Blue is a love story for the ages. It follows Alex Claremont-Diaz, the first son of the United States, and young Prince Henry of England — two men raised in the most powerful halls of the globe who fall in love and into a lot of trouble.
Of course, I devoured the novel — a perfect guilty pleasure read that I breezed through in an afternoon. But my first thought upon finishing it was, "This would make a great movie." A Romeo and Juliet-esque plotline? A tale of power and passion? Forbidden love and social commentary? Plus quirky characters, epic adventures, and scenes I could see jumping off the page — no wonder it inspired a movie remake just 4 years after it was published in 2023.
Now, on August 11th, you can stream the steamy romance on Amazon Prime video. Here's what to expect:
Red, White, and Royal Blue: From Page to Prime Video
Like any movie adaptation, there are quite a few changes between the original novel and the film. Firstly, while the novel is a searching, internal-monologue-rich pursuit of sexuality, social justice, and self-determination, the film version has one motive: being hot.
Not that the novel is overrun with angst, nor that the film is devoid of substance. But the pages and pages of earnest emails are boiled down to quips and a few love letters in the film to let the characters really shine. What the film excels at is bringing the chemistry between the two characters to life. They ratchet up the "grumpy/sunshine" trope and make Alex (Taylor Zakhar Perez) less neurotic and more gregarious to contrast the moody, refined Henry (Nicholas Galitzine).
They amp up the banter and the flirting to make the characters a lovable opposites-attract duo that have semblances of the book's depth, but all of its charm. And in a two-hour film, what more can you ask for?
Apparently not some of the characters, as readers will notice. Many key characters were slashed in the film adaptation, and the ones they kept were relegated firmly to the background. On-screen, it was time for the boys to shine — and shine they did.
Doing This Again | Red, White & Royal Blue | Prime Videowww.youtube.com
What ensues over the two-hour runtime is a classic romantic comedy filled with quotable lines, campy characters, and Bridgerton-esque bodice (or, belt?) ripping scenes. Peppered in are a few overly earnest speeches that will definitely make heart-wrenching edits on Tumblr (if queer youth are still using that hellsite).
But what stands out the most is how refreshing this film feels. Yes, there are moments of angst — but the film doesn't dwell on the boys' internal struggles with their sexuality. They are confident in their queerness, their challenge is in the impossibility of self-determination. This alone is a welcome change from the gay panic storylines of yore. But more than that, they spend most of the time on screen just being gay and happy and in love. And they end it that way, too.
While I don't think every queer film has to appeal to everyone, I think queer people should have the choice to see themselves in commercial content. And this big-budget romance really fits the bill.
I know I'll be returning to this time and time again, putting it squarely in the canon of rewatchable romance films for the ages. And in a time where so much high-budget streaming content is actually crappy (The Kissing Booth, anyone?), a great gay film is exactly what the doctor ordered.