MUSIC
Rihanna deserves better than this.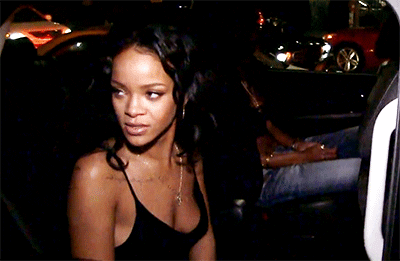 As Rihanna walked the red carpet prior to her NYFW Savage X Fenty show on Tuesday,Entertainment Tonightjournalist Rachel Smith had something besides fashion on her mind.
Rihanna is TIRED! "You about to ask me about my album?!!" https://t.co/bQW9BBNH0A

— Rihanna News (@Rihanna News) 1568207681.0
"You about to ask me about my album!" Rihanna said playfully. Rihanna knows how to behave in front of a camera, but there was visible frustration on her face. While the pop-star laughed off the exchange, Rihanna has been unable to escape questions surrounding R9, even at her own fashion show. Fans and pop culture outlets alike have been fervent in their speculation about when we might get new Rihanna music, to the point that it's overshadowed the groundbreaking accomplishments the artist has achieved in the last five years.

The trend continued last night as Rihanna hosted her annual Diamond Ball. In an interview with Essence Magazine prior to the event, Rihanna took a moment to honor women of color. "I'm a black woman. I came from a black woman, who came from a black woman, and I'm going to give birth to a black woman." The singer concluded by saying that black women are "impeccable and special" and that her mother is "an incredible example of how to fight through obstacles in life." The interview caused an uproar on social media, but once again, fans and media outlets alike were quick to ignore the singer's inspiring words.
"Rihanna is Pregnant" became one of Twitter's top trends. "Is Rihanna Pregnant?" wrote Marie Clare. Similar headlines appeared in Women's Health, E! and Newsweek. A rumored Rihanna pregnancy consumed the internet ether, again diluting the groundbreaking work Rihanna displayed last night. The Diamond Ball is a gargantuan fundraising event that supports the singer's Clara Lionel Foundation. For those who don't know, The CLF Foundation fights to stop climate change and provides educational programs to children in underdeveloped countries, among other causes. Most recently, the organization shelled out two massive emergency grants to help with Hurricane Dorian relief efforts in the Bahamas. In 2017, the Diamond Ball raised over $5 million dollars to support CLF's mission. But who wants to hear about that when Rihanna might be pregnant? Well, she isn't.
In the last five years, Rihanna has released her most critically acclaimed album and become the creative director of women's collections for Puma. She has developed a line of "size and gender-inclusive lingerie under the Savage X Fenty label," and debuted a makeup line that has revolutionized the cosmetic world by "introducing a foundation palette with 40 shades, from the palest to darkest skin tones." She is also the first black woman to run a luxury fashion house in Paris. That's not to mention, from 2008 to 2012 she released an album every single year, each one met with critical acclaim and enormous commercial success.
As fans, we have just asked for more from Rihanna, and in turn we've attempted to box Rihanna into who we think she should be. But the joke's on us, because at the end of the day she will just keep succeeding, whether we appreciate it or not, and even if she is pregnant, and even if new music is imminent, she would never tell us. As Rihanna fans, we have devolved into nothing more than vultures, picking up the scraps that she leaves out for us. In return, she will always clown our efforts, because it's what we deserve.