MUSIC
While the late Brooklynite was only able to put out two albums before his untimely death, both works are regarded as some of hip-hop's greatest contributions.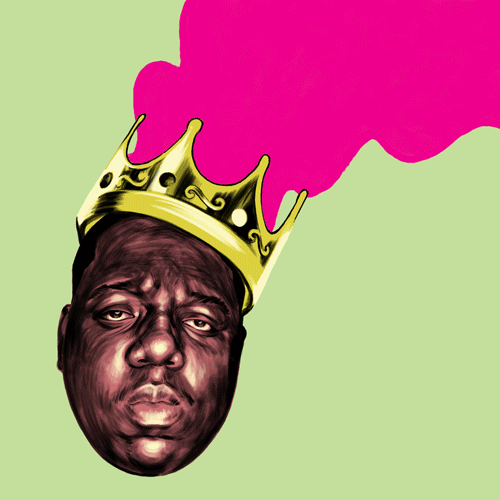 One of Hip-Hop's most prominent icons The Notorious B.I.G. was senselessly gunned down at a red light in Los Angeles on this day in 1997.
He was heading home from a Vibe Magazine party when a gunman rolled down his window and opened fire. The death has remained unsolved and has unearthed a vast number of conspiracy theories in its 23-year wake. Highlights include theories that P. Diddy was responsible for the murder and that the late rapper isn't dead at all, and rather he was recently spotted alive on an island in Greece.
While the late Brooklynite was only able to put out two albums before his untimely death, both works are regarded as some of hip-hop's greatest contributions. To rank any of his songs is impossible; there are simply too many great entries to count. Still, there were a few lyrical gems that monumentally redefined East Coast rap and proved Biggie to be one of the greatest storytellers of all time.
Here are a few of his crowning musical achievements to honor the immense talent of The Notorious B.I.G.:
Gimme the Loot
Biggie's mastery of the pen is undisputed, but on "Gimme the Loot," off 1994's Ready To Die, all his strengths seem to click right into place. His flow is so tight that fans thought for years that the track's quippy call-and-response was done by Biggie and another uncredited rapper. His stream of consciousness lyricism makes listeners feel that they're hitting a lick right alongside him, and his tales of late night violence are haunting and captivating.
"Man, I throw him in the fiend you grab the f*cking cream
And if he start to scream, bom bom, have a nice dream
Hold up, he got a f*cking b*tch in the car
Fur coats and diamonds, she think she a superstar. Ooh Biggie let me jack her, I'll kick her in the back
Hit her with the gat. Yo chill shorty, let me do that
Just get the f*cking car keys and cruise up the block

The b*tch act shocked getting shot on the spot. Oh sh*t the cops!"
Everyday Struggle
"Everyday Struggle" isn't as play-by-play as "Gimme The Loot," but it once again demonstrates the raw poetry of Biggie's rhymes. He is undoubtedly a victim of his circumstances and is drawn to street life not by his own doing but by circumstances completely out of his control – he even calls out Mayor Giuliani by name. Suicide often lingers in the back of his mind, but he unfortunately knows that the only way out is through. "That's just how the shit go in the struggle motherf*cker," he says with a shrug.
"But they don't know about the stress-filled day
Baby on the way mad bills to pay
That's why you drink Tanqueray
So you can reminisce and wish
You wasn't living so devilish, sh*t."
Ni**as Bleed
An eerie slow-burning tale of an impending drug deal, Biggie's haunting thoughts and anxieties are put on full display all the way up through the track's explosive conclusion. Biggie's eye for unsettling detail is uncanny, and the story is soaked in unrelenting tension that doesn't let up. It builds in an almost theatrical way, before exploding in the final verse with the ferocity of a Quinten Tarantino film. Through it all, Biggie remains unmoved by such grotesque violence, instead, he finds a dark humor in knowing that his enemies car just got towed for double parking. His emotional distance from violence is the track's most haunting quality.
"That's when Ron vanished, came back speaking Spanish

Lavish habits, two rings, twenty carats
Here's a criminal, n*gga made America's Most
Killed his baby mother brother, slit his throat
The n*gga got bagged with the toast
Weeded, took it to trial, beat it
Now, he feel he undefeated, he mean it
"Nothing to lose" tattooed around his gun wounds
"Everything to gain" embedded in his brain
And me? I feel the same..."

10 Crack Commandments
"10 Crack Commandments" is undeniably witty and offers the catchiest how-to guide for novice crack dealers. It has been cited as one of Biggie's greatest hits, solely because of its unique balance of cold authenticity and dark humor.
"Number 3, never trust no-bo-dy
Your moms'll set that ass up, properly gassed up
Hoodied and masked up, shit, for that fast buck
She be laying in the bushes to light that ass up"
You're Nobody 'Till Somebody Kills You
The final song off of Biggie's final album is one of the rapper's most haunting tracks, to say the least. Released after his death, the song is drenched in fear, self-doubt, and betrayal, with the seemingly unshakable B.I.G. mumbling in defeat, pleading, "I don't wanna die, God tell me why." It was as if he knew that people were coming for him, the song his attempt at salvation and coming to terms with what he thought was imminent. It all makes his death even more devastating.
"As I leave my competition, respirator style
Climb the ladder to success escalator style
Hold y'all breath, I told y'all, death
Controls y'all, Big don't fold y'all, uhh
I spit phrases that'll thrill you
You're nobody til somebody kills you"