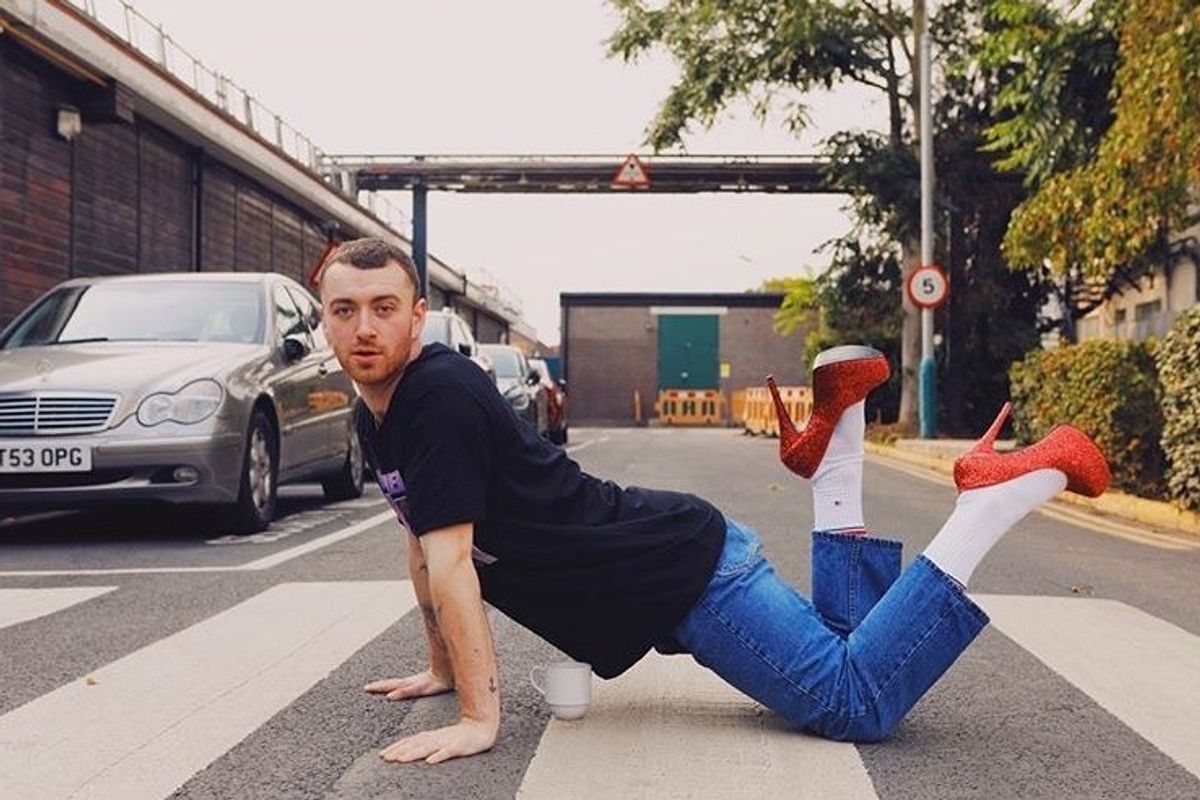 Sam Smith has officially entered his 2.0 era.
Always a talented singer with a penchant for searing lyrics and earworm melodies, he's now added dance to his repertoire.
In the new video for "How Do You Sleep?" Smith shows off his new choreography skills, successfully leading a pack of professional dancers through a series of perfect tableaus and Fosse-like gyrations—all while effortlessly sporting sky-high heels.
Sam Smith - How Do You Sleep? (Official Video)www.youtube.com
The song itself is a package of mixed messages. At parts, it feels a little bit overly produced and synthetic, but in others, Smith's genuine emotion pierces through the gloss. In some ways, it's a traditional breakup song—but it also manages to be as empowering as any Lizzo tune, as liberating as the start of a road trip into the unknown. The first line, "I'm done hatin' myself for feelin'," reveals a newly self-aware Smith, no longer willing to be pushed around or minimized by a relationship or by anyone at all. "I've gotta leave and start healin'," he adds, an important message for anyone who's found themselves in an unhealthy relationship, or inhibited by societal expectations.

In March, Smith came out as non-binary and gender-queer. "Non-binary/genderqueer is that you do not identify in a gender. You are a mixture of all different things. You are your own special creation," Smith said. He's also been open about his longtime struggle with body image, so it's inspiring to see him so clearly embracing his body and his identity.
Overall, the video feels like a tribute to gender-queerness, to personal reinvention, and to letting go of anything that holds you back—be it a dishonest lover, pressures to look a certain way, or restrictive gender roles. Aesthetically, it's a triumphant, stylish tribute to Madonna, Mariah, and other great divas. To see Smith stepping into their (very high) heels is to see a person embracing newfound self-confidence, and it's a call for all of us to do the same.
HOW DO YOU SLEEP? My heart is beating so fast. I'm so proud of this one. Thank you to all the beautiful humans who'… https://t.co/JJ2WQF136h

— Sam Smith (@Sam Smith) 1563521659.0
y'all this Sam Smith song hits DIFFERENT https://t.co/tgN2Eyu6G0

— ✧ E ✧ (@✧ E ✧) 1563518972.0
another SERVE from sam smith but are we surprised? hes always serving💥 @samsmith thank u for keeping the gays fed… https://t.co/RySFwoGu7I

— yara🌈 (@yara🌈) 1563522099.0
Sitting here reading all your comments and freaking the fuck OUT!! This feels like the day I came out 😂❤️

— Sam Smith (@Sam Smith) 1563527320.0