Music Features
Before Its Time: Santigold Was the First True "Genre-Bender"
Twelve years after its release, Santigold's debut album remains a near-flawless cocktail of new wave, dub, and hip-hop bliss.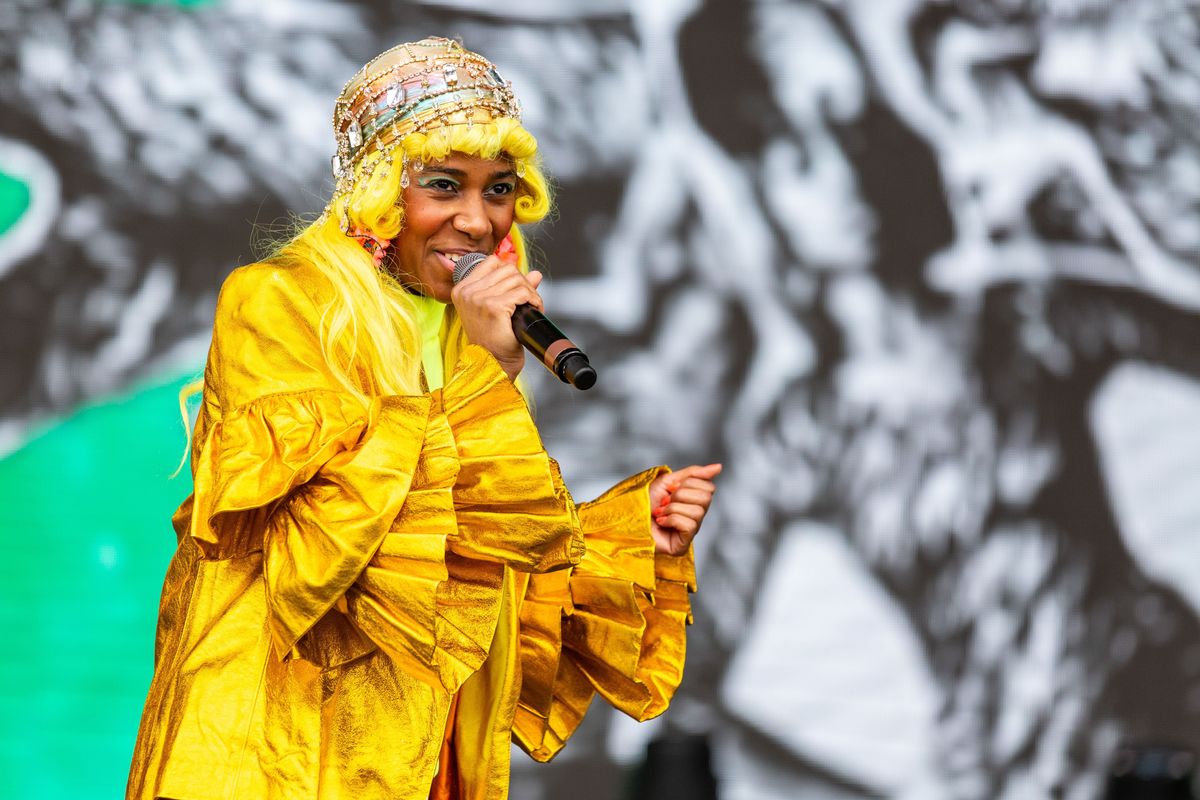 RMV/Shutterstock
2008 was a big year for music.
In the hip-hop world, Lil Wayne and Kanye West would both release career-defining albums, while releases from bands like Vampire Weekend, Cut Copy, Hot Chip, and M83 would put the soon-to-be indie heroes on the map. Radio pop would become saturated with Lady Gaga's The Fame and Beyonce's I Am...Sasha Fierce.
And then, somewhere at the intersection of it all, we were introduced to Santigold.
---
Santigold (changed from the original spelling, Santogold, due to a lawsuit) is the stage name of Santi White, a singer-songwriter-musician who emerged with her debut self-titled album in 2008. While the term "genre-bending" has come to be more closely associated with young innovators like Lil Nas X, Santigold was breaking the rules first, blending new wave, dub, and brash hip-hop into a kaleidoscopic whirlwind of indie rock.
Santigold - L.E.S Artistes (Official Music Video)www.youtube.com
It shouldn't come as a surprise that Santigold came equipped with such a well-rounded palette of influences: Before she was a professional artist herself, the Philadelphia native worked as an A&R representative for Epic Records, the Sony-owned label home of highly influential artists like Michael Jackson, Gloria Estefan, and Fiona Apple. She cut her teeth writing for artists like Ashlee Simpson, Res, and Lily Allen, before deciding it was finally time to take the stage herself.
Before emerging as a solo artist, Santigold fronted a four-piece rock band based out of Philly called Stiffed, combining elements of jittery ska and melodic punk rock. Founded in 2001, Stiffed released an EP called Sex Sells in 2003 and an album called Burned Again in 2005. Both releases still hold up, but it took Santigold going solo for her to shine her brightest.
Santigold was adamant on breaking the stereotypes of her fellow Black women in music. "There weren't many instances of a Black woman who wasn't R&B or dressed in a sexy little outfit," she told the Chicago Tribune last year. "It was an alternative portrayal, a different type of woman, a different type of Black woman making a different type of music. It was 'other!'"
"Other" it was, but in the best way possible. Critics were stunned when Santigold's self-titled debut solo album arrived in 2008. Her voice bellowed and swung like Karen O of the Yeah Yeah Yeahs, while teetering seamlessly between the melodic bliss of album opener "L.E.S. Artistes" and the infectious swagger of "Creator."
Santigold - Creator (Official Audio)www.youtube.com
Not to mention Santigold was paving the way for girls who looked like her. Sure, singers like Grace Jones and X-Ray Spex's Poly Styrene proved Black women could rock, but nobody—of any race or gender—was doing it quite like Santigold.
Plenty of people did, however, compare Santigold to one other musician: her friend M.I.A. The pair shared high-profile producers in Diplo and his Major Lazer co-founder Switch, as well as iconoclast attitudes—and the fact that non-white women in the indie scene were terribly few and far between in the 2000s. But in an era where downloading music was the new norm, Santogold delivered the kind of thrilling indie rock crossover that music junkies and blog readers craved.
Santogold begins on a more conventional note with "L.E.S. Artistes," an unforgettable guitar number that swells into euphoric choruses. Santigold had spent plenty of time in New York City, and the song invokes her frustrations with the posers and elbow-rubbers of Lower Manhattan: "Build me up, bring me down / Just leave me out, you name dropper / Stop trying to catch my eye / I see you good, you forced faker."
Following "L.E.S. Artistes," Santigold's rock roots are prevalent throughout the album. The slow burner "My Superman" was heavily inspired by Siouxsie and the Banshees' "Red Light," while the piercing guitar of "I'm a Lady" sound obviously indebted to the Pixies' "Where Is My Mind?" But despite Santigold's admiration for the sounds of the '80s, her songs come complete with a contemporary zest that holds up even twelve years after the album's release.
Another aspect that keeps Santogold so invigorating is its abundance of hooks. Each track on the album is an absolute earworm, from the raucous dub-rock of songs like "You'll Find a Way" and "Say Aha" to the mellow electro-pop of "Starstruck" and "Anne." It's that infectiousness that made Santigold a hot go-to for rappers; it's why Drake and JAY-Z have both used prominent samples of her music.
JAY-Z BROOKLYN WE GO HARD 42 (HI-QUALITY MUSIC VIDEO)www.youtube.com
Had Santogold been released earlier, it quite possibly wouldn't have been nearly as incredible as it turned out to be. Santigold was 31 at the time of the album's release, having spent nearly a decade already in the music industry. She was firm in what she desired out of her own work, which translates into the album's fleshed-out sound.
With a producer in Diplo, co-signs from A-listers, opening for the likes of Coldplay, and features in a number of shows and movies, it's a bit of a mystery why Santigold never reached the same level of notoriety as her peers in, say, Vampire Weekend. Santigold went on to make two more studio albums, but her self-titled remains by far her most impressive body of work. Santogold sounds just as fresh as it did in 2008, and its creator was the force we needed to help reign in the blog era of music—maybe everyone else just wasn't ready yet.