CULTURE
Fans are taking increasingly drastic measures to protest the cancelation of Netflix's "The OA." Some say they're doing the bidding of angels.
Emperial Young is on a hunger strike.
Since August 19, the 35-year-old has been striking outside the Netflix headquarters in protest of The OA's cancelation. Her actions are spurred on by a combination of love for the TV show ("It's helped people process their trauma," she said)—and her disdain for late capitalism.
"This hunger strike is...not just about the TV show but also about the iniquities of capitalism and the inadequate social support structures in our country," she said. "There kind of isn't anything more important." Young is an unemployed writer who had been sending out job applications to no avail for several months. Her hunger strike may seem extreme, but so are the involuntary hunger strikes people across America are forced to undergo as they look for jobs or, even if they have work, still struggle to support their families while being underpaid and slammed with massive health insurance bills and the like.
Even so, Young's actions are drastic and rather roundabout—perhaps she'd be better off engaging with politics or other forms of activism that directly engage with the issues at hand. But art has always been a reflection of societal discontent, as well as a way of presenting visions of better worlds, largely by tapping into humans' universal desire for connection.
The OA certainly did this, too, telling its story by forming deep bonds with its viewers. It's been hard for some fans to let go.
This Is a Movement: Fans Rally Around Their Angel
Young is far from alone in her desire to see the TV show renewed. A petition to save the show has garnered 80,000 signatures on Change.org, and fans recently raised $5,582 in order to purchase a billboard in Times Square and LA. Hundreds have posted videos of themselves performing the show's seminal "five movements," a shamanic dance sequence that enables characters to leap between dimensions in the show.
"What difference does it make if I just jump at the last second?" Steve. This is the spirit! The OA is real, the… https://t.co/KDg2MdF1tf

— The_oa_impressions (@The_oa_impressions)1565462065.0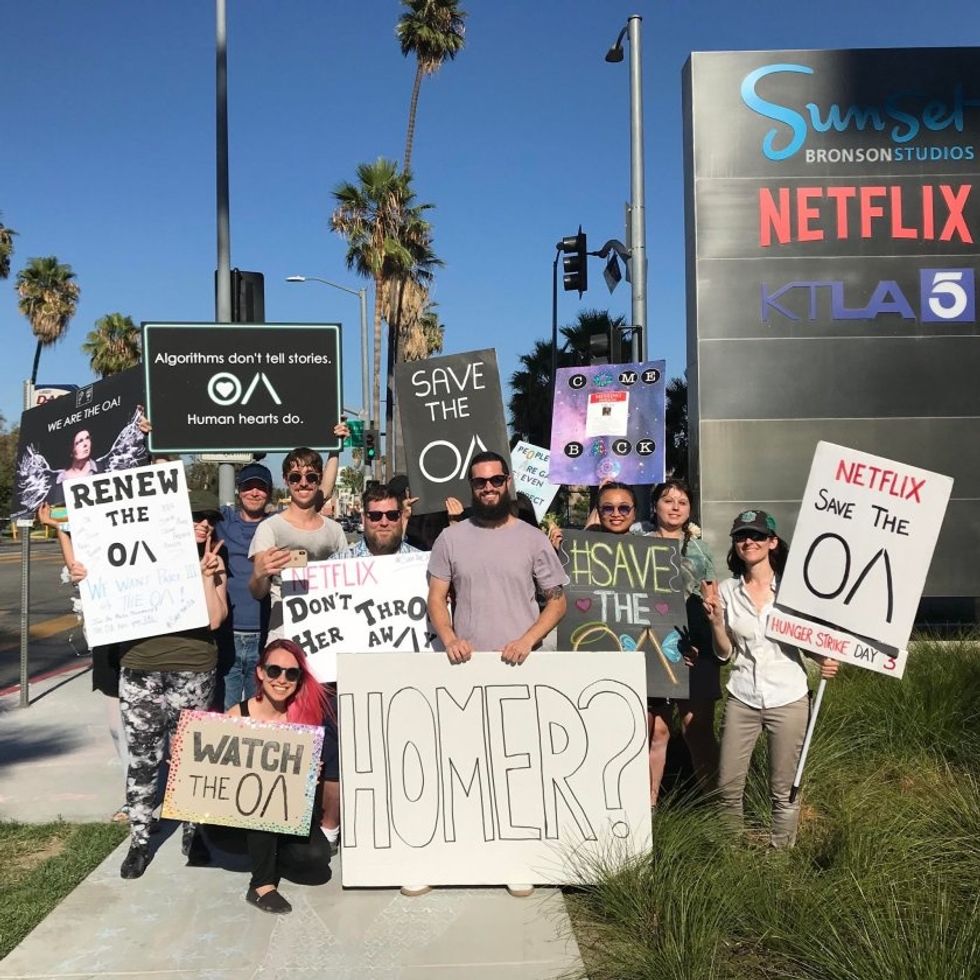 Los Angeles Times
Why is the show so important to people, important enough that they'd put their own lives on the line to save it? For some fans, it's probably just because they love the show.

For others, it may be because they feel like they're being called to action by a higher power.
Breaking the Fourth Wall: Why Fans Think The OA's Ending Is a Call to Action
The show tells the story of a blind woman named Prairie (Brit Marling), also known as The OA (aka The Original Angel), who regains her sight after being kidnapped by a scientist (Jason Isaacs) who studies near death experiences. At the end of the first season, she escapes the scientist's prison and winds up in an alternate reality, where the second season takes place.
Fans' feverish protests may have been encouraged by the way this last season ended. In the show's final episode, "Overview," Prairie travels into a third dimension. After leaping through a rose-colored glass window at the top of a San Francisco mansion, she and the scientist wind up in a different dimension—and some fans think that dimension is our own.
In the last frames, the two characters appear to be on a film set. In this world, they're both actors who go by their real names, Brit and Jason. At the end of the episode, Marling's character is fighting for her life inside an ambulance, and is unable to remember her previous identity.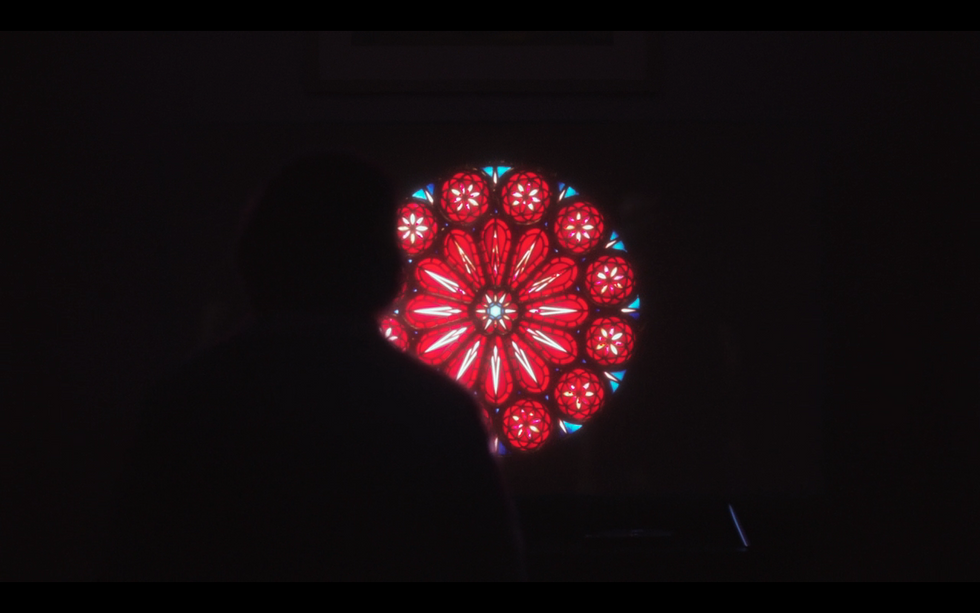 Metawitches.com
Some fans believe that the show's cancelation is a continuation of the its meta-narrative, a purposeful development in the storyline meant to move the show into our reality. Considering the show's penchant for interactive technologies, that wouldn't be such a stretch.

Others have insinuated that the show's meta-ending and subsequent cancelation indicate that people in this world need to rally in order to save The OA, who really has come to our dimension.
After all, some of the characters in the show are told over and over again that they need to band together in order to help Marling's character survive her interdimensional struggles. They're asked to rely on faith in The OA's message, despite being unsure if she's real.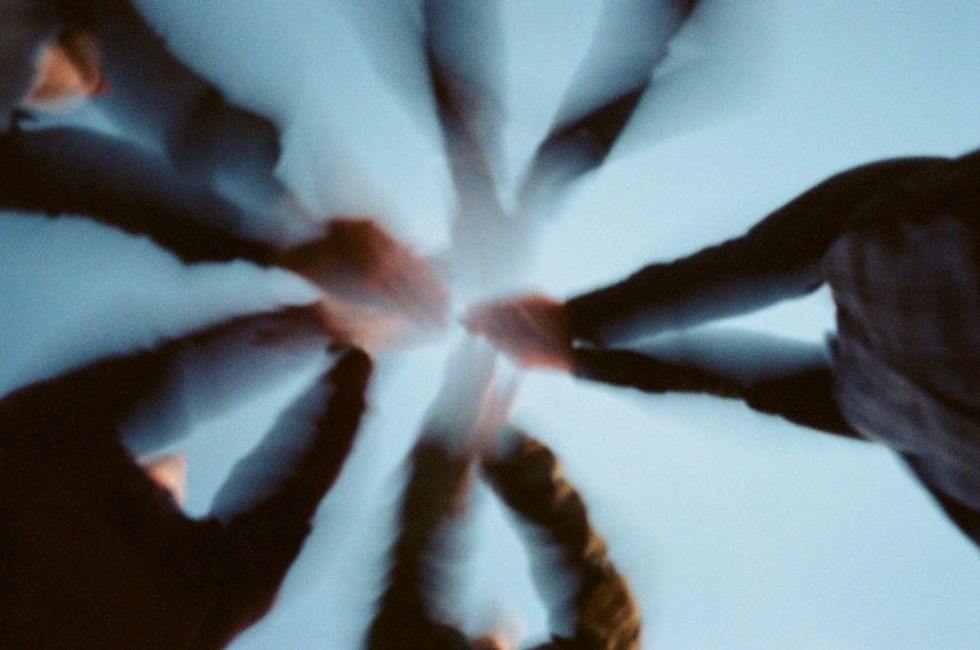 indiewire.com
Most fans haven't taken things quite this far, but the fact that the show is capable of rallying so many people together is a testament to its ability to transmit its messages through the screen. Really, it's a testament to all art and to everything that requires improbable faith.

The End of the Hero's Journey
For her part, Marling (also one of the co-creators and writers) has seemingly resigned herself to the show's demise. A recent Variety article clarified that there will be no wrap-up film for the series, and said that Marling has encouraged fans to stop protesting. However, some fans believe that the article is falsified and misleading.
Last week, Marling posted an essay on Instagram thanking fans for believing in her show and expressing some of her feelings about its cancelation.
In it, she wrote that the show's "unexpected cancelation begs larger questions about the role of storytelling and its fate inside late capitalism's push toward consolidation and economies of scale."

In the post, she also spent a long time discussing the idea of the "hero's journey," the main story arc underlying most narratives since the origins of human culture. In this story, a hero goes on a quest or adventure, wins a dramatic victory, and comes home changed, endowed with newfound powers.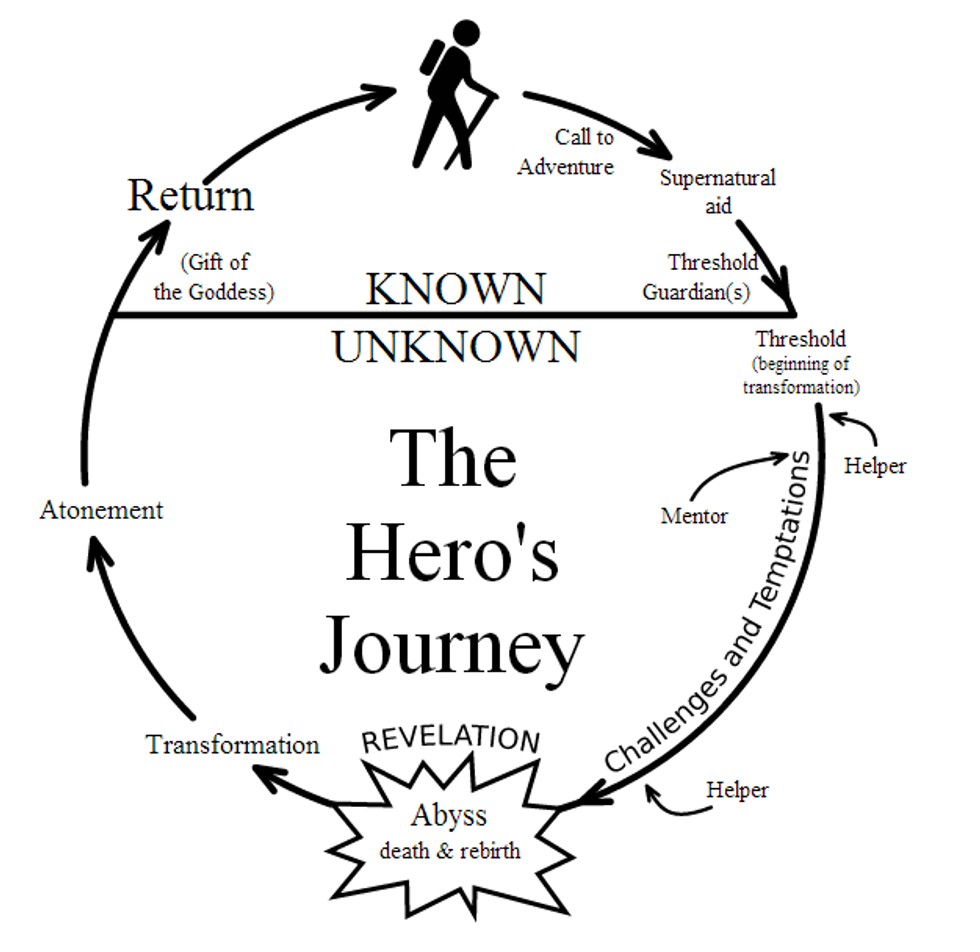 google.com
According to Marling, this story is understandably appealing. "Sometimes I feel paralyzed by the forces we are up against—greed, fear, vanity," she wrote. "And I can't help but long for someone to rescue us from ourselves—a politician, an outlaw, a tech baron, an angel."

However, she continued, this story might hint at the core of what's slowly dooming human civilization to an unpleasant heat death. At the heart of the hero's journey is the idea of progress and ascension to greatness at any cost. It's the idea that one person will save us, and that we can overpower the world around us by grand actions, like, say, nuking a hurricane.
In reality, though, "No one is coming to the rescue," Marling wrote. She ended the post with a call for more stories that disrupt the hero's narrative and propose different futures and alternate forms of redemption. "So perhaps, at this late hour inside the dire circumstances of climate change and an ever-widening gap between the Haves and the Have-Nots, we are hundreds of years overdue new mythologies that reflect this," she concluded. "Stories with modes of power outside violence and domination. Stories with goals for human agency outside conquest and colonization. Stories that illustrate the power of collective protagonism, or do away with protagonism entirely."
Say what you want about how weird The OA was, but you have to admit that Marling has some good ideas. We do need alternate stories, stories that tell us not only what's wrong with this world, but also what a better world might look like—and we need road maps to show us how to get there.
In its abstract, confounding way, The OA hinted at these kinds of paths, presenting a narrative that emphasizes how deeply connected humans are—not only to each other, but to the world around them. It told this through queer narratives that highlighted the importance of chosen families and through posthuman storylines that placed the voices of trees and animals on equal footing with human ones.
If this sounds absurd, it is—when you view it from the perspective of the humanist messages we've been indoctrinated with since birth, which claim that we're more powerful than the natural world (when in fact it's the exact opposite), and which fill us with the kind of fear and insecurities that lead us to harm other people so we can succeed.
According to Vulture's article on The OA's queerness, to believe in the show and its seminal dance movements "requires a leap of faith, a belief that art has a higher purpose and a function beyond aesthetics, that it could be used in the face of sheer, unthinkable violence. The Movements allowed Prairie and her fellow prisoners to reclaim their bodies and create a space that their captor could never control."
All this being said, the show itself is far from perfect. It doesn't present a clear vision of change, it does in fact rely on a hero's narrative, and it's just too weird and uncomfortable at times to fully resonate. But it does present brief glimpses of the aforementioned ideas, brief hints of the sublime interconnectedness that underlies all things, and sometimes that's all we can ask for.
What's Next for The OA?
There are much bigger problems in the world than the fact that The OA is being canceled, and none of this is meant to advise more people to donate their savings to the show or to go on a hunger strike.
Still, in a world where it's become nearly impossible for writers and creative people to find work without the support of massive corporations, and where shows as beloved as The OA wind up on the cutting-room floor due to a purported lack of funds, it's a tale worth rallying around.
Some fans are finding ways to weave their love for the show into acts of protest that incorporate greater issues. A campaign called #GreenOA has inspired fans to gather together to clean up highways and parks, and fans have also organized a fundraiser for the anti-trafficking organization A21. Many fans have also expressed gratitude for the people they've met through their efforts.
In The OA's final episode, one of the characters stumbles on a quote from a T.S. Eliot poem, carved into the walls of the strange house that contains the rose window. "At the end of all our exploring," it reads, "We will arrive where we started and know the place for the first time." Maybe that's the real gift of The OA: not the story it told, but the fact that it offers a different way of looking at the same world we've always known and the living things (both human and not) that have always been quietly existing alongside us.