CULTURE
UK-pop is one white man's thinly veiled attempt to capitalize on the success of a non-white group.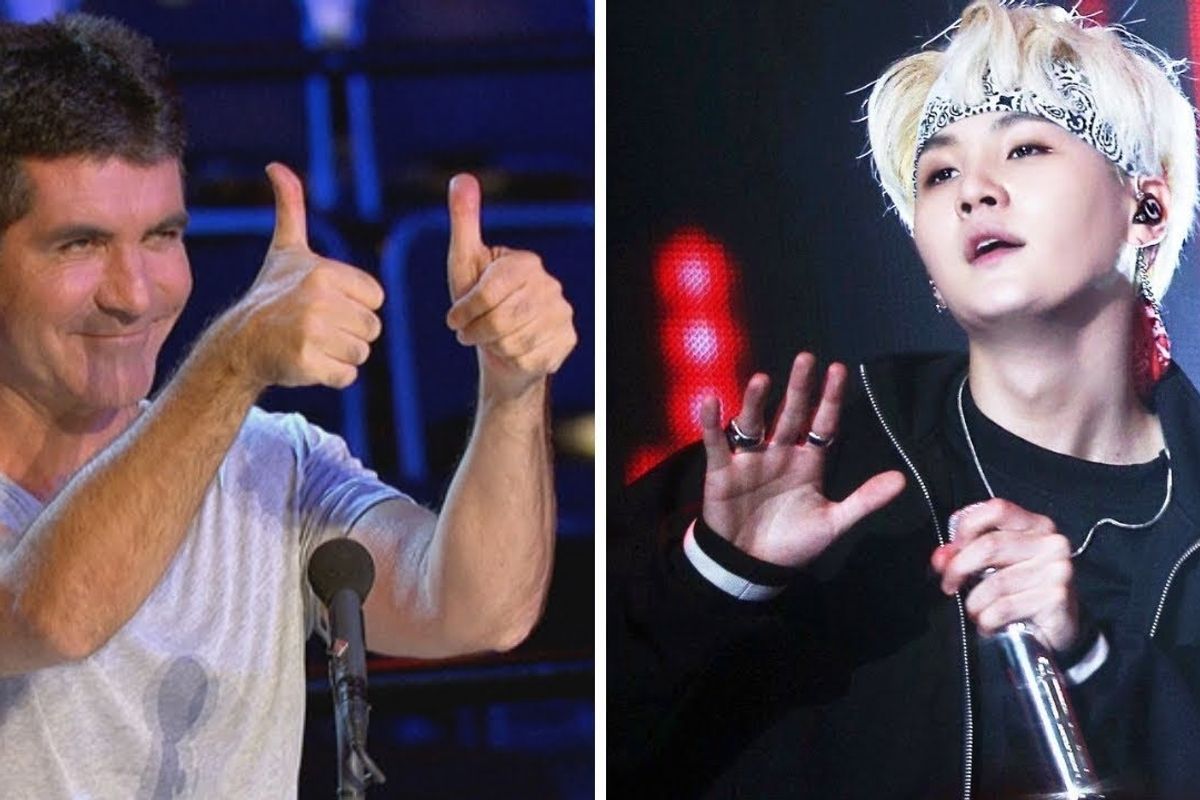 After witnessing the success of K-Pop groups such as BTS, Simon Cowell has decided to start a show intended to launch a "new wave" of music entitled "UK-Pop."
Naturally, this has incensed K-pop fans, who accused Cowell of "taking the title from the biggest group on the planet" and attempting to "make it white."
Simon Cowell's new UK-Pop group debuts with their song "Make It White"

— bry (@bry) 1573050813.0
Cowell's comments came in the wake of the news that he's launching a new show entitled X Factor: The Band, which will attempt to create the next major musical super-group. The show's announcement also angered Lil Mix fans, as the group has a show that is based on the same premise, entitled The Search.

Regarding X Factor: The Band, Cowell said, "K-pop is ruling the world. This is a show to find a band to launch UK-pop," he said. "It's more than winning a record contract, it's starting a new music wave."
Maybe Simon Cowell needs to take a step back. "UK-pop" is not a brilliant innovation of Simon Cowell. The UK has been churning out pop artists since the inception of the modern music industry, and you can see its success in everything from The Beatles to One Direction. On the other hand, between the Macarena in 1996 and Psy's "Gangnam Style" in 2012, not a single non-English-language track hit Billboard's Top 10.
Non-English speaking artists have always been creating popular music, though, and in recent years they're finally pushing out English-speaking groups from the upper echelons of the mainstream. This week, BTS's Love Yourself: Answer broke records after becoming the first K-pop album to stay in the Billboard Top 200 for a year, and it's not like Billboard is the arbiter of all the world's music tastes. According to one study of YouTube's charts, for example, the top four biggest acts in the world are non-English speaking acts.
In light of this, Simon Cowell's comments display a marked ignorance and an apparently elevated view of the importance of the English language, hegemonic whiteness, and his own power. K-pop and Lil Mix fans know that what really matters in the end, is the relationship between the artists and their fans, and they know that K-pop is on top, no matter how many washed-up white music industry executives try to capitalize on it.
"Right now, K-pop, you could argue, is ruling the world. Now, it's time for UK-pop." Simon Cowell announces his ne… https://t.co/QJIEEUiuV8

— Jeff Benjamin (@Jeff Benjamin) 1573055299.0
Simon Cowell: UKPOP The world: https://t.co/HoSnol41YW

— ThisisAileen ✈ (@ThisisAileen ✈) 1573065364.0