TV
Netflix's 'Someone Great' is The Quintessential Millennial Break-Up Romp
With a seriously great soundtrack to match.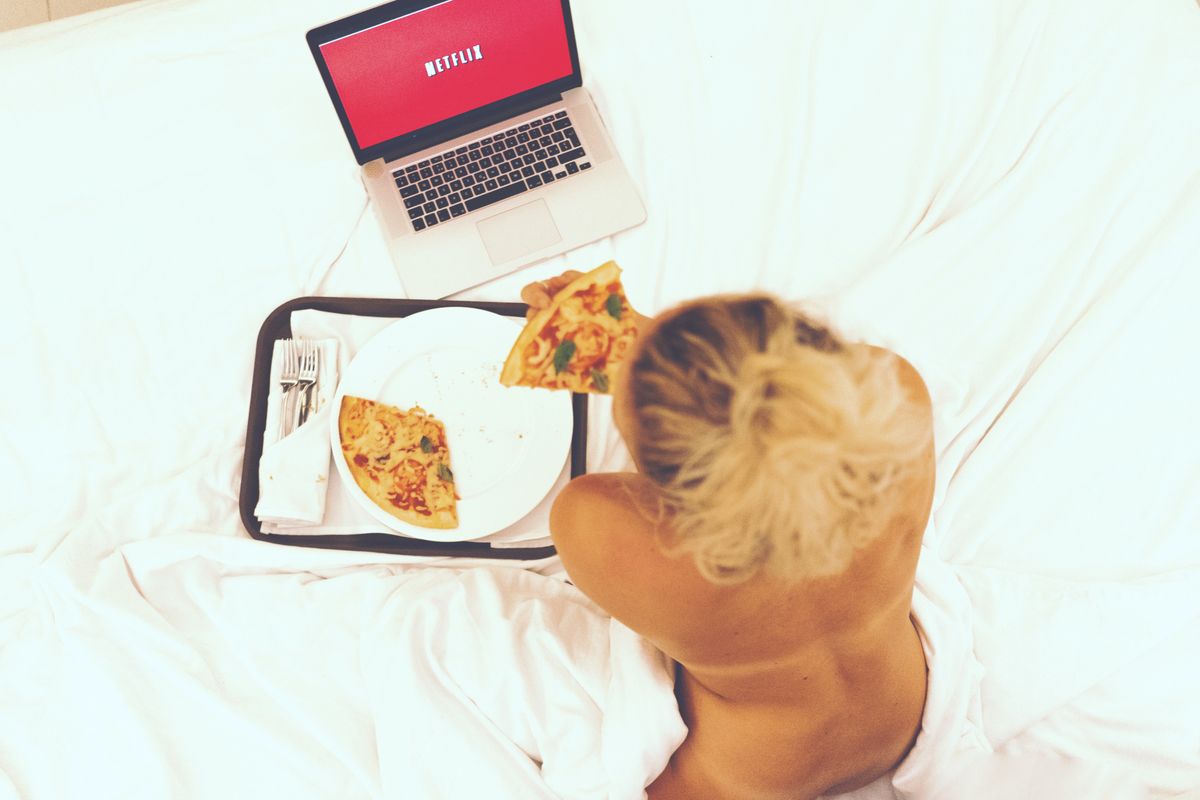 Netflix continues to resuscitate the rom-com art form after the major success of movies like To All The Boys I've Loved, Summer of Love, The Kissing Booth, and Set It Up, among a slew of others.
The streaming platform's latest feel-good offering is called Someone Great. The Jennifer Kaytin Robinson-written-and-directed Netflix original movie tracks the emotional arc of a breakup over the course of a night of drugs, tequila shots, and lots of dancing––plus a soundtrack full of anthemic gems.

Someone Great finds New York-based music journalist, Jenny (Gina Rodriguez), reeling from a breakup with her boyfriend of nine years, Nate (Lakeith Stanfield), after she accepts a job at Rolling Stone that requires her to move across the country to San Francisco.
Soon, Jenny recruits the help of her best friends—stick-in-the-mud type A, Blair (Brittany Snow) and Peter Pan syndromer, Erin (Dewanda Wise)––to embark on a wild night. Soon, the girls are running around New York City in what can only be described as a millennial scavenger hunt. They visit drug dealers and Instagrammable pop-up shops that sell "feminist" shirts, in the pursuit of "rebound outfits" and hype molly.
Like any adventure that takes place over the course of 24 hours, there are a host of run-ins and cameos. There's the appearance of Mikey (Jaboukie Young-White), the Craigslist dealer who rides around on a hoverboard in a Soho loft (bought by his parents) as he preaches about the importance of Time's Up, before disclosing that he doesn't actually have the tickets the ladies came for but would be down for an orgy. The ladies also meet Nate's Cousin (played by Rosario Dawson) in an awkward run-in on the street. The trio goes on a mission to get molly from the fabulous Hype (RuPaul) who beckons the ladies into his fuzzy pink den where he shows off an aquarium of illegal baby sharks. Some of the cameos work better than others, but they all serve to pepper chaos and absurdity into the buzzy film's zig-zagging plot. Finally, all of the scavenging culminate in a visit to Neon Classic, an exclusive party that Nate and Jenny used to frequent together.
While the film certainly tailors to the millennial demographic, sometimes the writing can feel preening, in a #YaaasQueen sort of way. When this movie tries to be funny, the dialogue delivery tends to fall flat and sound more like a viral tweet than an actual conversation between real friends. But when it turns dramatic, it can tug at your heartstrings in a way you might not expect. That's not to say there aren't genuinely, energetic funny moments.
Robinson employs a useful tactic to give context to the relationship and add some emotional texture by interspersing flashbacks throughout. As the girls gallivant from Soho to the Lower East Side to Williamsburg, Jenny's thoughts are invaded with memories of Nate. Films that take place over the course of one night –– think Nick and Norah's Infinite Playlist, Rough Night, American Graffiti — can often falter when it comes to adding the depth that's usually earned from longer timelines. These flashbacks, however, are Someone Great's emotional core. You get a glimpse into the disintegration of the relationship, as scenes flash of the two fighting, screaming, and having hard-to-watch makeup sex as Mitski plays in the background.
In her starring role as Jenny, Rodriguez delivers an electric performance, navigating easily from bursts of comedic dialogue and tequila-aided dancing to genuine moments of hurt and confusion. The breakup scene, in particular, is heart-wrenching. Lakeith's performance is also brimming with hard-to-resist charisma, and throughout the movie, it's hard to figure out whether you're rooting for the two to get back together or finally move on to bigger and better things. Meanwhile, Jenny's trying to figure out the same thing. The two actors dynamic portrayals of Jenny and Nate further complicate the usual formulaic quality of a rom-com, and while the movie still follows a classic chick flick structure, it feels a little more rooted in lived experiences than other movies of its type.
Part of that is achieved by the expert performances but is also largely due to the excellently curated soundtrack. From the dark, broody folk of Phoebe Bridgers to the melancholy synth-pop of Robyn, Someone Great is full of musical gems. The expectedly sing-able anthem of Lizzo's "Truth Hurts" plays as the girls dance around Jenny's apartment, swigging straight from the bottle. Selena's "Dreaming of You" plays in a bodega and sends Jenny into an emotional, teary-eyed ballad right then and there in front of the drinks fridge. Vampire Weekend's "Mansard Roof" transports Jenny to the night of her junior year at college when she met Nate at a party. Along the way, you can hear contemporary classics like Frank Ocean's "Moon River," and some oldies from the likes of Sam Cooke. It's full of tracks that feel applicable to any millennial woman's experience as if Jennifer Kaytin Robinson ripped them straight from your private Spotify breakup playlist.
Along the way, Blair and Erin reveal their own relationship struggles tied to growing up and entering their '30s. Working at a PR firm, Blair just wants stability, which is why she plays it safe with her current goofy boyfriend (Alex Moffat). But in reality, she craves more excitement, which manifests in a sometimes cringy affair with a music business fuckboy. Erin, on the other hand, is afraid of feeling stagnant. She's chronically late to work, always has a beer or joint in hand, and can't find the will to commit to her current girlfriend (Rebecca Naomi Jones). While the film is largely centered around relationships and breakups, it becomes clear that its real essence lies within the friendship dynamic between Jenny, Blair, and Erin.
Someone Great isn't just about Jenny figuring out how to move on from a relationship, but also how to move on from her 20s, a period marked by feeling in love and carefree. Now that she's moving to San Francisco to work at Rolling Stone, she's not only leaving behind the love of her life but the city where she came of age alongside her best friends. Everyone in the movie is, in some capacity, grappling with the issue of how to say goodbye to their younger selves and accept the responsibility of growing up. But before any of that can happen, there's only one way to bid farewell—one last long, crazy night in the city that never sleeps.
---
Sara is a Brooklyn-based music and culture writer.
---
POP⚡DUST | Read More...
Lana Del Rey, Billie Eilish, and the Sexist Backlash Against Female Sadness
Kodak Black Arrested at U.S. Border on Weapons, Drug Charges
Lizzo Releases New "Juice" Video Featuring "RuPaul's Drag Race" Queens