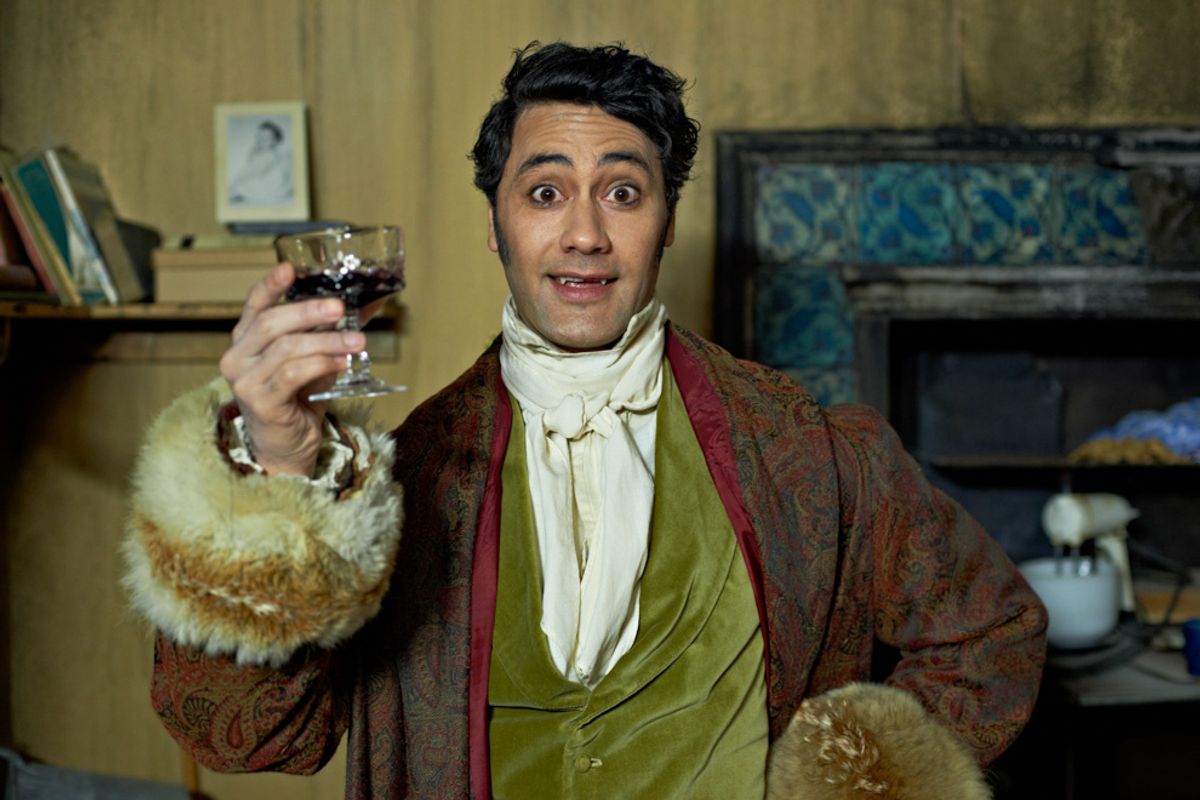 A lot of filmmakers keep themselves apart from their work.
You can watch all of their films, learn to recognize their style and vision, and still be left with the mystery of who their creator is. That's not the case with New Zealand filmmaker Taika Waititi.
---
Waititi is a true auteur. As a writer and director, each of his movies fits into a broader framework of his vision—searching for a healthier, more sensitive concept of masculinity, especially through the lens of father-son relationships. And far from keeping himself remote from his stories, he plays a crucial role as an actor in each one. With six films under his belt, and four more coming down the pipeline—including an unnamed Star Wars movie, Thor: Love and Thunder, and a live-action version of the anime classic Akira (1988) (1988)—it's time to look back at the best (and worst) of his work so far. Why is it time? Because I said so. Who's asking? Stop interrupting. Shh! The list is about to start...
6

.

Eagle Vs. Shark (2007)
Waititi's first feature-length film was 2007's Eagle Vs. Shark, a charming low-budget look at socially-awkward romance, starring Waititi's friends Jemaine Clement (Flight of the Conchords) as Jarrod and Loren Horsley as Lily. Aptly compared to 2004's Napoeleon Dynamite, Eagle Vs. Shark's comedy leaned heavily on Jarrod's cringeworthy attempts to be tough and to live up to his dead brother Gordon (played by Waititi), who was a star athlete.
While the film offers a lot of sweet and funny moments, and the use of charming stop-motion sequences add to its appeal, it's clear that Waititi was still finding his voice, and the final result lacks the strength of vision and emotional depth of his later work.
5

.

Boy (2010)
The fact that 2010's Boy is number five on this list is a testament to Waititi's talent, because Boy is a sweet, disarming, and silly look at childhood for a young Māori boy in 1980s New Zealand. Boy, AKA Alamein, lives with his little brother Rocky and a large extended family. Their mother died in childbirth, and Alamein paints their father (for whom he's named) as a mythic hero who is off saving the world somewhere. In reality their father (played by Waititi) is in prison, but when he gets out, he comes home with his lackeys to bond with his sons, commit petty crimes, and search for the money he buried years ago.
At first Boy is ecstatic to have his father back and is wholly impressed by all his apparent toughness. But eventually it becomes clear that the elder Alamein is as much a child as his sons and that beneath his posturing he's a sad, pathetic man. Ultimately Boy learns from him who he doesn't want to be.
The film's blend of sincerity and silliness is endearing, and its meandering story delivers a compelling emotional arc. It's not quite as polished as most of Waititi's later work, but everything that makes him a great director is there in Boy.
4

.

Thor Ragnarok (2017)
2017's Thor: Ragnarok is by far Taika Waititi's most successful film, with box office sales just over $850 million. It's also a legitimately great movie and possibly the only Marvel movie to be genuinely funny throughout. While Waititi brings his sense of humor and his keen directorial eye to this story of super-powered gladiators and intergalactic apocalypse (as well as his voice in the figure of Korg, the would-be revolutionary made of stone), this is the only film on the list that wasn't also written by Waititi.
So while Waititi definitely had a significant influence on the film's story—which may explain the emphasis on Thor's relationship with his father, as well as his struggle to define himself without his hammer—the restrictions of working in an existing franchise mean that it doesn't quite fit into the mold of his other works, which are purely his vision.

3

.

Jojo Rabbit (2019)
Jojo Rabbit is Waititi's 2019 film telling of the story of Jojo, a young Austrian boy whose imaginary friend and father-figure is his hero...Adolf Hitler (played by Waititi). Ostensibly adapted from Christine Leunen's dark novel Caging Skies, Jojo Rabbit explores concepts of war, nationalism, and xenophobia through a child's perspective, and won Waititi the academy award for Best Adapted Screenplay.

While there's something deeply unsettling about Jojo Rabbit's madcap humor being set in Nazi Germany near its collapse, the movie succeeds in portraying the universal challenges of childhood and the struggle to understand a world that is full of deception and hate. Waititi—whose Grandfather was a Russian Jew—humanizes some of the film's Nazis, not to diminish their crimes, but to show how even decent people can end up participating in terrible evil if they don't actively resist. While Jojo initially demonizes the Jewish girl he finds hidden behind his mother's bedroom wall, in the end she's the only one he has left.
Some will no doubt find that Waititi's humor undercuts the poignancy of the film's message, but the film's outstanding cast holds it together, and the thrilling moment when Jojo finally rejects Nazi ideology (by telling Hitler to f*** off, and kicking him out a window) is irresistibly cathartic.
2

.

What We Do in the Shadows (2014)
2014's What We Do in the Shadows is an absurdist mockumentary that tells the story of a group of vampires from different eras, living together in modern-day New Zealand. While it doesn't attempt to touch the sort of serious drama that some of Waititi's other work touches on, it doesn't have to, because it's his funniest movie. From confrontations with a gang of polite werewolves to the fruitless hunt for virgins, What We Do in the Shadows' semi-improvisational style delivers frequent laughs as the vampires struggle to navigate the modern world.
Jemaine Clement and Taika Waititi wrote the movie together, as well as portraying two of the main vampires. As silly as the movie is, it still has an emotional core, provided mainly by Waititi's character, Viago—a lovelorn 18th century dandy. While it's since been adapted into a TV series for FX, Waititi's original remain's untouchable for silly vampiric humor.
1

.

The Hunt for the Wilderpeople (2016)
According to Waititi, 2016's Hunt for the Wilderpeople was the first film in which he really found his directorial voice, and it shows. Following young delinquent Ricky Baker (Julian Dennison) and his cantankerous foster uncle Hec (Sam Neill), who go on the run together in the untamed wilderness of New Zealand. It's a touching exploration of boyhood and manhood and the dynamic relationship between the two. It also features what might be the greatest funerary sermon in cinematic history, delivered by Waititi's minister character. While all of Waititi's movies are worth watching, Hunt for the Wilderpeople—which he spent more than a decade adapting from the stories of acclaimed New Zealand writer Barry Crump—delivers more of the heartfelt and joyful strangeness that makes his movies so satisfying.