Film Reviews
"The Line" Review: White on White Violence — Alex Wolff and Austin Abrams In a Portrait of Privilege
Ethan Berger's fraternity feature starring Alex Wolff, Halle Bailey, and Austin Abrams is of the most memorable films from Tribeca Film Festival 2023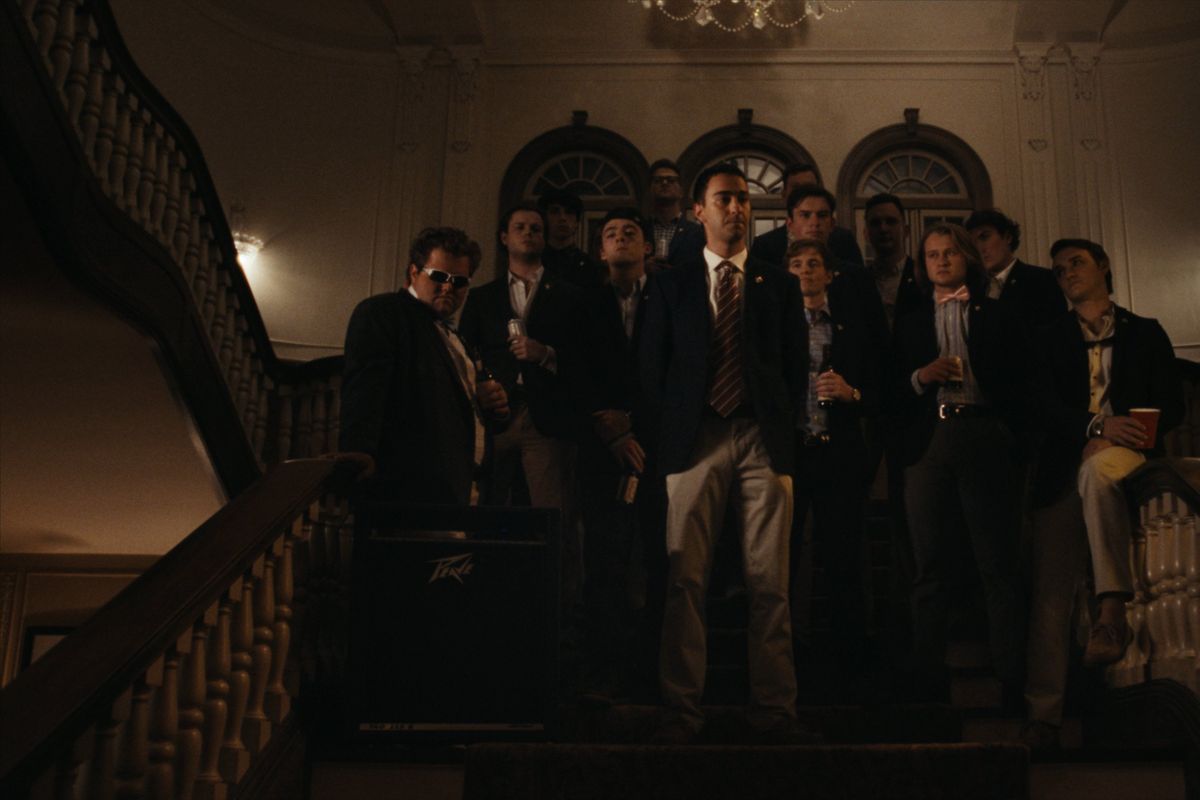 via Tribeca Film Festival
In The Line — the latest film by Ethan Berger, starring Alex Wolff, Lewis Pullman, Halle Bailey, Austin Abrams, Angus Cloud, Scoot McNairy, John Malkovich, Bo Mitchell, and Denise Richards — a group of fraternity brothers experience a turbulent pledge season.

SPOILER ALERT: THE FOLLOWING INCLUDES SPOILERS FOR THE FILM THE LINE
---
What follows is just what you'd expect: a ton of homophobic and racist language, a culture of privilege, rampant misogyny, and — of course — the ubiquitous, unchecked male aggression. However, there are unexpected moments, too — Halle Bailey's incandescent (but all too brief) performance, the surprising empathy we feel for Tom (Wolff), and the death that occurs in the third act.
In many ways, it's a classic movie about fraternities, hazing, and toxic masculinity so it lets its characters off easy. But, in part, that's the point, too. The film was intensely researched by Berger and his co-writer Alex Russek, which is evident in its attention to crucial details.
It's a visceral portrait sharpened by expertly crafted details. From the familiar frat boy wardrobe, the 2014 soundtrack, and the rich characters, Berger creates a world that feels immediate. Real. And terrifying. The result? A profoundly unsettling movie that will stay with you long after you leave the theater.
What's The Line about?
It's about a fictional fraternity — Kappa Nu Alpha — at Sumpter College, a fictional college in the south. It follows Tom (played by Alex Wolff), a lower-income student with a single mother, who is entering his sophomore year. After a summer working a service job in his home state of Florida, Tom's eager to return to life that being a KNA brother promises: connections, escapism, and a room tricked out with the full "Martha Stewart" treatment and the latest tech, all courtesy of his roommate and best friend, Mitch (Bo Mitchell).
Tom's friendship with Mitch is central to the film. Mitch's dad is the owner of Piggly Wiggly and offers Tom an internship proclaiming that it's important to "align yourself with the best." While Tom holds the leadership chops important to their frat president, Tom's deeply insecure about his lack of connections and family money.
This becomes apparent as the new pledge class begins initiation. Soon, Mitch goes to war with a star pledge, Gettys O'Brian (Austin Abrams). Unimpressed by the pledge's attitude, Mitch lashes out and lights the fuse that forms the film's central conflict.
At some point, Gettys says, "I would rather be an asshole than a loser." This illustrates Tom's struggle to fit in at the expense of his morals and his desires — particularly his attraction to Annabelle (Halle Bailey).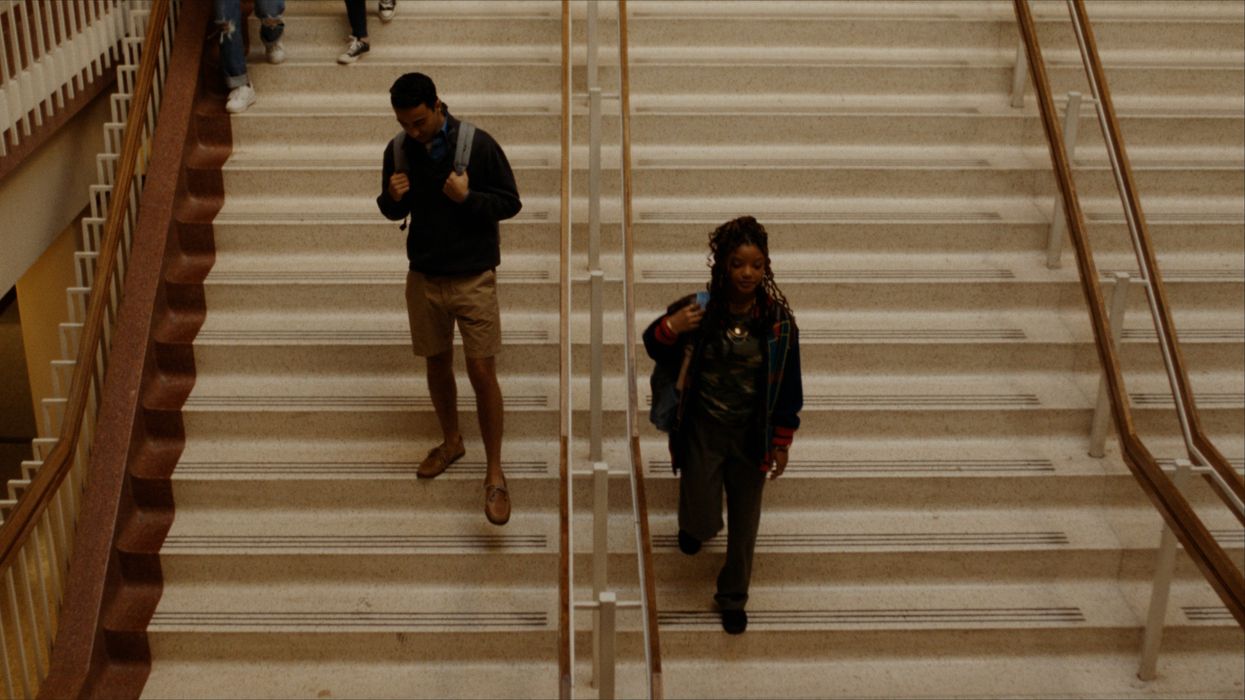 Alex Wolff and Halle Bailey in The Linevia Tribeca Film Festival
The Line had its World Premiere on June 9th at the Tribeca Film Festival in New York, garnering critical acclaim for the searing story and shattering performances by Wolff, Mitchell, and Abrams.
Is The Line good?
In an interview with Salon, Director, Ethan Berger said: "Maybe the film will force [people who participate in fraternity culture] to ask themselves if it was worth it — whether this institution that they pledged allegiance to has an allegiance to them? I'm not looking to answer anything, just provoke questions."
The Line successfully raises a web of questions and creates characters that further complicate those questions. It's not simply a flat indictment of every "frat boy." We feel genuine empathy for Wolff's character as we join him on his journey. There's the painfully accurate portrayal of freshman bravado and insecurity. (This reminded me of Bo Burnham's 8th Grade — another film that's too humiliatingly true to look away from.) And there's all the minutiae that goes into creating a world that doesn't come off as trite.
What makes it distinct are the details. From Tom's sartorial signifiers — boat shoes and vests when he's deep in the brotherhood contrasted with a faded hoodie and slides when he is disillusioned — to the constant, casual bigotry displayed by the brothers, Berger plunges us into an immersive world that (purposefully) makes our skin crawl.
The acting is similarly immersive.
Wolff, known for playing mild-mannered boys in drowsy indies (and, of course, The Naked Brothers Band), completely transforms for this role. A buzzcut and a "fake Forrest Gump accent" are just the start of this fantastic transformation. Wolff gives an achingly intense performance, especially in scenes with Bailey or Abrams. He plays off his castmates and deftly delivers both the high moments — giving a rousing speech to the pledges — and the low moments — holding back tears in the interrogation room.
The Line is a memorable journey that will resonate long after the final credits roll. In the hierarchy of fraternity films, it's easily number one with a bullet.