CULTURE
Finally, a Couple We Asked For: Tom Holland and Zendaya Are Dating
Zendaya and Tom Holland just confirmed their romance.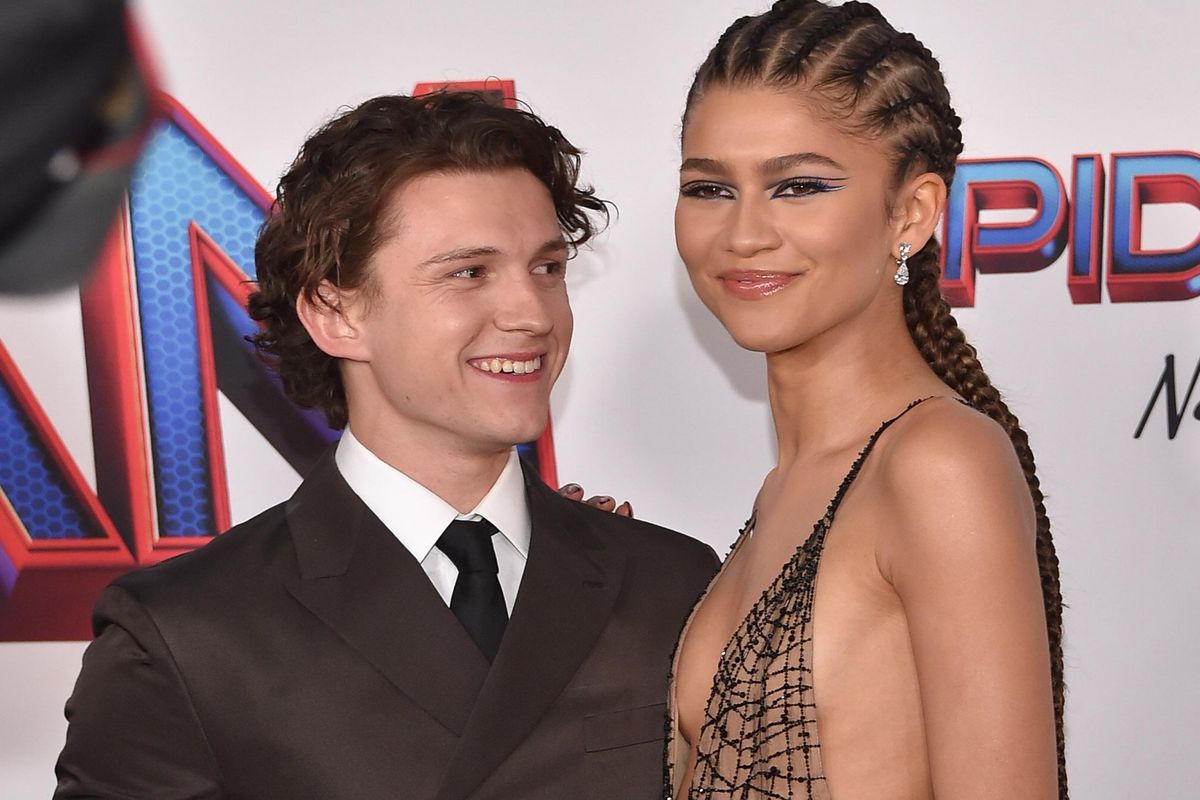 By DFree / Shutterstock
After years of denying any romantic involvement, Spiderman co-stars Zendaya and Tom Holland were just spotted making out in a car. We love to see it.

---
It's been a summer full of unpredictable romances — Lucas Hedges and Tommy Dorfman; Olivia Munn and John Mulaney; Rita Ora, Tessa Thompson, and Taika Waititi; and now Angelina Jolie and the Weeknd. Frankly, we're tired of it. And a little bored.
We get it, it's Shameless Season — in the words of the morally loose industrialist Henry Ford: "no excuses, no explanations." Everyone exited lockdown pent up and ready for chaos, but now they're wreaking havoc and we can barely keep up.
However, the new pictures of #Tomdaya and the revelation that our favorite speculated couple are in fact together have invigorated our taste for drama.
Ordinarily, I would have questions. Mostly about the timeline: When did they first get together? Were they on a break when Zendaya was dating her Euphoria costar Jacob Elordi? Or did the romance spark on the set of the new Spider-Man?

But the motto of the summer is "No Questions Asked" so we will just be accepting this relationship as what it is: a glorious confirmation of our vicarious dreams.
Rumors have been flying about the two for years but have been repeatedly shut down by the pair.
"He's literally one of my best friends," Zendaya clarified in a Variety interview in 2017. "This past how many months we've had to do press tours together. There's very few people that will understand what that's like at 20 years old."
And while fans continued to speculate, it wasn't until now that we caught any hint of actual romance between the two — and it came in waves.
2017 me 2021 me\nshipping tom seeing the\nand zendaya pictures of \n them kissingpic.twitter.com/fZIf8IBG4h

— becca \ud83c\udf4e (@becca \ud83c\udf4e) 1625254969
The pictures taken of Zendaya and Tom Holland change the game. In response, I am emotionally preparing to see them do press together, walk the red carpet together, go on carefree strolls together — all while wishing I was with them or one of them.

Whether this is a fresh relationship, a steamy entanglement, or a Text-Your-Ex situation inspired by J-Lo, we're here for it.
Related Articles Around the Web