Culture News
I Have No Further Questions for Lucas Hedges and Tommy Dorfman
Bring back drama! Bring back pure, chaotic paparazzi photos on a Saturday morning!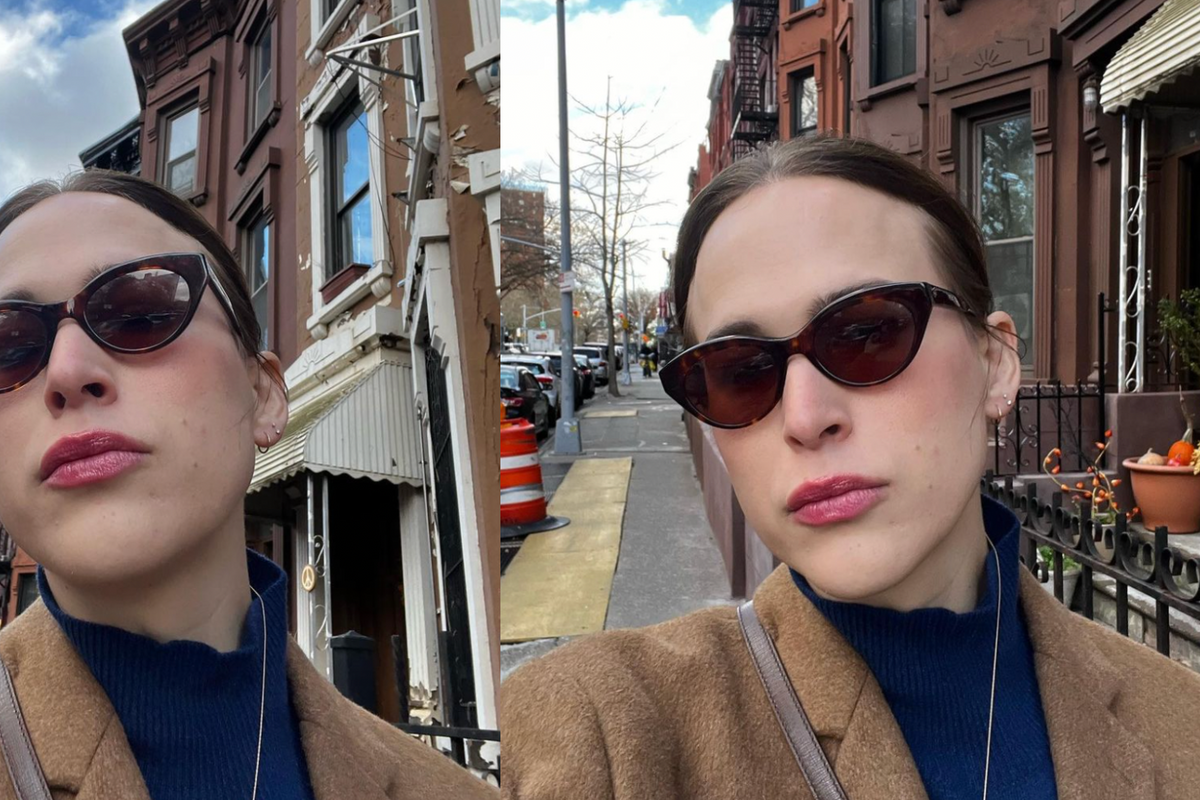 Tommy Dorfman via Instagram
To close out Gemini season, Tommy Dorfman and Lucas Hedges stepped out holding hands — disrupting a peaceful Saturday morning with their chaotic paparazzi pics.

The two looked exactly how you would imagine a couple from Brooklyn heading to the farmer's market would look.
---
Tommy Dorfman was in a long orange shift dress (think the hotter version of the quarantine nap dress), but Lucas Hedges stole the show in cut off shorts and knee high boots.
The look of the summer! The weekend's Prada Spring 2022 runway show said: "leg!" and he understood the assignment!

Usually, we would have questions. Something along the lines of … why? How? Or, the existential classic: What could this mean?
But mostly we know that it's Hot Vaxxed Summer and anything goes. Kiss your friends! Wear knee high boots in New York Humidity! Bring back bucket hats!
Looking back at the parade of unprecedented pairings that were rolled out before us this Spring more efficiently than the vaccine — Machine Gun Kelly and Megan Fox; Travis Barker and Kourtney Kardashian; John Mulaney and Olivia Munn; God forbid even Bennifer — those couples of yore now seem tired, inane, predictable.
No more proclamations of love and vials of blood around your neck a la Machine Gun Kelly. No explanations or excuses for anything. We want Lucas Hedges Tommy Dorfman energy. Taika Waititi, Tessa Thompson and Rita Ora energy. Completely unhinged and unexplained.
never thought I\u2019d say this but I want what Rita Ora haspic.twitter.com/1eWFugWlDB

— Homo Honey (@Homo Honey) 1621815313
This time last year, celebrities were taking up activism and singing imagine and becoming public health experts. But finally, thankfully, that era is done with! Bring back mess! Bring back drama! Bring back pure, chaotic paparazzi photos on a Saturday morning!
Step aside "No Nuance November"; it's "Just Do Whatever June," where we will be making unfounded assumptions, jumping to wild conclusions, and then just ... believing them.
So … Happy Pride to Lucas Hedges and Tommy Dorfman. And that's all there is to say about it.