It has been four days, and the image is still seared into sports fans' collective consciousness.
JR Smith, possibly due to alcohol-induced dementia, decided to run away with the ball as the shot clock dripped down to zero, sending the Cavs into an unwinnable overtime with the Warriors. Lebron was 51-8-8 and his team still managed to lose by double digits. Game 2 offered James no respite. Every time he kicked the ball out, someone on his team would chuck up a brick.
The Warriors on the other hand, were predictably hot, with Steph Curry setting the record for most 3s in a Finals game. Unfortunately for Lebron, it's impossible to cover three players at once. This means on any given play, either Kevin Durant, Steph Curry, or Klay Thompson is going to be left wide when Kevin Love bites on a jab step and trips over his own feet. If Lebron were given four 7-foot scarecrows, and was allowed to place them strategically on the court, it might actually be an improvement.
The Warriors have a commanding 2-0 lead, and it feels pretty safe to say this series is over. In Game 3, back at home, Lebron will probably end up breaking 50 points again. The Cavs might even win that game, but the onslaught will continue. There's no one on the Cavs' roster who can stop Golden State from scoring. Rather than speculate about whether this series will last four or five games, I figure it'd be more fun to discuss where Lebron might end up next year. Spoiler alert: He's not going back to Cleveland.
Option 1: The Houston Rockets (The Easy Road)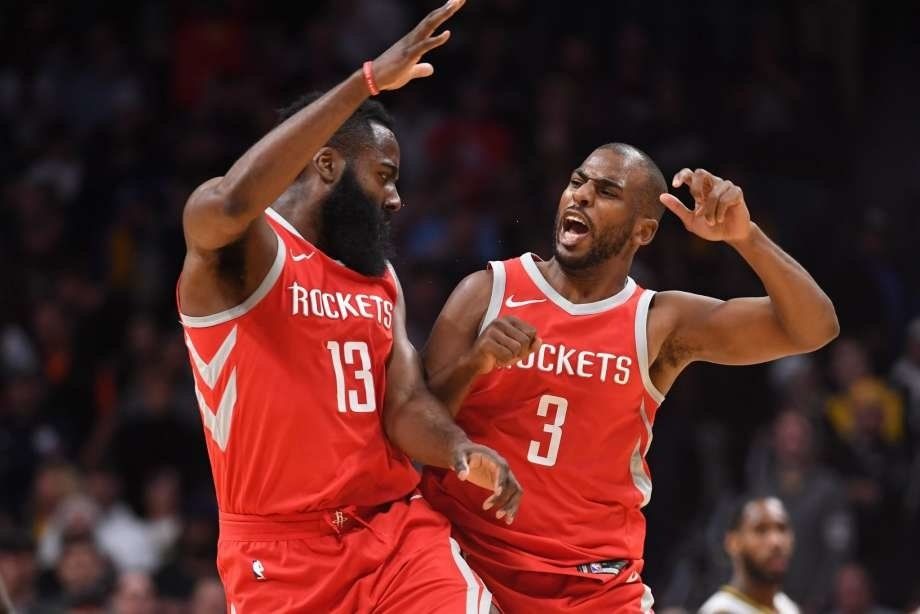 James Harden and Chris Paul
chron.com
When noted crybaby Kevin Durant decided to take his toothpick arms and Slender Man body to the Warriors last year, he set an interesting precedent. It's no longer taboo to create a super team and ruin the NBA in pursuit of a ring. Lebron has gone on record about how he's chasing Michael Jordan's ghost and that the only thing he's concerned with is winning. Houston already has two future hall of famers in Chris Paul and James Harden. They almost got to the championship this year. Of any team in the league, they're the most poised to take a championship next year. Also, Chris Paul is part of Lebron's Banana Boat Crew and James has openly discussed his desire to play with him in the past. That said, all members of the Banana Boat Crew (D-Wade, Chris Paul, Lebron James, Carmelo Anthony) are free agents this year.
Option 2: The Los Angeles Lakers (The Number One Rule is to Have Fun!)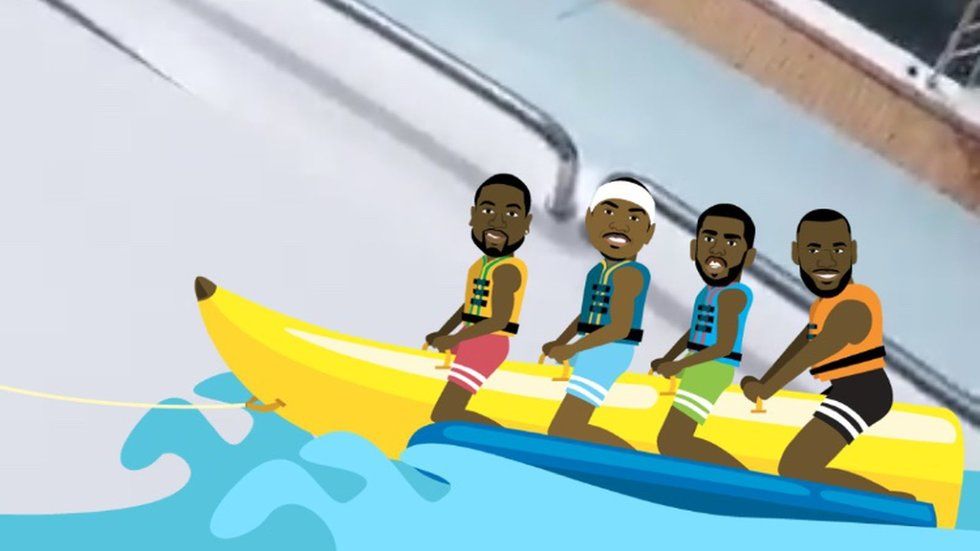 The Banana Boat Crew (Left to Right: Wade, Anthony, Paul, James)
medium.com
This brings us to option two. If Lebron's number one concern somehow shifted from winning rings to playing with his best friends, the Los Angeles Lakers might be the best place for him. They're perhaps the only team with enough cap space to make this dream a reality. To compound this theory further, Lebron recently bought a $23 million home in L.A. earlier this year. The Lakers may only have perennial ass eater Lonzo Ball and a collection of guys from the East Hollywood YMCA, but they have the money to turn the squad into an instant contender.
Option 3: The San Antonio Spurs (The Mr. Miyagi Method)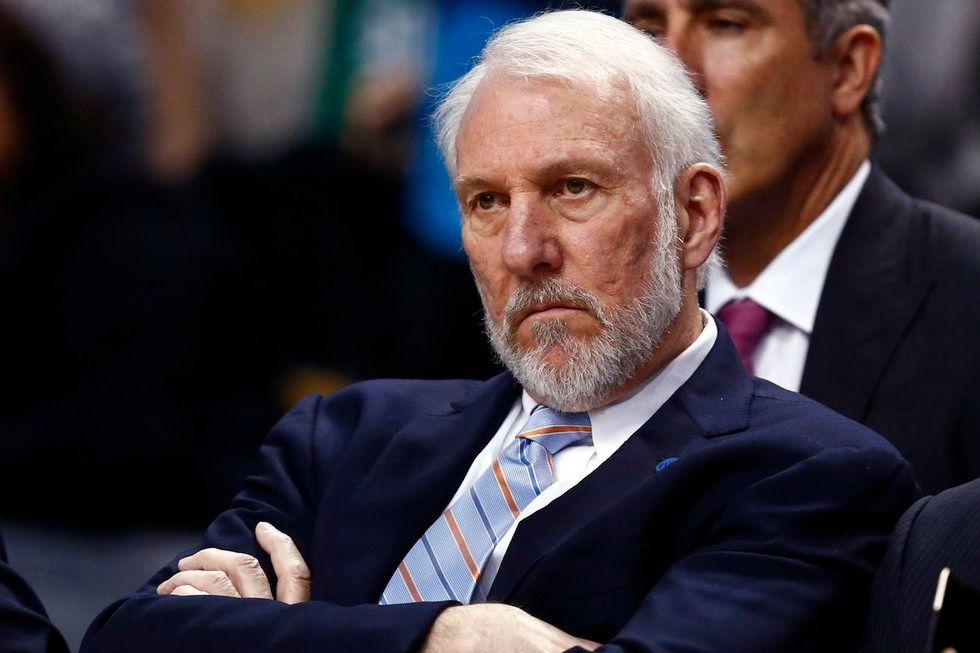 The other GOAT
imgur.com
Lebron has said it multiple times at this point: Gregg Popovich is the greatest coach in NBA history. On top of this, Pop has beaten Lebron in the finals twice, and Pop's Spurs teams have always managed to stay relevant, even now that they're seriously lacking in star power. If Lebron were given a chance to play with Kawhi Leonard and an amazing coach like Popovich, he'd probably become a better player. Considering he's the greatest player of all time and he almost averaged a triple double during the regular season, there might not seem to be much room for growth. But never underestimate the power of a good coach. If Lebron were to go to San Antonio, he'd become the best possible version of himself. Also, it'd be fun to see the Warriors miss the Finals next year.

Option 4: The Philadelphia 76ers (The Righteous Path)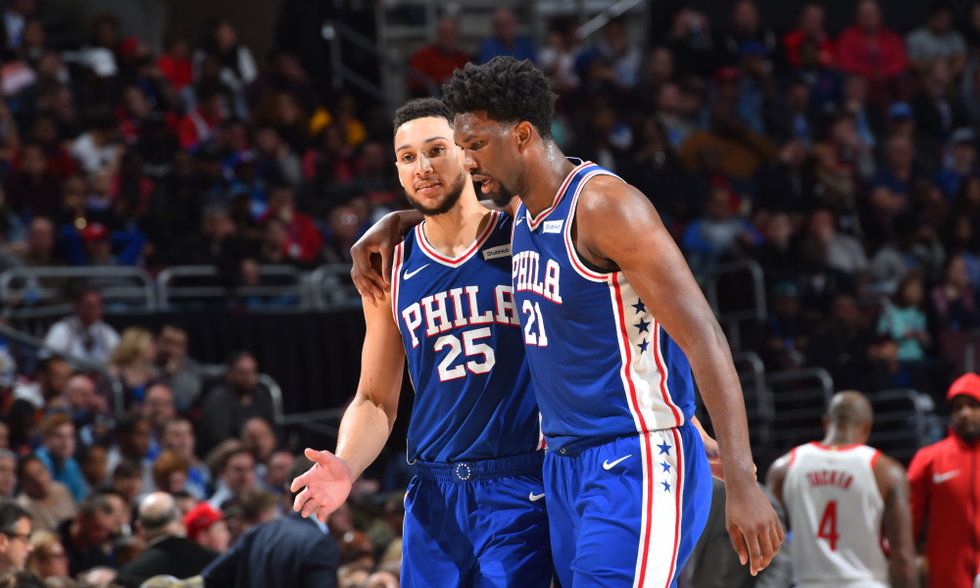 Joel Embiid and Ben Simmons
heraldsun.com
Philadelphia is, perhaps surprisingly, the sports media's current favorite when it comes to speculating Lebron's future. The team is chock full of young talent like Joel Embiid and Ben Simmons, and considering Lebron wants to sign a long-term contract, the Sixers seem to be the most suitable squad for him. As he gets older and begins to decline in his late thirties, the Sixers' current stars will be hitting their prime. Barring a miracle victory in this year's finals, Lebron needs four more rings to beat Jordan. He's 33-years-old and has, at best, five or six more years as a starter. If he's going to get the rings he desires, he's going to need a team that can help him out, that he can mentor and mold in his image. It doesn't hurt that he and Ben Simmons already have this type of relationship.
---
Matt Clibanoff is a writer and editor based in New York City who covers music, politics, sports and pop culture. His editorial work can be found in Inked Magazine, Popdust, The Liberty Project, and All Things Go. His fiction has been published in Forth Magazine. -- Find Matt at his website and on Twitter: @mattclibanoff
---
POP⚡DUST | Read More…
THE OPTION | The Stafford Effect
THE OPTION | Catalan Independence and What It Means for Barcelona Soccer