TV News
It's called The Longest Days of Our Lives, and it's amazing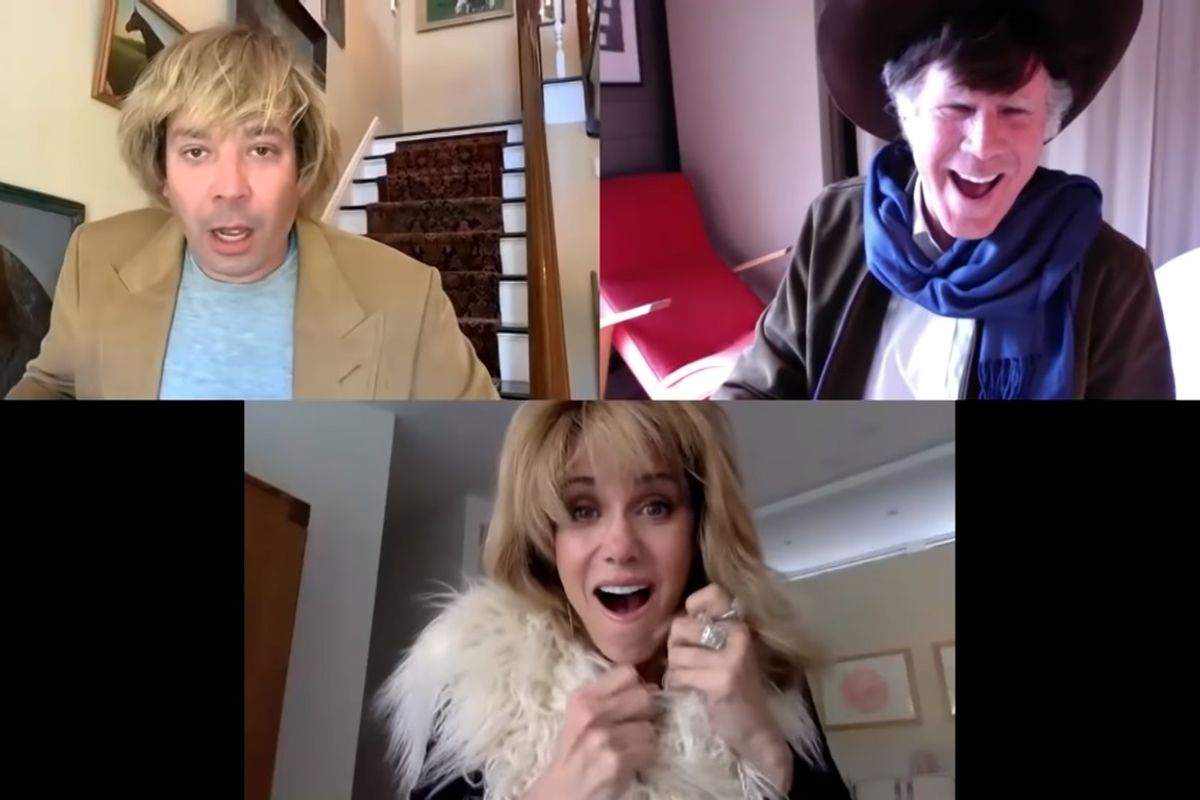 Youtube
When Gal Gadot posted a collaborative version of John Lennon's "Imagine" last month, it seemed like the dumbest thing that any of the celebrities involved had ever done.
But now, Kristen Wiig, Will Ferrell, and Jimmy Fallon—who all contributed to Gadot's video—have teamed up to make something even dumber, and it is glorious.
The Longest Days of Our Lives is a social distancing soap opera that took over The Tonight Show on Wednesday, with all the mainstays of daytime television drama reimagined for a group video chat. With Fallon playing the protagonist, Winston—who suffers from on-again off-again amnesia as a result of "a mysterious canoeing accident"—Ferrell and Wiig each took on multiple characters who revealed various shocking secrets to a recurrent chorus of gasping.
The Longest Days of Our Lives with Will Ferrell and Kristen Wiig www.youtube.com
Ferrell's range is particularly impressive, ducking out of frame to don or doff a fake mustache, a cowboy hat, and a scarf to represent each of Winston's identical triplet brothers in turn—with varyingly offensive accents. As Ferrell's cowboy character succinctly puts it: "I'm Fontaine, your other other brother. We have the same mother. We're evil twins of each other, and I'm your lover's lover."

Wiig, meanwhile, initially portrays Winston's lover Vanessa, who had a socially distant affair with Fontaine "through, like, Skype or something"—the revelation of which insights a vigorous video chat slapfight. But Vanessa is then transformed, through a wig and a wardrobe change, to become Melinda Charmin, who is simultaneously "the heiress to the Charmin toilet paper fortune," "Vanessa's estranged mother," and "the daughter of all of you."
Needless to say, the whole spectacle is so stupid that all three of the participants can barely keep straight faces, and neither can we. It's a refreshing bit of absurd comic relief that successfully takes the edge off the general sense of a global crisis, and much more the kind of stupidity that people need right now—as opposed to a (literally and figuratively) tone-deaf version of a classic song.
Will Ferrell and Kristen Wiig are officially absolved—the other "Imagine" celebrities still have some work to do.