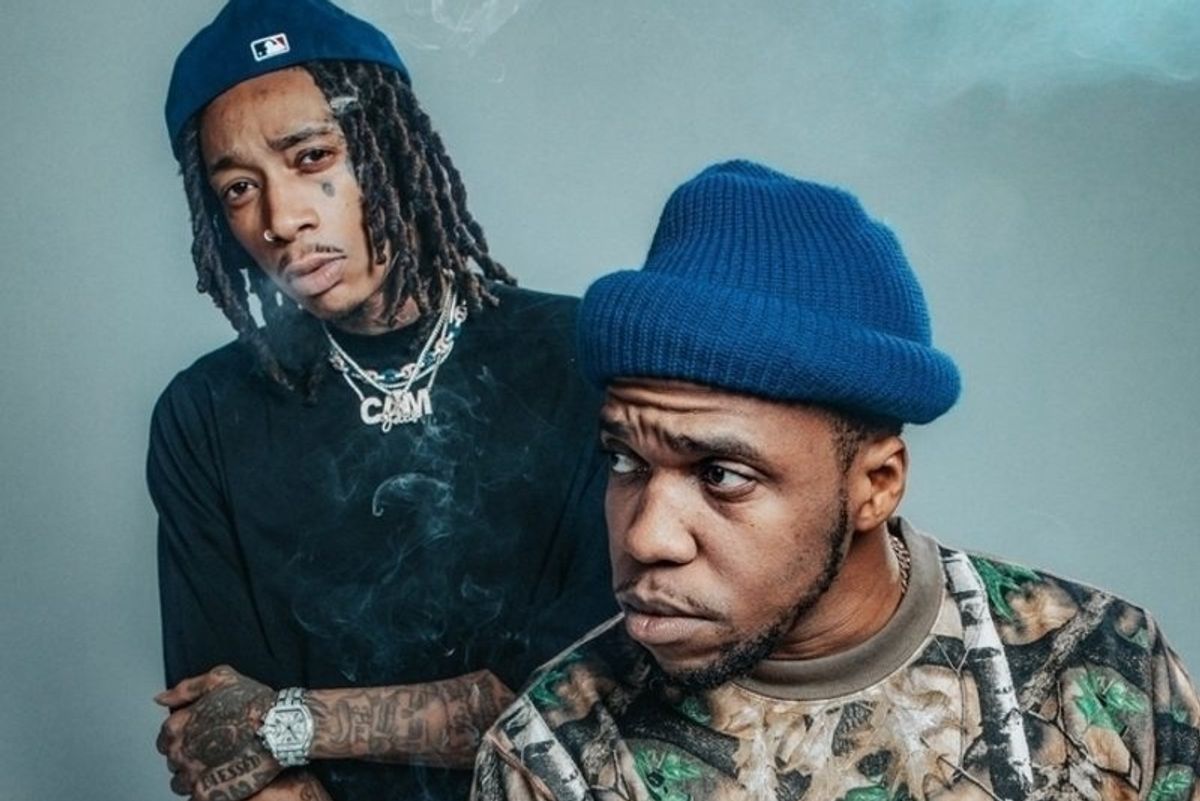 HipHopDX
Like bagels and lox and sriracha and eggs, Wiz Khalifa and Curren$y's hip-hop kinship is steeped in tradition.
For the last ten years, the duo's bond has been known across the genre's landscape. The latter MC was on a roll in 2018, releasing six solid mixtapes and an outstanding collaborative album with Freddie Gibbs. Wiz Khalifa, on the other hand, released the tepid Rolling Papers II, a stale, lyrically constricted effort that only served as a desperate plea for relevancy from the MC. The vast difference between the rapper's creative output was telling, so when the famed duo announced on Tuesday that their How Fly follow-up would be released at the end of the week, many were excited but skeptical to see if the project would maintain the same lyrical balance as its predecessor, or if it would merely serve as another addition to Curren$y's colossal discography. With surprise and relief, 2009 is a refreshing old-school amalgamation of lyrical sparring, smooth production, and raw charisma.
Sporting well-placed guest features from Ty Dolla $ign and Problem, the project feels full and heterogeneous, with songs like "Getting Loose" impelling the rappers to explore new terrain, while nostalgic tracks like "First or Last" tip a hat to How Fly and Wiz's underground triumph, Taylor Allderdice. The project's opener "Garage Talk" is a rudimentary rap battle, with both MC's hashing it out over a DMX-inspired instrumental by underground legend Dame Grease. The pair even went so far as to use Grease as a hype man, "I see all the sexy mami's in here," he yells, "Wiz I smell you up here, make sure you pass that KK to the DJ booth. Aw shit, here comes Spitta on them gold BBS." The brief opener paints a portrait of a simpler time, when artists focused solely on rhymes and didn't take themselves too seriously.
Another immediate highlight is "Benz Boys," with Wiz gracefully spitting some of his best rhymes in recent memory: "Took four years off and the checks kept comin', all the girls wanna treat me like I'm special or somethin'. We at number one, mean we standin' next to nothin', and the shit you rock is fake but that's another discussion." As for Curren$y, lyrically he has always thrived, and 2009 once again demonstrates the MC's uncanny ability to make minute, stream-of-consciousness observations sound like complex poetry: "I don't watch soccer, but I like the jerseys," he raps on "10 Piece," "They look good with my jewelry on, and my butter brown skin tone."
The duo's brotherhood is still the focal point of this project, and the rappers are so creatively in sync that they know exactly how to complement each other. "Find a Way," "Eastside" and "Plot Twist" all find the rappers in their comfort zone, offering braggadocio lyrics on everything from Curren$y's extensive car collection to how both rappers "smoke the best flavors." Those looking to revisit the early 2000s stoner days will have plenty to dissect on this 14-track-outing and will breathe a sigh of relief when they realize that their favorite high school rappers are still very much at the top of their game. "We changed how you smoke, changed how you dress," Curren$y raps on "Find a Way," "Your whole life was blessed by the presence of the stoned legends." Indeed it was, Spitta. All hail.
---
Mackenzie Cummings-Grady is a creative writer who resides in the Brooklyn area. Mackenzie's work has previously appeared in The Boston Globe, Billboard, and Metropolis Magazine. Follow him on Twitter @mjcummingsgrady.
---
The Persistence of Blackface Makes This Gucci Sweater Racist
Does Matt Groening Know "The Simpsons" Is Still On?