MUSIC
'KOD' has an amazing message...sit through some corny bars to get there.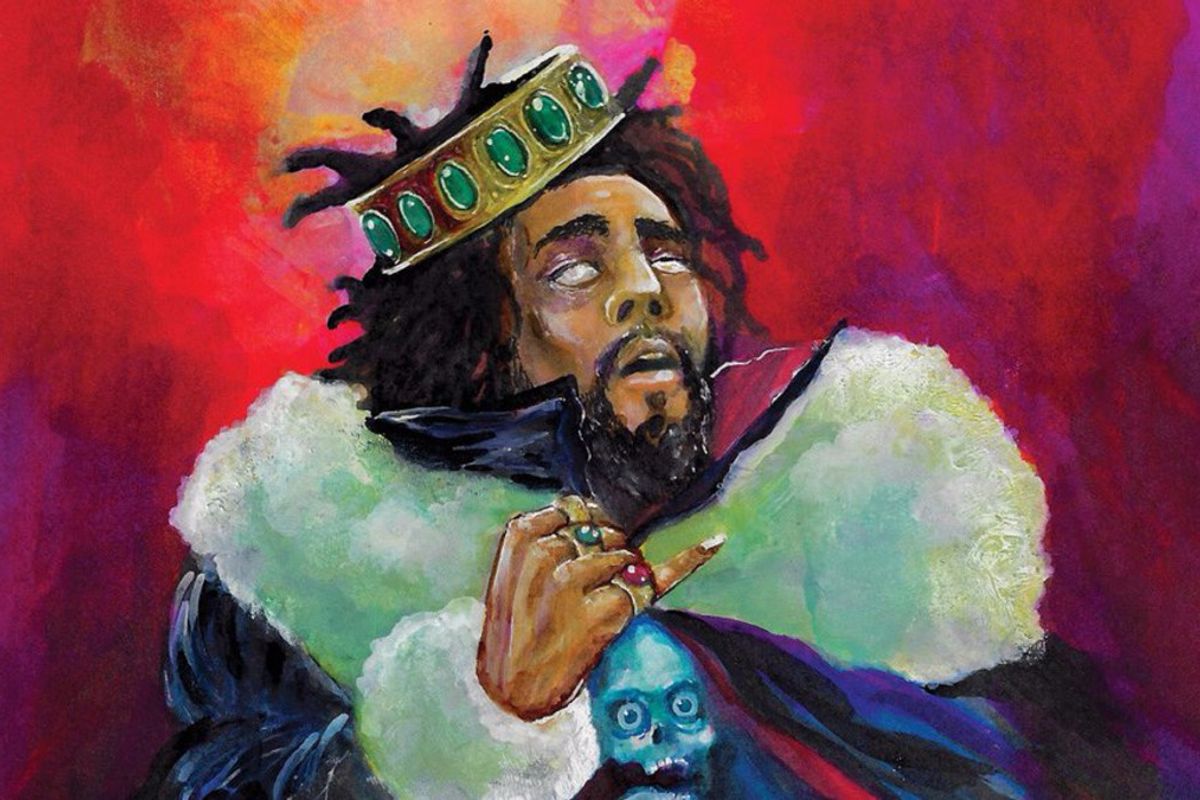 'KOD' J. Cole
J. Cole is a chocolate chip cookie and a warm glass of milk to the ribeye steak of Kendrick Lamar...
A college graduate-turned-impassioned rapper, J. Cole often sounds like he's rapping to pass an oral exam. He overexplains, he conceptualizes the smallest details, and he makes clumsy metaphors when he has forgotten his own thesis.
His moralism—as honorable as it appears in the genre of rap—is tough to sit through sometimes. His intentions are felt, along with his passion and seriousness, but his execution serves up sophomore-level sentiments. His quasi-conscious music is often very biased, a glorified soapbox where he talks about things he thinks sound smart.
His grand opinions, heavy-handed cautionary tales, and look-how-I-came-up parables sometimes convey modest observations—more than often, however, J. Cole is a chocolate chip cookie and a warm glass of milk to the ribeye steak of Kendrick Lamar, an MC who's intellectually stimulating and accessible without imposing his belief system on the listener.
As a conceptual album about addiction, KOD has ingenious moments, most of them surfacing from the energy of Cole's voice alone like on "KOD," "ATM," and "Kevin's Heart." The enthusiasm in his delivery and commitment to his changing flows on this project is admirable and certainly one of his greatest strengths as a rapper. At least when Cole spits, he means it; his words feel tangible.
Unfortunately, his eagerness to be clever leaves him a little too transparent. For every theory Cole expounds, his own logic becomes more and more inflated, contradictive, and sorely mistaken for genuine wisdom. The finger-wagging judgment on "Once an Addict"—one of the only songs where J. Cole takes a break from conceptualizing his friends' lives and careers to allow insight into his own upbringing and family—finds him admonishing his mother for drinking during her husband's infidelity. His glaring narcissism seeps through the cracks, an ironic lack of empathy and understanding for the woman who's working day and night to keep him fed.

By now, Cole's discography is one big, widescreen parable: On Born Sinner, Cole congratulated himself for surviving fame; On 2014 Forest Hills, he congratulated himself for losing his virginity. On 4 Your Eyez Only, he esteemed domestic life and congratulated himself for doing the laundry; On KOD, J. Cole finds a D.A.R.E. T-shirt in the dryer and becomes a youth pastor, chastising his rap friends who drink and smoke regularly. He congratulates himself for slowing down on the weed, not being violent, and not cheating on his wife. He congratulates himself for being so humble and smart, and above all, so worried about everyone else.
Which is a fine thing to do…as long as there is a balance. But J. Cole doesn't allow for nuance or exceptions because he's too busy making sure you understood the first half of his latest conspiracy regarding taxes, unspecified corporations, and someone's funeral. KOD is a conscious album responding to hip-hop's obsession with prescription drugs and self-medication—and in this respect, it has every right to point some fingers. Art, of any kind, is not a symptom of sedation. Yet, Cole is the type of rapper who's still not comfortable admitting he doesn't know everything, sometimes drowning in ideology that's less than imaginative. If he's content to soak in his own smugness…let him. After all, no one wants a soggy cookie.
---
Shaun Harris is a poet, freelance writer, and editor published in avant-garde, feminist journals. Lover of warm-toned makeup palettes, psych-rock, and Hilton Als. Her work has allowed her to copyedit and curate content for various poetry organizations in the NYC area.
---
POP⚡ DUST | Read More…
NOW! Kim Petras is 'Breaking Hearts' in her new video
REVIEW | George Ezra Rocks & Shocks Terminal 5 in NYC
Giolì & Assia Released Their Debut Album Istantanee
---
From Your Site Articles
Related Articles Around the Web