Imagine legally moving to a country when you were seven years old, growing up there, building a tremendous career, having three children (all US citizens), and then getting arrested and held for deportation over improperly filed paperwork from over a decade ago.
All this in spite of the fact that you've tried to rectify the issue, stuck with a visa application pending for four years. Imagine having your entire life, your entire family, upended over mistakes that weren't yours in the first place, made when you were a child, unable to fix them yourself. Then, imagine the government organization that arrested you denied you bail and tried to pin you as a felon over a single marijuana possession charge from four years ago.
Oh, yeah, and you're a successful black rapper who recently wrote lyrics denouncing that same government organization. If you're an absolute bootscum-eating racist (shout out to The Hill commenters), you might think that sounds perfectly reasonable. To everyone else, it's a travesty.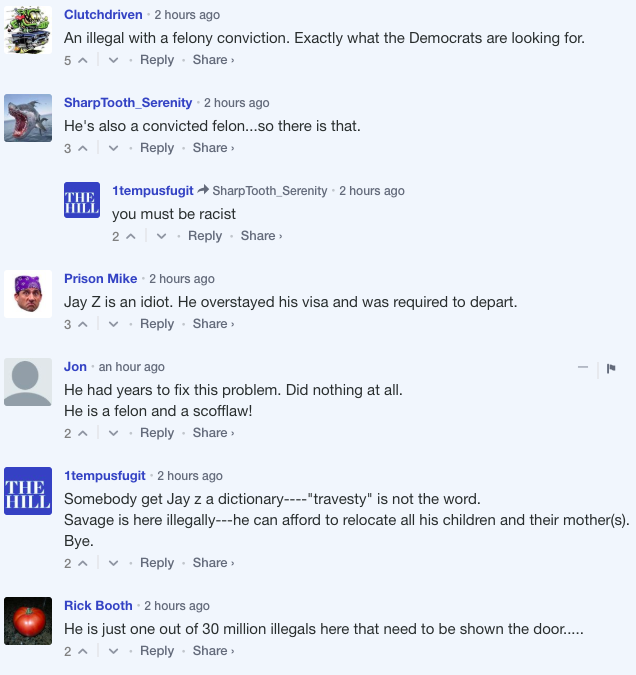 "How To Whistle For Dogs" by Salty Right-Wingers
Perhaps that explains why a plethora of artists, including Cardi B, Meek Mill, and Offset, have publicly expressed their support of 21 Savage. Jay-Z, however, has gone a step further, hiring top New York-based immigration lawyer Alex Spiro to take the case.
"What we have here is someone who overstayed their visa with an application pending for four years - not a convicted criminal that needs to be detained and removed but, by all accounts a wonderful person, father, and entertainer who has a marijuana offence which was vacated and sealed," said Spiro.
Most logical people would likely agree. Here we have a contributing member of society, a successful artist nominated for two Grammys this year, a man who pays far more in taxes than his deadbeat detractors. We have a man who in his 19 years in the US has a single charge (subsequently removed from his record) for the possession of a common and now mostly legal substance―a charge that stems from racism in the first place.
So who are we as Americans? Are we supporters of the ideal of a country where people can come from all over the world, give their children a better life, and pursue their dreams? Or do we believe in a police state where ICE takes retaliatory action against a contributing member of society over lyrics in a rap song? And if we're the latter, can we still call ourselves Americans?
---
Dan Kahan is a writer & screenwriter from Brooklyn, usually rocking a man bun. Find more at dankahanwriter.com
---
POP⚡DUST | Read More...

Your Children Deserve to Be Traumatized By Scary Stories to Tell in the Dark
Our Boys Are the Best Boys of All Time - Why BTS Is Better Than Every Other Boy Band Ever