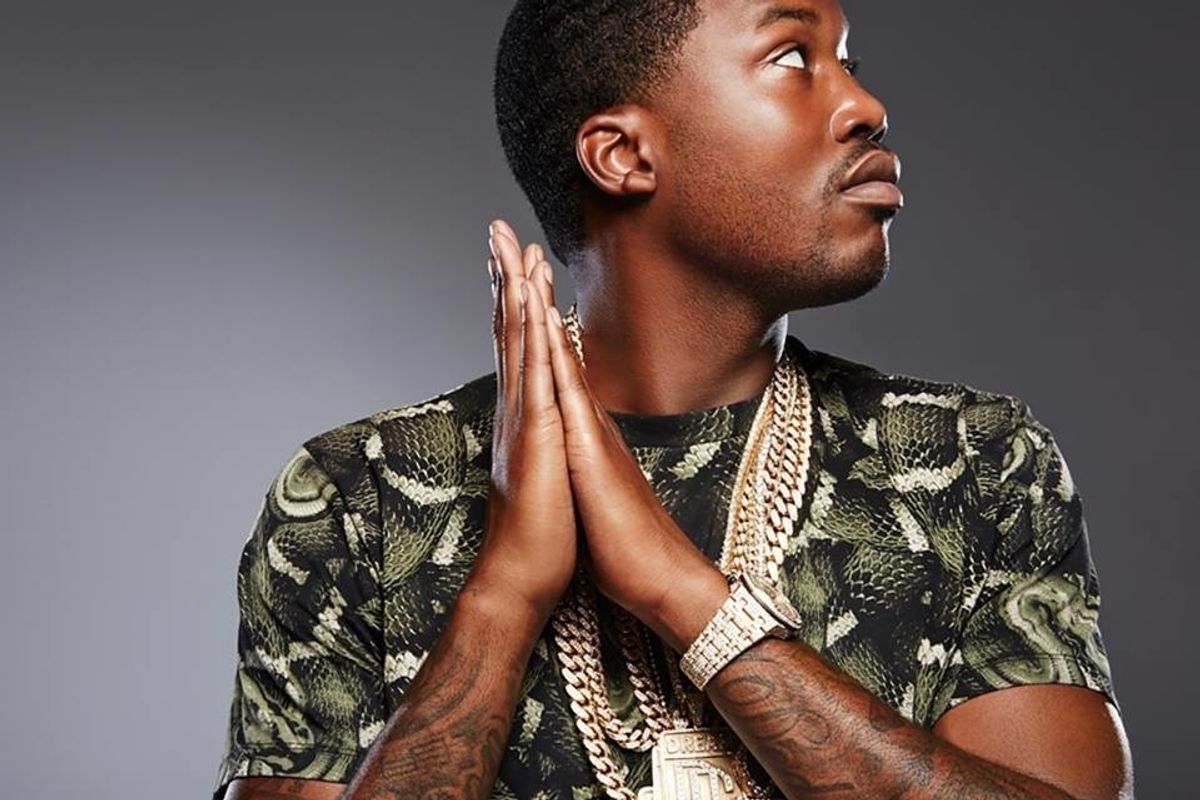 Philly rapper Robert Rihmeek Williams, aka Meek Mill, just dropped Championships. The album is Mill's first major project since he got out of prison in April. It's a star-studded project featuring a host of big names like Jay-Z, Cardi B, Young Thug, Rick Ross, Ella Mai, etc. But the biggest surprise is Mill's collaboration with Drake on "Going Bad." The two rappers have a history of well-publicized bickering, a vendetta that began when Mill dissed Wheezy via Twitter, saying "He don't write his own raps." Drake responded with two tracks – "Charged Up" and "Back to Back" – trashing Mill. The feuding continued until the two rappers recently made up, resulting in the "Going Bad" collaboration.
So far, all the reviews of Championships are glowing, with critics likening the new album to a Second Advent: the glorious return of Meek Mill. In other words, it seems like reviewers have hopped on the Meek Mill train, and nothing will convince them to hop off.
Championships
But with a closer listen to some of the 19 tracks on Championships, it becomes clear many of the songs don't live up to the album's name — in fact, many don't even make the playoffs.

Known for his unique intros, Mill tries to pull off another strong opening on Championships. The aptly name "Intro" uses a sample of Phil Collin's "In the Air Tonight," which is a great tune if you're watching grown men in pink linen suits on a re-run of Miami Vice, but it falls flat when mixed with a smarmy and fatuous beat.
"Trauma" opens with REO Speedwagon-like vocals, flowing into an elusively familiar melody, which, it turns out, is the flip of "Taking Me Higher," by Barclay James Harvest. A trembling organ gives the tune the harmonics of a B-horror movie, as Mill's frenetic flow of humdrum lyrics assaults the listener: "When the drugs got a hold of your momma / And the judge got a hold of your father." This song comes across as a messy hybrid of Daddy issues and Mommy Dearest.
"On Me," featuring Cardi B, makes a move in the right direction, although the strident synths are abrasive, and then asphyxiating. The tune's salvation is the tight rhymes and snarling delivery of the Queen of hip-hop, Cardi B. Her vocal dynamics dominate, and her tone of frigid disdain sells the song.
"What's Free" hits home with a slow, low, and banging trap beat. Mafia-flavored strings ooze in the background, while Mill and Ross rap over a sample of Biggie's "What's Beef." Mill finally hits his stride on this number, while Ross' deep tones and Jay-Z's inimitable voice wrap it in resonance. Jay-Z steals the show with slick rhymes, dissing Billboard and dropping Ye's name.
Jay-Z's "Dead Presidents" provides the sample for "Respect The Game," a synthesis of lingering piano notes riding a thumping bass line. It's not bad, but it's essentially just a do-over of a Jay-Z song.
Drake and Mill miss the mark on "Going Bad," especially when compared to "RICO" and "Amen." The song is wobbly, without much of a punch. A tinny piano riding a cavernous bass infuses the tune with a sloppy feel. Yet "Tic Tac Toe" turns the tables around, with amusement park accordion-like harmonics driving the song. It reveals a steady succession of buff flow that's missing from the rest of the album up to this point.
Ella Mai imbues "24/7" with a glossy, hip-hop sheen and effectively salvages the tune from the dumpster, as Mill rambles on, drifting in and out of the song. Mai's cashmere voice is seductively sensuous, dispensing brilliant allusions and gleaming turns of phrase.
"Pay You Back" shows Mill is capable of tightening his flow up. The trap pulse on this tune has momentum. Mill snaps out the rhymes with the style and substance of the music that made him famous. Then "100 Summers" arrives, riding a wave of auto-tuned mediocrity. Basically, this track is filler. So is "Wit The Shits," which features a discordant, unsettling beat.
"Dangerous," featuring Jeremih & PnB Rock, might be the best track on the album. Velvety R&B flavors infuse this song with dazzling pressure, sultry harmonics, and a sense of laid-back chill missing from the rest of the album's songs.
Last but not least is "Cold Hearted II," on which Mill finally unleashes his trademark sizzling flow. The track wilts a bit because of the Alvin and the Chipmunks-synths squealing in the background, but overall manages to remind the listener of old Meek Mill.
For all its attempts to come across as the formidable return of Meek Mill, at best, Championships is mediocre, probably due to its reliance on samples. The featured artists pick up some of the significant slack, but for the most part it's easy for listeners to disengage from the tepid journey of the album. Its unlikely that Championships will grace many "best album of the year" lists.
---
Randy Radic is a Left Coast author and writer. Author of numerous true crime books written under the pen-name of John Lee Brook. Former music contributor at Huff Post.
---
POP⚡DUST | Read More...
INTERVIEW | Indie-Pop Singer Navakaine Talks Coming-of-Age
Water and Man Release 'Phantasie'
RISING STAR | Alberta Drops Buff New Single, 'Jay Walk'n'
From Your Site Articles
Related Articles Around the Web