Music Features
You did SpongeBob dirty at the Super Bowl halftime show.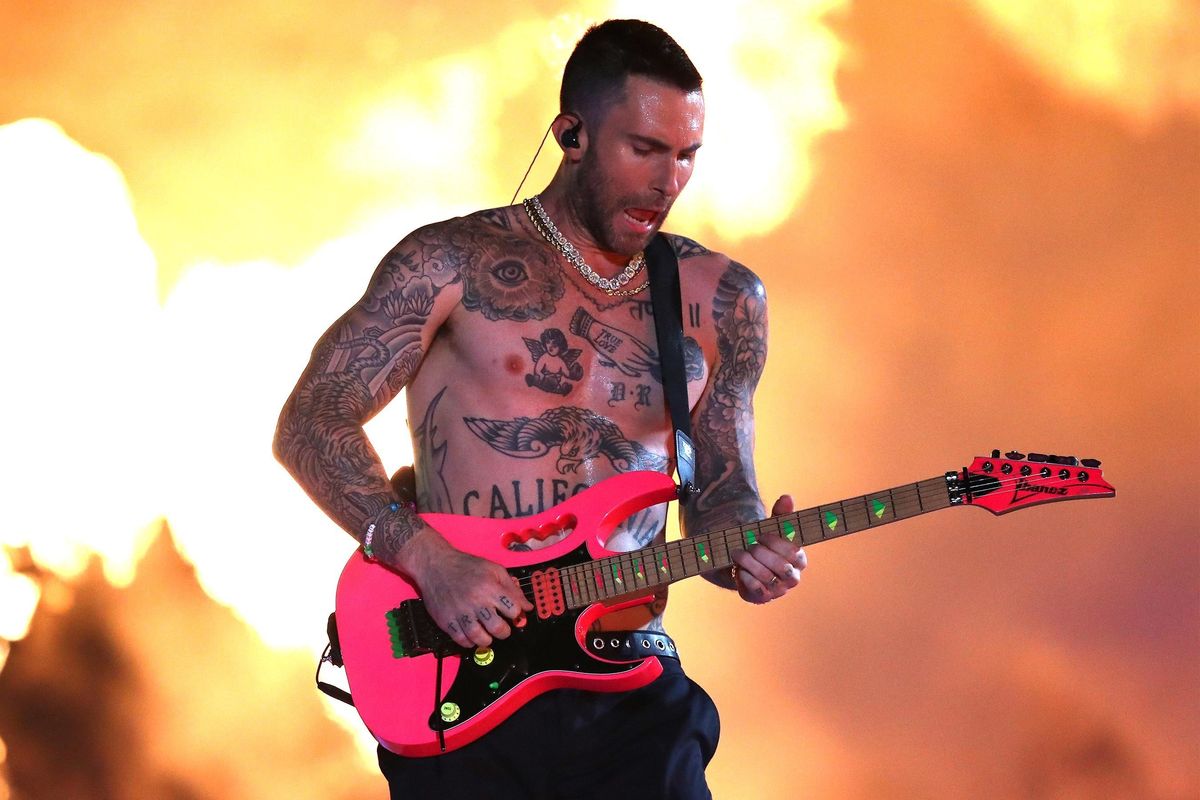 Dear Maroon 5,
Let's be honest here. We're no fans of yours. Your music was decent in the mid-2000s, but since then you sold out completely, becoming the living definition of soulless, plastic pop rock. 'Girls Like You' would be the worst song ever if it actually constituted a song rather than pre-programmed waste disposal from your robot frontman, Adam Levine. Speaking of which, it malfunctioned yesterday and posted a bunch of random words on Instagram, so hopefully you guys can get it fixed.
That being said, we can forgive generic if generic means you just give the people what they want. What the people wanted was for you to perform 'Sweet Victory' from SpongeBob Squarepants at the Super Bowl. And you failed them completely.

Please understand how perfectly the stars aligned, and how great this honor could have been for you. 'Sweet Victory' comes from the SpongeBob episode 'Band Geek,' one of the show's best, during which the song was played at the Bubble Bowl, a clear homage to the Super Bowl. This past year SpongeBob's creator, Stephen Hillenburg, passed away at only 57. Fans loved the idea of paying tribute to him at the real Super Bowl with 'Sweet Victory' so we petitioned. Yes, over a million people wanted your bland, generic band to play a song way better than any of your "original" material, from a show that has influenced culture to an extent you can only dream about.
Had you performed 'Sweet Victory' at the Super Bowl, your boring band could have been forever tied to the enduring legacy of SpongeBob Squarepants. Instead, you performed a lame, flat set while dead-eyed Adam Levine stripped its clothes off. What the hell were you thinking?
Even this could have been forgiven if it were simply a matter of not knowing. After all, we could chalk that up to the same ignorance that lead you to title an album "Red Pill Blues" without any iota of cultural awareness surrounding the term "Red Pill."
But you did know. You used SpongeBob in your Super Bowl "hype" video. So naturally, we expected you to deliver. Instead you used the SpongeBob clip to introduce Travis Scott's 'Sicko Mode.' Why would you do that? What is wrong with you? Who is Travis Scott?
This was a travesty. We, the SpongeBob Squarepants fans, should have known not to trust you, Maroon 5, to be anything greater than the cardboard cutouts you are. That's on us.
You're dead to us, Maroon 5, dead as the Flying Dutchman.
Try listening to some real music for a change:
SpongeBob SquarePants "Sweet Victory" Performance 🎤 Band Geeks | Nickwww.youtube.com
Sincerely,

SpongeBob Fans
---
Dan Kahan is a writer & screenwriter from Brooklyn, usually rocking a man bun. Find more at dankahanwriter.com
---
POP⚡DUST | Read More...

I Thought Fast & Furious: Hobbs and Shaw Was Supposed to Be a Racing Movie
Our Boys Are the Best Boys of All Time - Why BTS Is Better Than Every Other Boy Band Ever