Top Stories
The groovy electro-darling discusses giving up drinking, painting again and wiping the slate clean.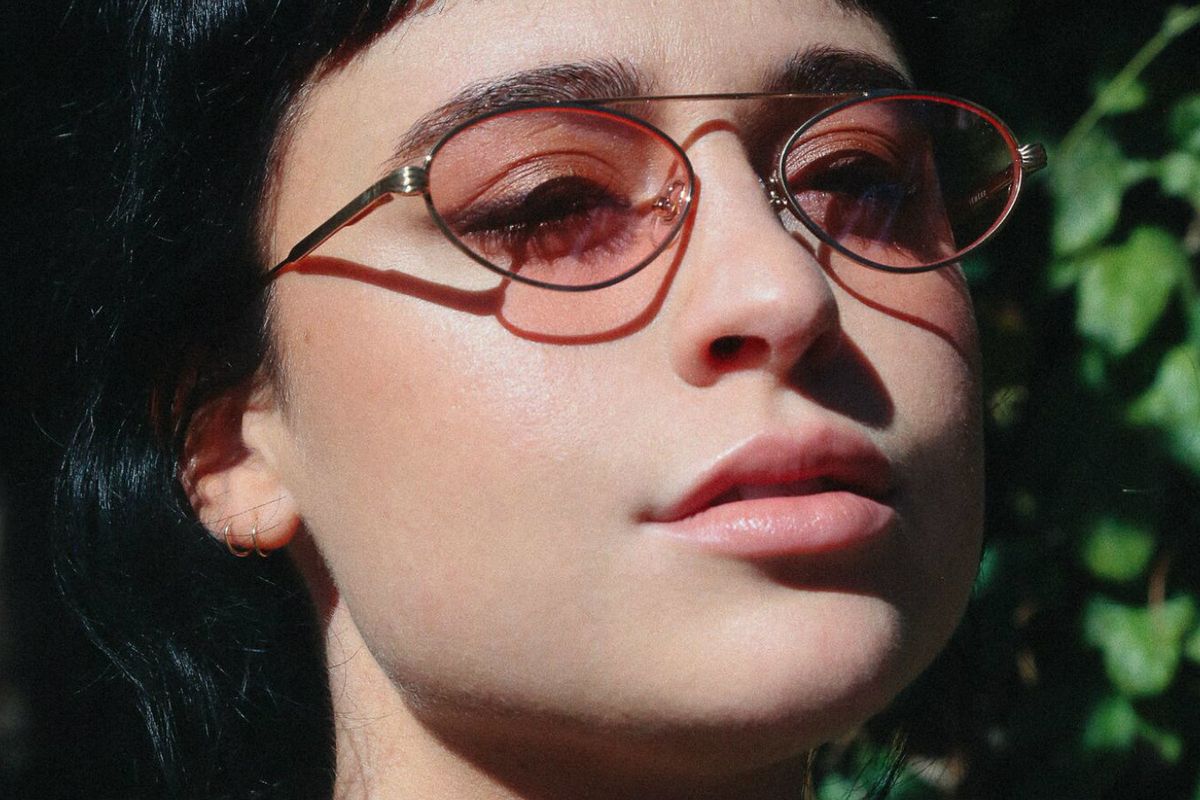 Courtesy of Alexx Mack
Color fans shocked and dismayed when Alexx Mack's Like We're Famous debut EP vanished from Spotify and iTunes early last week. It was an unexpected move, but one that sees the pop upstart hitting the reset button in a major way. "Bad," which was originally released three years ago, was wiped, too, but reemerged days later with updated artwork. It was evident we were witnessing the rebirth of a soon-to-be legend. But beneath the glittery, '80s disco-spun banger, there was a human being aching to be heard. Of course, there is a story as to why she wiped the slate clean. There's always a story. "'Bad' was written by me and a couple friends. It really started off as something really honest to the experiences that we were having," she tells Popdust over a phone call recently.
Upon "Bad"s initial release, a single which jump-started a promising pop takeover, things went into overdrive. "Sometimes, it's tricky for artists. People will come along and say, 'I can help you do this.' They give you all this advice. I was really young. They were also saying, 'Write three more songs. You have to put out an EP!' They would put all these ideas in my head that if I didn't listen I wouldn't succeed," she says, matter-of-factly. Mack is unapologetic more than ever these days, and it took being scraped over the coals for her to realize her true worth.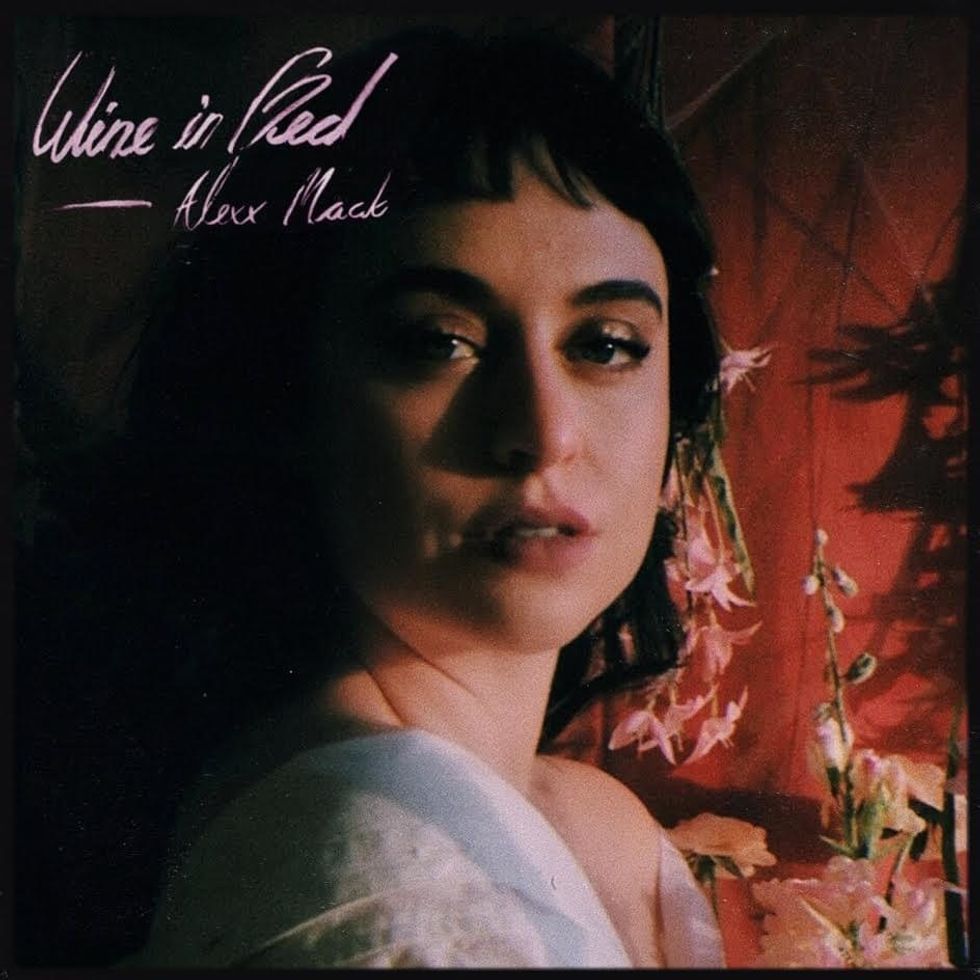 Alexx Mack
She continues, "[I'm] not blaming them completely, but unfortunately, we felt pressured to write three more songs that were fillers. Those songs are special. I have such a good time playing them. I created some really great friendships through the process of the EP." But "Bad" remains the most crucial piece to her puzzle, an artist fully coming into her own...finally.

Over the past several months, Mack has issued a string of hyper-addictive tunes, from the gentle smolder of "Your Car" and the rollick of "Whatever I Want" to the polaroid-smear of "Wine in Bed." She's a force, that's to be sure, but we've sorely taken her for granted. "Bad" still feels relevant, but with its re-release, there is a new-found sense of freedom and power. "I can appreciate the time I wrote ['Bad']. I was so young and open to new experiences. I was living all these different things. I look back at it and smile. It's such a nostalgic song for me. The feeling I get when I listen to it is definitely a little bit different now."
That's not the only thing that has changed recently. Mack, a former self-prescribed wino, recently gave up drinking altogether, which might seem bizarre when releasing a song called "Wine in Bed," but again, it was a necessary journey. "It was really important for me to write that story. When I actually finished writing that song, it was probably two weeks before I decided I was going to take a break from drinking. It felt like the song came back to me for a reason. It was a great chance for me and producer Alex [Flagstad, guitarist of guitarist of The Heirs and session man for JoJo, John Fogerty and others] to create something without a lot of pressure on it."
Beneath the song's unshakable ardor, there is pain branding her skin. "I used to be a little bit of a troublemaker, so I would come home and drink, smoke a cigarette and romanticize the pain," she says.
Below, Alexx Mack recounts when she wrote "Wine in Bed," searching for more in life, healing parts of her heart and love of painting.
A standout lyric in "Wine in Bed" reads "searching for more than existence." Does that mean finding something that makes you truly feel?

It was in the sense that I'm searching for more than what everyone is telling me is enough. I would have so many people around me telling me, "This is enough. That is enough." I would be like, "I feel like I'm not expressing what I want to express as an artist." There are so many sides of me. That was my opportunity to say that I wanted to be the best version of myself that I can be. I'm searching for more than to just get by, as a human, as an artist, as a daughter.
Some of the layering on the song is rather haunting, especially as you progress toward the end. How did you arrive on that quality?
Alex and I are definitely very comfortable with each other. We're not afraid to throw out ideas that might not make sense to other people. I brought in the song, and we started the production of it. But it didn't have a bridge. I was like, "I don't know. I hear these melodies in my mind." He was like, "I have an idea." He put on this crazy setting, and it made my voice ⎯⎯ I can't even explain. It was futuristic alien. [laughs] I did all these takes of all these random adlibs and harmonies. Alex is such a genius. I can't even use my telephone. He touched some button and made all these crazy sounds. I got to be completely free.
What led you to give up drinking?
It wasn't fun anymore. I felt like I was drinking because of my anxiety. I really was not making the necessary breakthroughs in therapy and everyday life. I wasn't focusing on the things that were important. I would cover up all these different things with drinking. It got to a point where I just couldn't enjoy even the taste of alcohol anymore. It may not be a forever thing, but I just know that for right now, I'm a better human. I'm enjoying living more without drinking. I'm not saying other people should totally do it. For my anxiety and depression, it really makes sense in my life in this moment.
What parts of yourself have you been able to mend since writing "Wine in Bed"?
A lot of parts have healed. The song started off a couple years ago. It was an old demo in my email. I was pretty amped up like, "I am an empowered woman!" But inside, I was crumbling. I was scared and insecure. I just wanted to project this strength I clearly wasn't embodying. The song ended up on the backburner. It was not honest. A couple months later, I'm in the kitchen with my boyfriend, and I'm very happy. At this point, I'm still kind of drinking a little bit. I remembered the song and went back to it. I wrote it as a "It's OK, Alexx, you can tell the truth now." I used to think it would make me seem so weak. It's just real. Everybody feels it. It's important to have that closure for myself. I needed to finish that song. I had to write down the reality of what life was really like.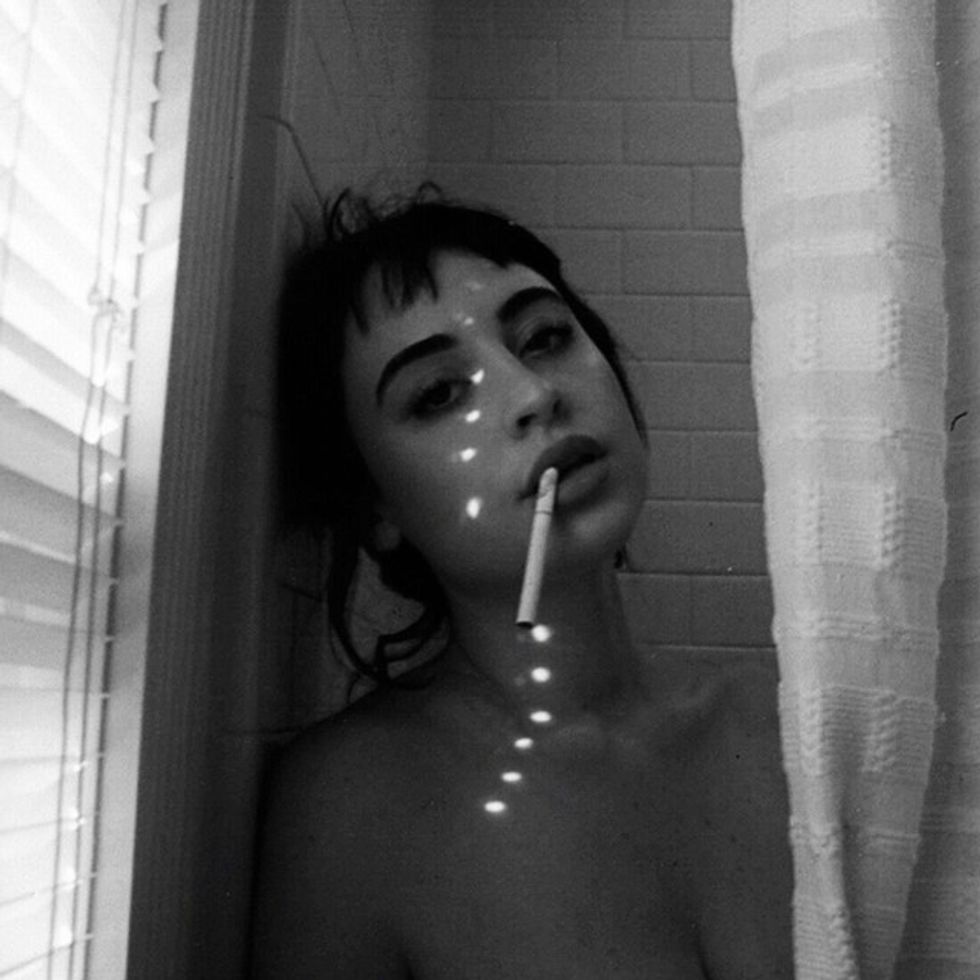 Alexx Mack
Did you go through any moments when you just couldn't make music at all?

It was absolutely nuts. I went through some of the worst creative block I've ever experienced. I would cry and cry and cry and wouldn't get out of bed. I felt like "what do I even have to say?" I was so stuck. Eventually, I worked through my therapy and all these different things. Yes, I've been creating over the past couple years, but it has really only been the last few months that I've been writing upbeat pop songs again! I want to start shining a light on all the positive things in my life, too. That's important.
What was the turning point?
Recently, I started working with one of my friends, Hailey Bowers. We'd met at a show, and she had hit me up originally. I totally flaked on her. She's an angel for giving me a second chance. I was so depressed I didn't make any friends. We ended up writing together. She's an absolutely incredible powerhouse vocalist and songwriter. It's been really fun to write with her. It put the pep in my step again. We have fun, and we laugh. We do things together, and then, we have things to write about. The first song we wrote together, we finished it in an hour. It's coming out next month. It's all lit the fire.
What can you tease about the new song?
It's definitely really important to me. It is pretty much about how I'm a nasty woman. It's not a political song but it's about my own personal experiences.
In Ladygunn, you mentioned how painting helps you find yourself. Do you get to do a lot of painting?
Yeah, actually. As a little kid, my dad was very into me exploring all my artistic options. He noticed I liked to draw, so he took me to a paint shop and bought me paints and a canvas. I would always paint these things and try to paint a tree. It would just look like the most colorful, abstract form. He was like, "I don't quite get it, but if it makes you happy…" I didn't really keep up with painting. When I quit drinking, my boyfriend and I moved into a house together. I was like, "You know what, I need to have something to do in the evening to let out my stress…" One of my girlfriends suggested I start selling my paintings. I haven't done that yet, but I've made a little Instagram, and I put my artwork on there. I'm just exploring that whole world.
What is your favorite piece you've ever done?
The first one. I was home one night and so frustrated. My boyfriend had gone out to get a drink with someone. I went through total panic. I was losing it. I start painting. He comes home and he's like, "Looks cool!" The next day, I finished it. It got rained on, which added such amazing texture. It's pinks and deep red. All my friends want it. They're either really sweet and pretending to really like it or I should make one for their birthday. Painting has really helped me.
---
Jason Scott is a freelance music journalist with bylines in Billboard, PopCrush, Ladygunn, Greatist, AXS, Uproxx, Paste and many others. Follow him on Twitter.

---
POP⚡DUST | Read More…
INTERVIEW | Scotty McCreery soldiers the darkness for "Seasons Change" album
PREMIERE | Antoniette Costa & TK Wonder empower with 'Find Another Girl' video
EXCLUSIVE | Betty Who shares 7 essential health products for the road