Music Features
All Of Joe Exotic's Music Videos, Including "Here Kitty Kitty" and "I Saw a Tiger"
Its hard to imagine a Youtube channel more bizarre than Joe Exotic's.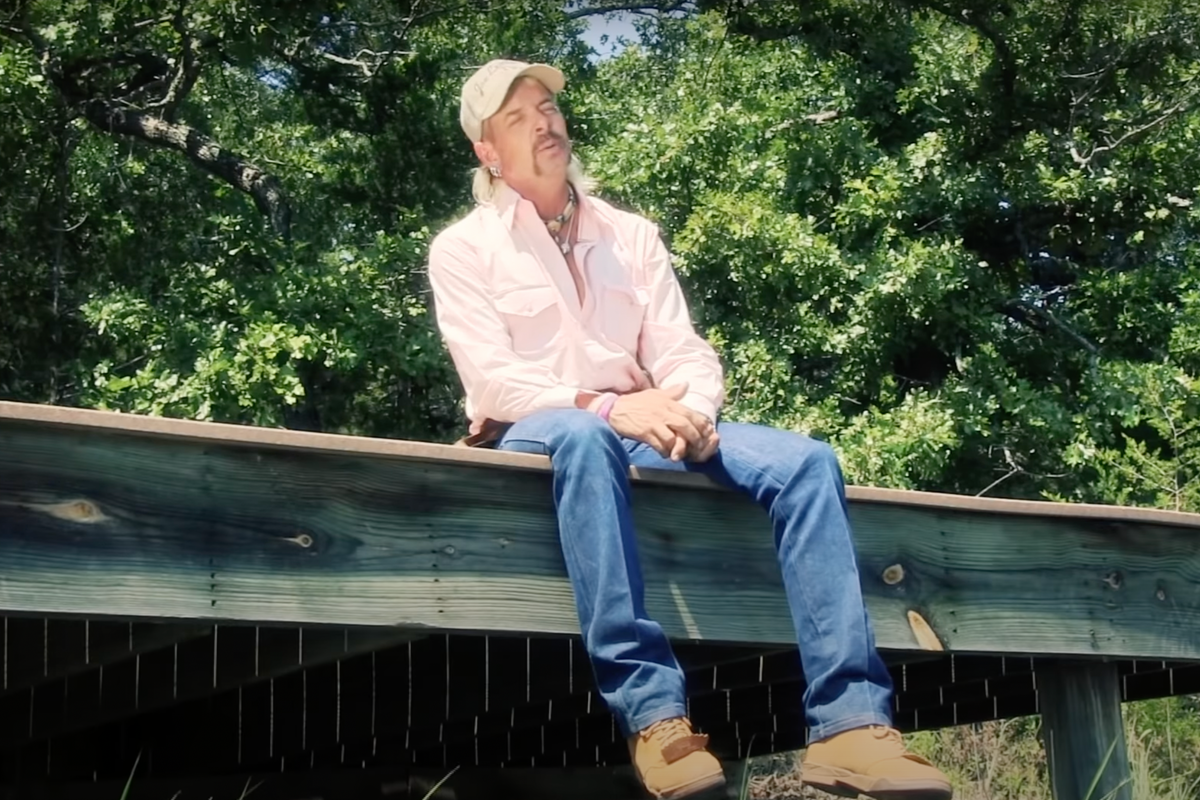 via YouTube.com
If you haven't binge watched T iger King yet , what are you even doing?
Seriously, what are you doing? We need some ideas, because all we're doing is watching Tiger King , collecting Tiger King memes, and generally thinking about Tiger King . Ever since the documentary series dropped on Netflix, the world has been enamored and horrified by the antics of Joe Exotic, Carole Baskin, and their respective bands of weirdos. Some of the best parts of the series include clips of Joe's absolutely bonkers music videos. Specifically, we see a good minute or so of "Here Kitty Kitty," a supposedly original song performed by Joe Exotic himself that details the story of Carole Baskin allegedly feeding her husband to her pet tigers.
---
If you're anything like us, you saw the clip and immediately thought, "I must see that music video in its entirety RIGHT NOW." Lucky for you, the full video is still available on Youtube. But wait. It gets better. It turns out Joe Exotic's YouTube channel is very much alive and well, and there are over 10 original music videos available to stream. Obviously, its imperative that true Tiger King fans learn every word to every song, so we've made it easier for you and compiled all of the videos here. You're welcome.
1. Here Kitty Kitty
Joe Exotic Country Music "Here Kitty Kitty" youtu.be
We still have so many questions. Why is Joe Exotic dressed like a priest? Where did he find such a convincing Carole look alike? Whose idea was that ending shot with all the stars? Why do we actually genuinely enjoy this song?
2. This Is My Life
Joe Exotic's Country Music (This Is My Life) youtu.be
Its hard to beat this one in terms of pure drama. We particularly love the close ups of Joe's exquisite acting. Honestly, is this the next big gay pride anthem?
3. Alisa's Memory (Alisa's Butterflies)
Joe Exotic - Alisa's Memory (Alisa's Butterflies) youtu.be
Here's another real tearjerker for you. We aren't quite sure what the story is here, but it seems to be something about sending a dying child butterflies? We aren't sure, but we love the Channing Tatum shout out and the green highlighted bucket list.
4. Say Something
Say Something by Country Music Artist Joe Exotic (written by It's A Great Big World" youtu.be
This one starts with a Microsoft word art title card, and only gets better from there. Obviously, this one is a cover of a song by A Great Big World, but Joe manages to really make it his own by making it about the tragic death of a chimpanzee, whose burial we see in great detail.
5. Guardians of Children
Joe Exotic Country Music - Guardians Of Children youtu.be
Imagine growing up knowing you feature heavily in a Joe Exotic music video. Whose baby is that? Why is he dressed like a priest again? Where did he get that red pleather jacket? Did he pay that child to pretend to get abused? Oh my god he's singing to a child in a wheel chair oh that's so uncomfortable. What does the interstate have to do with anything? Seriously though, whose baby is that?
6. I Saw a Tiger
Joe Exotic - I Saw a Tiger youtu.be
Ah yes, now we're returning to some classic Tiger King canon. "I Saw A Tiger" featured heavily in the Netflix series, but god, there is just so much more to love about this video than what we saw on Netflix. The really bad lip syncing is almost as excellent as Joe's pretend guitar playing, but the real highlight has got to be the CGI stormy cloud backdrop.
7. Pretty Woman Lover
Joe Exotic - Pretty Woman Lover youtu.be
Its clear that Joe paid a new singer for this one, so he sounds completely different than he does in most of the videos, but don't worry, the lip syncing is just as bad as usual! Its not clear why a self-professed gay man would sing a song about loving pretty women, but we're so glad he did.
8. 96 Elephants
Joe Exotic Country Music - 96 Elephants youtu.be
You really can't beat the intro here, or the sick dance floor beat. Much of the song is from the perspective of an elephant, which is a real treat, as is the feature from some person named Tim Azel. We will warn you that there are some pretty graphic images of poached elephants featured, but none of them are as unsettling as Joe's performance.
9. Bring It On (Please Unite)
Country Music Artist Joe Exotic - Bring It On (Please Unite) youtu.be
Bono is SHAKING! Has there ever been a call to unity as powerful as "bring on the media or the right wing or the left wing anything you want to bring, bring it to me"? Come for the shots of Joe blowing up crash test dummies, stay for the bizarre montage of Joe donating blood.
10. I Can't Believe This Feeling
Joe Exotic Country Music with Dustin Whitson "I Can't Believe This Feeling" youtu.be
Tiger King fans will be interested in the unknown love interest shown here. He's not Travis, he's not John, and he's not Dillon, so who is he? What else don't we know about Joe's love life?
11. Do You Ever Wonder What Love Could Do
Joe Exotic - Do You Ever Wonder What Love Could Do? www.youtube.com
This video appears to be a part of some kind of fundraising effort, but that feels secondary to the shots of Joe against a CGI stormy sky backdrop in an absolutely unbelievable shirt.
12. My First Love
Joe Exotic - My First Love www.youtube.com
This video includes many shots of John Finlay, one of Joe's husbands that was featured heavily in the documentary series. It makes it all a little less romantic knowing how that love story turns out, but we can all still enjoy the candlelight sequence.