FILM & TV
On its last leg, Arrested Development returns on Netflix with new episodes.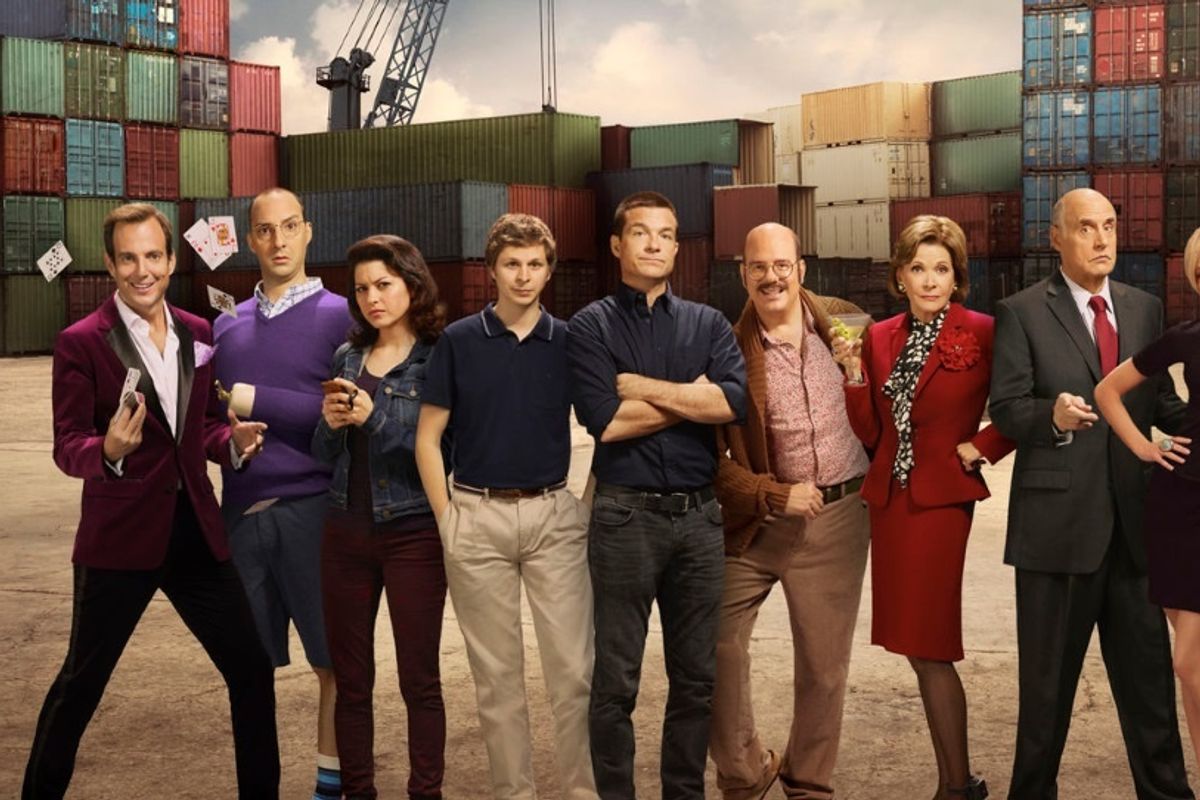 Netflix
What was once the quickest, driest family sitcom on TV is now a graveyard for puns about incest, awkward romantic pairings, and aimless adults who still don't know any better.

It's hard to watch a show die. Arrested Development, a show that originally aired on Fox, returns on Netflix after its disastrous fourth season nearly derailed it. Convoluted storylines, familiar gags, and a handful of unfunny gaps in time make for a bumpy start, but devoted fans will find reasons to return to the ever-dysfunctional Bluth family.
Arrested always responds to real-world events in a subtle manner; this new batch of episodes—particularly fixated on Trump and the infamous wall set to divide the U.S. and Mexico—has a way of heightening the absurdity of microaggressions and police brutality. Creator Mitchell Hurwitz sets out to unearth the same comedic gold that made seasons 1-3 sitcom treasure, but it's often exhausting watching the show's wheels turn, a well-oiled machine that has no purpose to keep running except to outperform its glory days. Arrested is still fun to watch, but the characters bounce off of each other in a rotation that is, by this point, predictable. Thankfully, the cast is still enjoyable when they hit their stride outside of Hurwitz's heavy-handed exposition.
Having since become a Hollywood A-lister, Jason Bateman still nails Michael's brand of narcissism filtered through his deadpan delivery, getting himself into trouble even in situations that call for no such effort, and the kids, Maeby (Alia Shawkat) and George Michael (Michael Cera), banter their way through the episodes as if nothing has happened (How old are they supposed to be, again?). In reality, too much has happened—one of the biggest downfalls of season four: The farce-style humor was dialed up so much, it seemed the show itself was going to implode.
This time around, Buster (Tony Hale) is still the butt of every joke and his bionic hand makes for a consistent gag throughout the season, but his lunacy and dramatic outbursts, again, are to be expected. What was once the quickest, driest family sitcom on TV is now a graveyard for puns about incest, awkward romantic pairings, and aimless adults who still don't know any better. Lucille Bluth (Jessica Walter), the mom you love to hate, is equally nail-grating and hilarious—her antics embody the show's cynicism, so naturally, she's a pleasure to watch…cocktail in hand.

Oddly enough, Jeffrey Tambour returns reprising George Bluth Sr. and Oscar, his twin, but those familiar with Transparent probably recall his termination on set after accusations of sexual misconduct. Seeing him on screen feels wrong, almost like a weird pass given to him by his male co-stars.
With what Netflix has released thus far (more episodes are set to release later this year), it's clear that Arrested knows its formula and is set in its ways, content to wring out the very last laughs its conventional model has left. But I and many other Arrested fans are underwhelmed. It's hard watching something settle into familiarity, knowing what was once in its prime is now merely the framework of a house that reimagined what a dysfunctional family sitcom could look like. Some will cozy up to season five and its we'll-never-be-a-normal-family ethos, but those that relished the show's earlier seasons will find a lukewarm midnight snack in season five. Binge-watching it feels like mental labor, where you spend a considerable amount of time adding up plot points and character arcs that get lost halfway through. Some flames simply don't burn as strong the fourth and fifth time around, but the Bluth family, in true fashion, will carry on in their dysfunctional splendor.
POP⚡DUST Score: ⚡⚡⚡