Film News
Barbenheimer Begins: The Battle of 'Barbie' v 'Oppenheimer'
What to expect from summers most explosive double feature — and what order to watch it in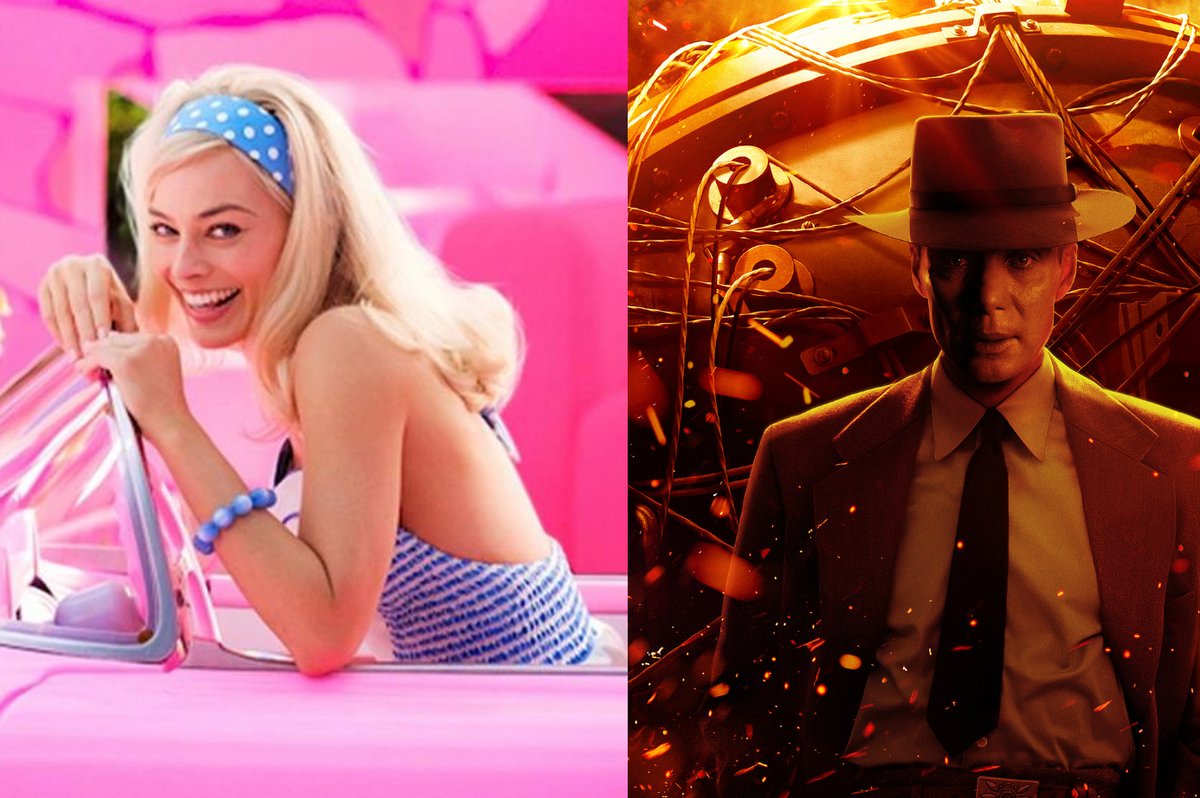 via Warner Brothers and Universal
For months on end, the internet has been joking about summer's most unexpected double feature: Oppenheimer vs Barbie. Well, July 21st is finally here. And, as writers who are chronically online and always down to do something for the bit, of course, we grabbed our comfies and our blankets and spent 5 hours in the cinema on the opening day for what's been dubbed ... Barbenheimer.

Barbie and Oppenheimer may not seem like they have much in common, but after watching both in quick succession, turns out, they do.
---
Both are, at their core, about existential crises. In Barbie, stereotypical Barbie (Margot Robbie), leaves Barbieland to go on a journey to the real world and discovers the harsh truths about her life and ours. Meanwhile, Oppenheimer chronicles the life of J. Robert Oppenheimer (Cillian Murphy), the man behind the atomic bomb, and his experience wrestling with his conscious in the years after.
The only difference: one is a camp, candy-colored creation by Greta Gerwig (with an infectious aesthetic that has taken over the world), while the other is a trippy, gritty, three-hour Christopher Nolan aesthetic.
Here's what we thought about these insanely different films — and their surprising similarities.
Caution: SPOILERS AHEAD - EMARK ON YOUR OWN DOUBLE FEATURE BEFORE READING
Costumes
JP - The fashion for Barbie was all things pink and trendy. It was my dream closet, and that Chanel pink dress was my dream fit. Unfortunately, I dress more like Albert Einstein in Oppenheimer - a dirty, ragged sweatshirt, lots of layers, and a hat.
LKC - I thought I was blown away by the Barbie press tour outfits but the movie outfits were in a whole other league. From the archival Barbie references to the perfect satirical Ken looks, I was obsessed. Though I will say, I liked a lot of the sweater vests in Oppenheimer. But mostly it was a bunch of nerdy guys in ill-fitting suits.
Barbieland vs Los Alamos
JP - Los Alamos was desolate, there wasn't even a kitchen when Oppenheimer first moved in. They literally made this place in the middle of nowhere, so you can't expect it to look lush. Take me to BarbieLand, where I'm surrounded by pink Dream Houses and every night is Girl's Night, please.
LKC - I will say, both worlds were completely immersive. And it's crazy that they both represented a fantasy, an escape from reality — though, in polar opposite ways. The real question is: why did Kendom look like every fratty dive bar? I had war flashbacks. (Oppenheimer pun not intended)
Horses
JP - All Ken really cared about in Barbie was Barbie…and horses. Horses were a way to make a person taller, to Ken, and also much, much more. Similarly, in Oppenheimer, there was a plethora of horses. I couldn't believe my eyes. How cinematic for the two of them.
LKC - Cannot believe these were two movies about horse boys. "When I realized the patriarchy was not about horses, I kind of lost interest." - Ken in Barbie. And lowkey, Oppie too.
Soundtrack
JP - Despite the low 5/10 rating for the Barbie soundtrack, I thought it was perfect. Fun in all the right ways, childish and playful, and sometimes raw and human. From Dua Lipa's disco number to the rousing ballad of "I'm Just Ken", I was locked in my seat. And while Oppenheimer did not have an all-male musical number as I'd hoped, each song was correctly placed and timed.
LKC - Apparently, Christopher Nolan tried to work with Hans Zimmer for Oppenheimer but couldn't, because of scheduling conflicts. Tea. But it all worked out because Ludwig Göransson, another frequent collaborator, really put his foot in the score of this film. The tension! I could feel it! But dare I say, the Barbie soundtrack was equally emotive. I didn't expect to feel that many feelings when the Billie song hit.
The Cast
JP - When Christopher Nolan and Greta Gerwig cast their respective movies, they ate. No crumbs. Margot Robbie is a real-life Barbie, there's no doubt about it. She's so stunning it's literally unbelievable, which is exactly what Barbie the doll is as well. And then there's Ken, played by Ryan Gosling, who has adapted his mind, body, and soul to play this role. It wouldn't be the movie it was without him.
And don't get it twisted, I wholeheartedly believe Cillian Murphy is getting an Oscar for this role. However, Emily Blunt acted her ass off the entire time. I was so impacted by her refusing to shake hands at the end of the movie. Mother.
LKC - Leaving the Barbie movie, I heard someone say "Oscar for Ryan Gosling." And I agree. In the same way, Austin Butler went method for Elvis, Gosling went full Ken. And it paid off. He and Cillian Murphy should face off at the Academy Awards for sure.
Surprising Cameos
JP - Much like the main cast, the supporting characters in both Barbie and Oppenheimer had my jaw on the floor. I am now under the firm belief that the world would be a utopia if Issa Rae were president. With Barbies and Kens being played by the likes of Emma Mackey, Dua Lipa, John Cena, Simu Liu, Kate McKinnon, Ncuti Gatwa, and Kingsley Ben-Adir, you're instantly wondering when you can get your ticket to BarbieLand.
As for Oppenheimer, is anyone else struggling to see Josh Peck in any role that isn't a resident podcaster? We had mega cameos in Oppie as well like Jack Quaid, Rami Malek, Devon Bostick (NOT RODERICK!!), Gary Oldman, Ben Safdie, and even Alex Wolff (½ of The Naked Brothers Band, the half that was in Hereditary).
LKC - Literally every working actor was either in Barbie or Oppenheimer. I recognized pretty much every face from somewhere. But none of them could hold a candle to Michael Cera as Alan! He was for the girls, but he could also handle himself in a fight scene. Range.
The Male vs Female Gaze
LKC - From the moment I stepped into the theatres of Barbie and Oppenheimer, I was literally blown away by the difference between the audiences. Yet, Barbie was actively aware of the male gaze — that was the full plot — while Oppenheimer didn't even pass the Bechdel test.
JP- Obviously we have two ends of the spectrum with a male-dominated Oppenheimer and a women-run Barbie. Barbie couldn't do a better job of describing how it feels to be a woman in a male-dominated society: powerless, tired, and objectified. The discourse of "pretending to have never seen The Godfather" so they could explain it to you and dumbing yourself down so they can teach you Photoshop is so prevalent.
And yet in Oppenheimer, you see the truth of a male-dominated society. Where groups of the smartest men driven by war create a device that has the power to eviscerate us all. The irony was not lost on me after seeing Oppenheimer second.
Directorial Masterclasses
LKC - Both films were expertly directed for their plots. Greta Gerwig did her own time-bending, color-shifting film with Little Women. But for Barbie, she used deceptively simple shots and aching attention to detail to tell a pretty straightforward story in a smart way. She deserves the accolades for the biggest open weekend by a female solo creator.
Nolan on the other hand, didn't pull any punches. He's at his best with Oppenheimer, subverting the traditional biopic framework — which is usually slow and chronological — with fast cuts moving from different time frames to make an ingenious portrait of not just a single man, but a pivotal moment in history and its consequences. Also, there's something to be said about making me enjoy a movie about quantum physics.
JP - The ultimate clash (if you can even call it that) of male and female director titans proved to be thrilling. Greta Gerwig's take on patriarchy and feminism was wrapped in a perfect pink bow for us, with candid, straightforward takes. However, where Christopher Nolan shone bright was truly the scene of the test bomb exploding. It was intense, you could feel the magnitude of both the bomb and the consequences it would soon bring from one scene. Chills.
Endings
LKC - I haven't stopped thinking about Oppenheimer since I watched it. While I do think the last hour dragged on a little too long, the last 15 minutes made it worth it. Meanwhile, Barbie's ending made me unexpectedly emotional. Margot Robbie said "I don't want to be the idea, I want to be the person having ideas" hit me just as hard as Oppenheimer's existential ending.
JP - While Barbie may have ended with Stereotypical Barbie finding her place in the real world (and, finally, a trip to the gynecologist), Oppenheimer ended in an opposite manner. We see Oppenheimer talking to Albert Einstein about how he fears he's set off a domino effect with his findings. Einstein stalks off, clearly stressed in his classic gray ratty sweater (such a mood), and we know the rest is history.
The Final Verdict
LKC - 5 hours in the theatre well spent. Movies are back! Thank god.
JP - Overall, I loved them both…for vastly different, camp reasons. Barbie gave girls of every age hope in the theater, and very publicly called out discrepancies no one has wanted to talk about in movies before. Oppenheimer has me still thinking to this hour, about destruction and humanity and all things nuclear war. See Oppenheimer first so you can end with hope and dreams in Barbie.