CULTURE
Is Movie Magic ... Marketing Magic?
The magic of the movies has been reduced to the magic of a marketing budget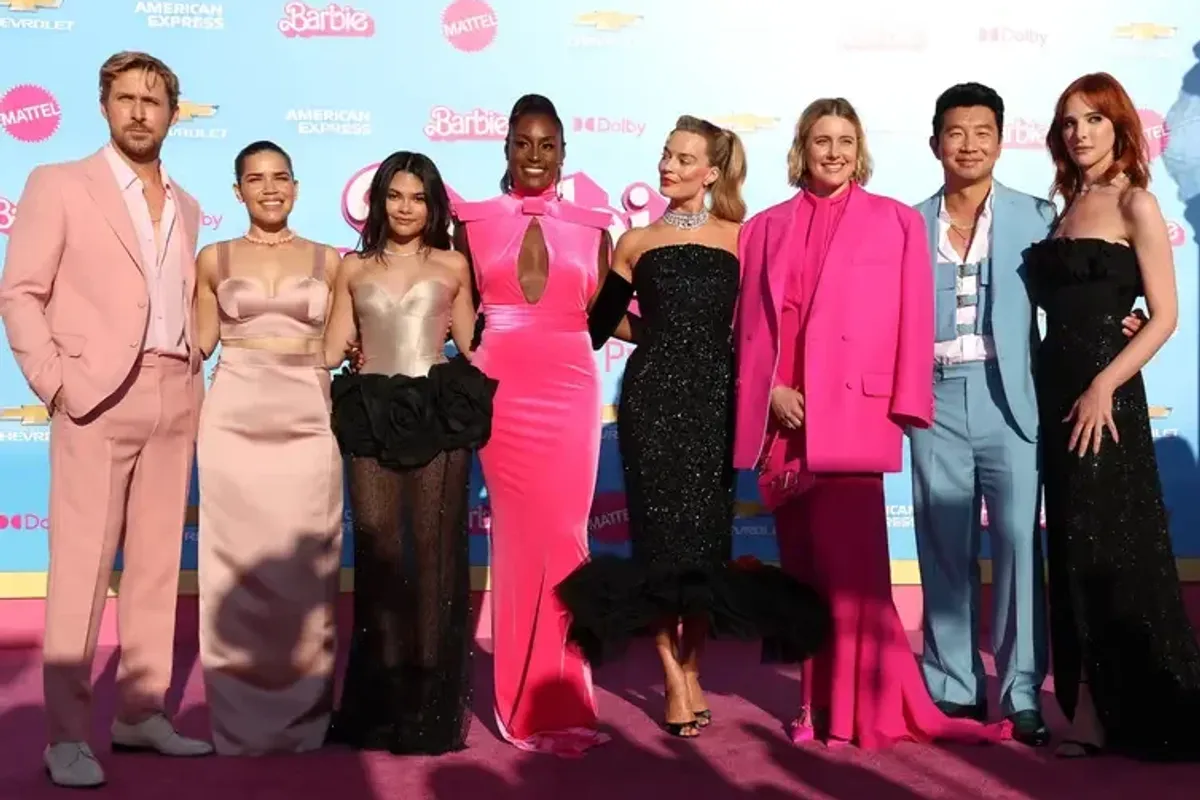 Stewart Cook/Shutterstock
On July 21st, Barbie and Oppenheimer are set to open in the biggest box office battle since 2008's Mamma Mia and The Dark Night. And if those two films taught us anything, it's that we can have it all: a gritty Christopher Nolan film and a fun, fresh, flirty, female-helmed, camp musical.
So why is the entire internet pitting these two films against each other? It just may be part of the marketing strategy.
---
Much has been said about the seemingly untrammeled Barbie budget — especially the collabs. From a Beis luggage collection with actress Shay Mitchell to a splashy array of makeup launches and even the Malibu Barbie Dream House AirBnb, Barbie's marketing is downright delirious.
But we must remember, Barbie isn't just a movie — it's a decades-old brand that helped to forge the identities of generations of women. While the high-budget film has a hand in much of this marketing, the corporation behind the doll, Mattel, is also invested in the movie's success — and Barbie's comeback.
So Mattel is footing much of the bill. Making the Barbie movie pretty much a sponsored cinematic feature — like Timothee Chalamet x Scorcese's Chanel short film (when, oh when will that short film come home from the war?).
@jaiyagill

it's Barbie Pink summer #barbiemovie #barbiegirl #pink #barbiepink #barbieairbnb #beis #airbnb #moontoothpaste #barbiehotel #greenscreen #progressivecommercial #ryangosling #gretagerwig #margotrobbie
Oppenheimer's marketing, although intense, is mostly focused on the (Christopher) Nolan and the (Cillian) Murphy-ness of it all. But by all accounts — with an international press tour (now canceled due to the SAG-AFTRA strike) and giant billboards — it must have a giant budget. But nothing compares to Barbie's boffo budget.
And it feels like every movie of the summer is competing for air while the whole planet is talking about the girl in pink. So, instead of trying to out-do the joint forces of BarbieMattel, other film marketing teams have embraced the theory: if you can't beat them, join them.
The Barbification of Movie Marketing
Have you seen the photos of Tom Cruise posing with a Barbie ticket and poster? And then have you seen the response-pic of Margot Robbie holding a ticket for Mission Impossible?
Rather than trying to outdo the colossal pink winner on this year's slate, other summer blockbusters are hopping on the Barbie marketing bus and hoping a titch of that infectious pink rubs off.
The prime example is Tom Cruise's ticket post that influenced the Barbie cast to recreate it.
What This Means for the Future of Movie Marketing
One of the most commendable things about Barbie's marketing is its consistency. The branding isn't just pink — though there's certainly enough of that. Everything's a reference to historic Barbie toys — like the dream house and Margot Robbie's thematic outfits on the press tour.
The press tour looks — before the SAG strike, of course — are ones for the books. Each of Robbie's looks is custom designer pieces made to reference vintage Barbie outfits. Meanwhile, all other cast members served fashion to rival the Met Gala.
And like the Met, the press tour looks seem like costumes. The branding feels like an extension of the movie. Instead of actors leveraging their personal brands to promote the film, the worldwide press tour felt like an unending trailer. Just look at Ryan Gosling. He's literally Ken. This is peak method acting. And it's working on us.
And whenever the SAG strike ends (studio execs: I beg you to pay your actors so we can all go back to bingeing your content), I anticipate future press tours will take note from Barbie and make their press rollouts more gimmicky. The bigger, the better is now the name of the game.
But What About the Small Films?
But what about the movies that can't afford it? What about those modest films that aren't essentially product bankrolled and marketed by a global company like Mattel? What about the movies that aren't able to exploit the personal capital of Margot Robbie, Christopher Nolan, or Tom Cruise?
We've already seen the deleterious effects of streamers on cinemas. When a property's not a giant blockbuster, are cinemas willing to screen smaller or independent films with their tiny box office returns? And with the entire industry on strike and struggling to earn a living, will studios take risks on movies with unknown actors?
The magic of movies used to involve viewing something brand new and being wowed by an immersive experience. Now, the magic of movies feels like being swept up in a huge trend the entire world is talking about. Movies feel like a product of marketing and don't feel separate from the narratives surrounding them. A prime example: Don't Worry Darling was a bad movie, but successful nonetheless, frankly, because of the IRL drama surrounding it.
And yet, Barbie is on track for similar success. I won't be surprised if that silly Wonka film gets the same treatment. And while I'll be sitting in the theatres for all these films, let's keep that same energy for movies that lack million-dollar marketing. Otherwise, god help us, movies will just merely be ads.